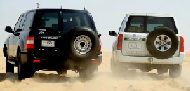 Watch a Land Cruiser and Nissan Patrol hoon in the Qatari Desert
Shot in the mesmerizing 'Khor-al-Udeid' desert which lies between Qatar and Saudia Arabia. It's very rare to come across such a well produced video of these Sheikhs hooning their 4x4s in the desert.
This is one such instance when these Qatari guys decided to head off in the desert and produce this video to promote the beauty that their country behold.
A Land Cruiser and Nissan Patrol are driven with breath taking control and questionable judgment as on some scenes (2:00), it seems as if these guys had a death wish.
Nonetheless, this is a surprisingly well produced video which you shouldn't miss if you love 4x4s with skilled and experienced Sheikh drivers.