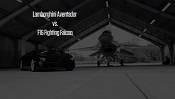 Watch Lamborghini Aventador race a F-16 Fighting Falcon
Bugatti Veyron and Lamborghini Reventon have raced fighter jets in the past, and we were recently wondering when would some crazies put the new Aventador up against a fighter jet, well they did and much to our surprise, they put it against a F16 Fighting Falcon.
A black Aventador has now finally raced a F16 Fighting Falcon thanks to the efforts of the Danish car magazine Bilmesser, which took both machines to the Aalborg Air Base just because it was curious how 700 hp and 125,000 hp would get along.
The race took place on a rainy runway and the magazine claims that, despite everyone's best efforts to see which one is best, the result was a draw. You can see the Aventador fighting the F16 in the two videos below.