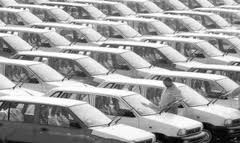 Punjab government offers a deal for token tax, pay once and for all
Almost 56 percent of the vehicles running in Punjab are 1000cc or less and to make those vehicle owners pay their token tax with less hassle, Punjab Government has introduced a deal where you pay 10,000 rupees up front once and you will not have to pay another penny for the rest of your life.
In an effort to avoid people wasting their precious time in long queues to pay the token tax since 56 percent of vehicle in Punjab are either 1000cc or less, Punjab Government have introduced this deal so it could finance it's ambitious development projects.
The package of depositing a one time fee of 10,000 rupees is only valid for cars of 1000cc or less.