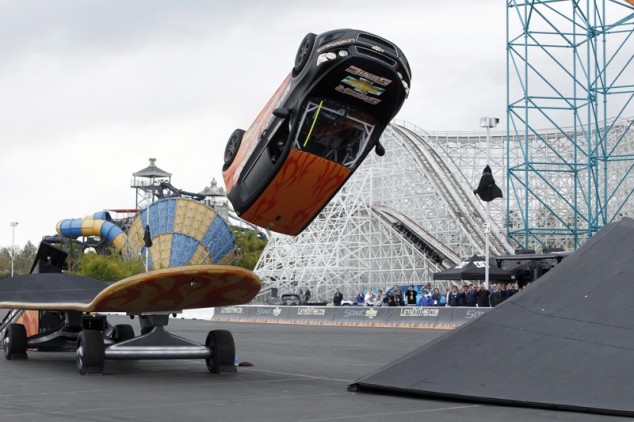 Watch MTV-reality and action sports-star kick-flip Chevrolet Sonic
A kick flip – a 360-degree rotation in mid-air – is a common stunt on a skateboard but not so much in a car. Over the years, several videos on Youtube surfaced but those stunts were done with the help of special effects.
Now though, host of MTV's Fantasy Factory and Ridiculousness, Rob Dyrek successfully performed the kick-flip in a Chevrolet Sonic.
The Chevrolet Sonic is the top pick in safety by the Insurance Institute for Highway Safety, because of 10 standard air bags and high-strength steel as part of its body structure.
"A kick flip with a Chevy Sonic was a no-brainer," said Dyrdek.  "I am a Chevy guy from my '69 Camaro to the Tahoe I drive every day. The Sonic's power and sportiness made it the perfect vehicle for this awesome stunt.", while MTV filmed the feat for the Season 5 premiere of Fantasy Factory.  Dyrdek executed the kick flip over the world's-largest skateboard that he created for a previous stunt.
Here's the video of the stunt.