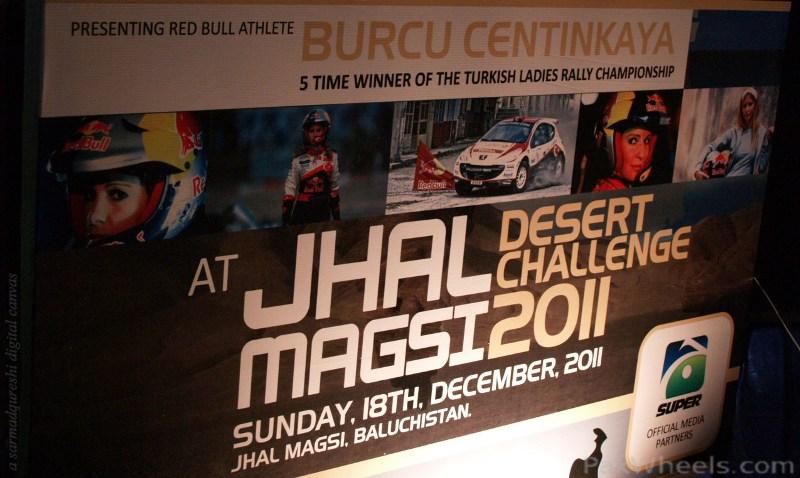 Nadir Magsi wins Jhal Magsi Desert Rally 2011
Nadir Magsi, also a favorite to win this rally due to his professional exposure and experience in this sport did not disappoint the hearsay not his home crowd and bagged the victory of the desert challenge by completing the 194 kilometers long course in 2:03:40 — the fastest time across the four categories followed by Qasim Saidhi nabbed the second position by being few milliseconds late whereas Ronnie Patel came in third position by completing the track in 2:06:35.
The highly talked about Turkish champion duo of Burju Citenkya and her navigator Cicek Guney did not finish the rally along with six of the 13 participants.
The B category was won by Rana Sumair Noon with a 3.0litre Toyota Vigo by completing the track in 2:18:19 followed in Syed Asif Imam finishing in second and Abbas Akbar at third.
Winner of the desert rally, Nadir Magsi and his rig.
Hasan Ali Magsi topped the times in the C category followed by Mukesh Chawla and Mahmood Majeed while 6 of the 13 participants recording DNFs. Mohammad Rafiq finished first followed by Aminullah Khan and Muhammad Hasnain Haider to complete the winners of the D category, which featured the 1.3litre Jimny, and saw eight DNFs in a total of 15 drivers.
Before the event began, Nadir Magsi, winner of the race told the media that the track is very difficult and it is quite easy to get carried away but I had to drive cautiously in mud and rivers however, even finishing the race is an achievement.
You can view pictures of the cars that participated over here: RedBull's Jhal Magsi Desert Challenge Kick-off