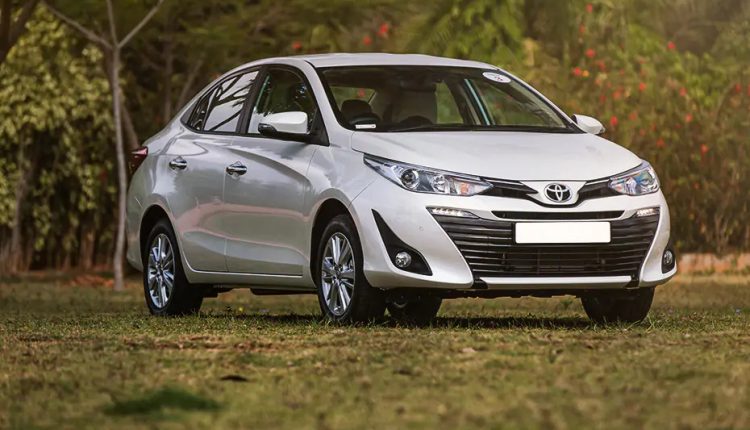 Toyota's designs as of late have been bold, daring, and quirky, often featuring sharp lines, tacky bodies, flashy creases, and uniquely shaped head and tail lights-take a look at the latest Corollas, CH-Rs or even Camrys for example. However, the Yaris's styling is a bit subdued by comparison, the lines are softer, and the Yaris cannot be called handsome, stylish, or seductive by any stretch of land and is better described as utilitarian.
It, however, does get adequate distinct design elements, like oversized headlamps (which I'm not a fan of, since it makes the car appear cross-eyed) and a large trapezoidal front air dam that dominates its face. The horizontal air intake vent, and the vertical fog lamp housings, add some character to the Yaris' front end.
The bonnet has bold creases, and there's a prominent cut on the doors well. However, the excessively long overhangs at the front and rear make the car look ungainly to my eye, and its 15-inch wheels appear undersized due to the raised ride height of the PKDM for improved ground clearance.
Exterior:
The roof of the Yaris has a wavy design; Toyota claims that this adds rigidity to the structure, improving driving dynamics and making the car safer in the case of a rollover. The rear three-fourth profile looks very bulky, combined with the stretched tail-lamps and the raised bumper, the car looks like a miniature version of the latest Camry, which is certainly no bad thing for a sub-compact sedan.
The relativity pedestrian design may partly owe itself to the fact that this third-generation model isn't exactly new: making its international market debut back in 2013 and receiving a major facelift in 2017 (the heavily revised 2017 version is the one we expect to see here in Pakistan).
Interior:
The beige and tan on the inside make the cabin feel bright and lively. The asymmetrical dashboard looks nice and the matte silver highlights lift its appeal. However, there aren't any soft-touch plastics to speak of and the materials used feel a bit hard, shiny and scratchy. The dashboard and the steering wheel both sport artificial stitching to make them appear like they have a layer of leather on them. The dash fascia, which sports a piano-black surface with some premium-looking silver buttons for the climate control and the fascia's spindle-like shape, which is taken right out of the Lexus playbook, add a premium and upscale feel to the Yaris's interior. The instrument dials have large fonts that are easy to read, but the sheer amount of reflection on the angled instrument cluster housing, especially during the day, seriously hampers readability.
The front seats are controlled electrically (which is an optional extra and segment-first) and offer a good range of adjustments. The seats are wide and accommodative, with 1470mm of combined front and rear legroom, and 980mm and 900mm front and rear headroom respectively, but fall short in terms of lumbar support, compromising comfort for longer journeys, but that is, again, expected from a car of this class. Also, there are certain ergonomic eccentricities that could have been better thought out. For starters, the front armrest is unusable for shorter drivers as the entire console is placed too far behind, and there's no sliding function on offer either; it can be used as an elbow rest at best, and that too only if the front seat is pushed further back. Lastly, the steering wheel is placed too close to the dashboard, which makes the absence of telescopic adjustment even more noticeable.
Features:
The Yaris is expected to come in six variants, namely: the GLi MT 1.3, GLi CVT 1.3, ATIV MT 1.3, ATIV CVT 1.3, ATIV X MT 1.5 and ATIV X CVT 1.5.  What features these trim levels entail can only be known for sure once the car comes out on 27th March but for now let's draw a comparison between the aforementioned trims and what is available in the international market. For example, in the Indian market, the Yaris comes in 4 trims levels, J, G, V, and VX.
The base J trim comes standard with power steering, powered front and rear windows, key-less entry, push-button ignition, ABS, EBD, brake assist, 3 airbags, engine immobilizer, a radio head unit with front and rear speakers and a digital LCD multimeter and trip odometer.
The G trim adds multifunction steering wheel controls, automatic climate control, rear AC vents, acoustic and vibration controlled glass, drive mode selector, SRS front, and rear side airbags and side curtain airbags, a 4.2 inch LCD infotainment system, front and rear fog lamps, and 15-inch alloy wheels.
The V trim adds automatic headlamps, cruise control, rear camera with front and rear parking sensors,  6 speakers, a 7.0 inch LCD infotainment system and rain-sensing wipers, while the top of the line VX trim includes height-adjustable front seat belts, a navigation system, steering wheel-mounted gearshift paddles, tire pressure monitor, vehicle stability control program,  hill-start assist, leather seats, electrically adjustable seats and daytime running LED lights.
Unfortunately, however, the PKDM version will be stripped of most of the contemporary features, and it is unlikely that we will see anything above the G trim in terms of features even in the top of the line ATIV X CVT 1.5 variant; we know from exclusive pictures brought to you earlier by PakWheels that not even the ATIV X CVT 1.5 will have steering wheel-mounted multifunction controls, which is quite unfortunate.
Overall though, the Yaris packs more tech than the XLi and GLi that it replaces and bests the Honda City, leveling the playing field with the Suzuki Ciaz, albeit at a higher price.
Performance and Driving Dynamics:
The base model of the Yaris is powered by the same 1299cc four-cylinder 2NZ-FE unit found in the XLi and GLi while the weight is down from 1275kg to 1105kg. As a result, fuel economy and performance should receive a sizeable boost. The limelight, however, definitely belongs to the 2NR FE 1496cc four-cylinder petrol engine, which produces 107hp at 6,000rpm and 140Nm of torque at 4,200rpm.
This engine responds best to part-throttle inputs at low revs, and as a daily driver in peak traffic, it does the job in a smooth and efficient way. But if you're ambling in higher gears and need to get through that amber light before it turns red, you will have to downshift. This is not a motor that likes to be hurried, and the weak mid-range translates to flat power delivery. Its usable power lies at higher revs, so it needs to be spun beyond 3,500rpm to get moving and complete overtaking maneuvers quickly.
There's a prominent spike in performance at 5,800rpm, and it's in the last 500 revs that the engine feels most aggressive, before the fuel is cut-off rather abruptly.
Toyota has given the Yaris a taller third and fourth gear, which reflects in its in-gear acceleration timings; it takes 14.74sec and 20.43sec to accelerate from 20-80kph in third and 40-100kph in fourth gear, respectively – significantly slower than the Ciaz (11.32, 16.20sec) and City (12.82, 17.22sec).
Even though flat-out performance is quite mediocre, with the Yaris manual taking 12.39sec to accelerate to 100kph from a standstill, the six-speed manual gearbox is superbly smooth to use with nice and short throws; it slots in easily too. The clutch has a nice, positive bite and a short journey, which makes it easy to operate.
The seven-step CVT with synthetic shift points works very smoothly; it makes driving effortless, highlighting the relaxed nature of the engine rather well, especially when driven with a light foot. Yes, it does have the rubber-band effect associated with CVTs when you floor the accelerator.
However, on most occasions and with part-throttle inputs, it shifts seamlessly and is one of the smoother automatics in this segment. There are paddle-shifters too; they respond obediently and are particularly useful when you want to slow down using gearbox for 'engine braking.'
Pricing and Availability: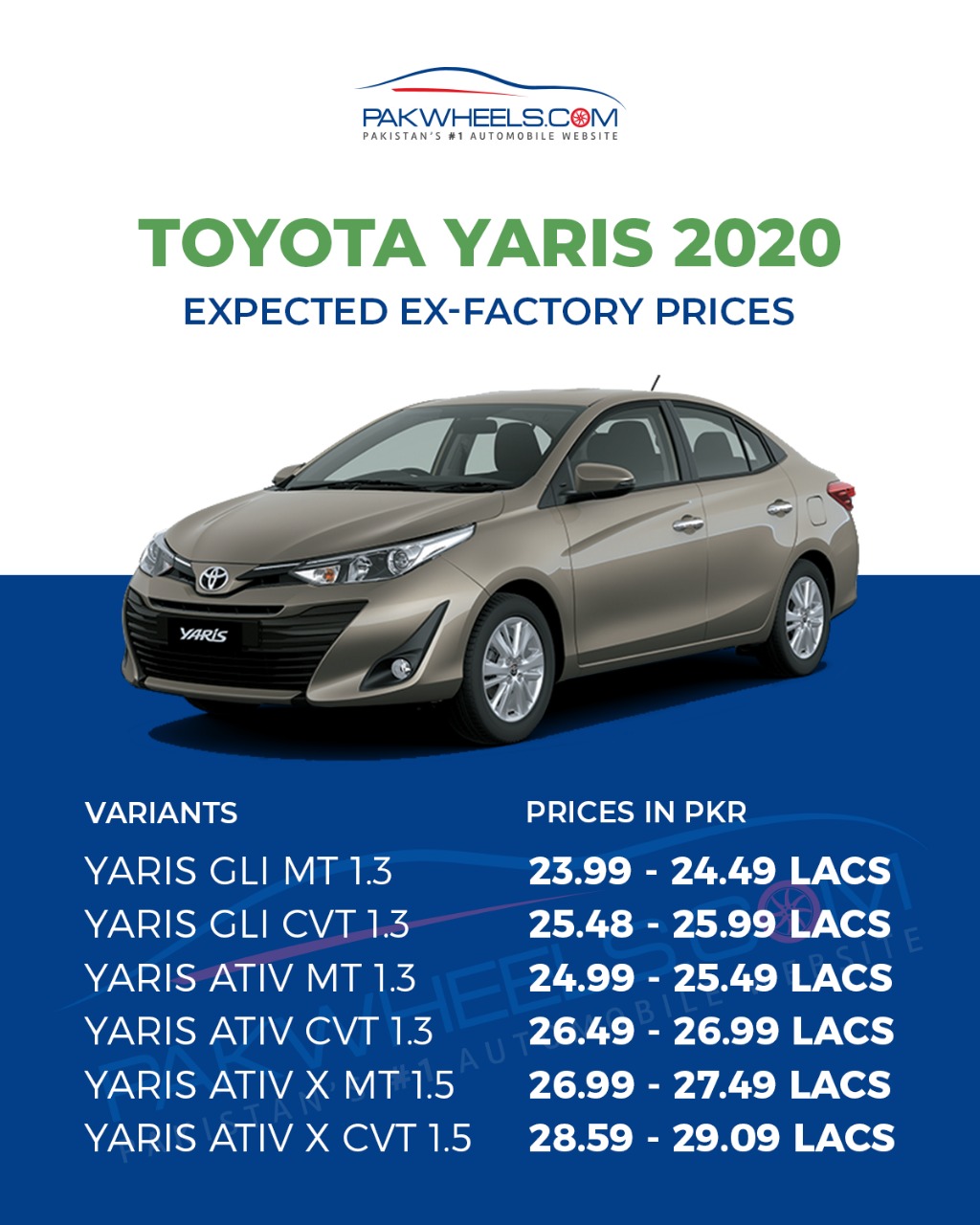 As per our sources, the expected launch of this new sedan is expected to be the 27th of March.  The Yaris will come in six variants.
That's it from our side, drop your thoughts in the comments section below.