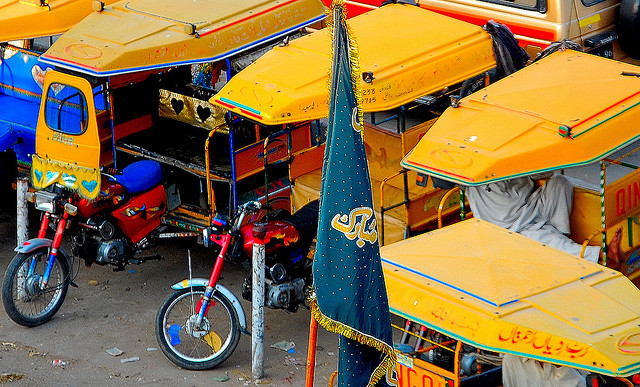 We've all heard that public transport is a NO-GO area for women in Pakistan. Fortunately, I have my own car so my experience of traveling in public transport was very limited but I did not witness any harassment of women while traveling but it does takes place, as RTA's women only bus service was started to make sure women travel form one place to another without getting hurt; emotionally or physically.
But Qingqis are another case, I have seen all too often, people driving behind a qingqi with full beam on because there were some girls sitting on the back and other kinds of harassment. The following shameful event though, took place few days back, in Ramzan before iftaari.
Around about 5:30 pm, I and my friend were going along the Canal road in Garhi shahu, to pick a friend before heading towards our iftar venue. As usual, traffic around this area is a lot, and moving in the traffic, there was a Qingqi (Read: Chingchee) in front and on its back were school-college girls with books in their hands and a bag on their shoulders. They were probably off from their institution but what made us notice all this were two guys on a bike, who came from the right and took an aggressive left to come in between my car and Qingqi, and like usual, car drivers are the ones who save them by braking so to not hit them.
I didn't expect much of the sudden turn because anyone who drives in Pakistani traffic know how these idiots like to leave the control to their lives to other people in the traffic (I had to brake otherwise, these two would've seen some flying time on their CV). But they stalled and once they were near the Qingqi, they began to reveal their intentions.
They tried talking to the girls, received no response, then threw a piece of paper with probably their number written on it on the girl which bounced off her and on to the road. My eyes just widened with shock and brought my friend's attention towards it. (the distance between Qingqi and our car was quite a bit)
It all happened pretty quick and you take time to understand what the hell was going on, the guy driving the bike had meanwhile brought his bike to the side of Qingqi and tried to grab and/or touch the girl but she moved to the left and evaded his by pushing it away with his register, which is when we stepped on the gas and began honking the horn to catch up the these two and teach them some manners but as we all know, bikers stepped up the race and swerved in-and-out of traffic and escaped. (Bikes should be the first thing to get RFID number and registration plates stuck on them so pricks like these can't get away)
Even the driver of Qingqi seemed pretty helpless against these goons.
It has come to this in the land of the pure where a woman or a girl can't even travel alone in public with the fear of being harassed and/or molested. Being a muslim, the weight and responsibility on our shoulder is doubled as we control our gaze too. These kids don't realizes, or don't have the maturity to realize that the same could happen to the women of your family.
Do even have to launch a women's only Qingqi service as well to protect them?
Even petty fines like 500 or a bit more won't deter these people and we should step up when witnessing these events and also, women should take pictures of these creeps when they are harassing you and post it online along with the police but seriously, those who know what benefits can RFID system can bring to Pakistan, would know that from such pitiful to street crimes can all be controlled through the use of RFID but only strict penalties and tough laws can fix and put fear in their heads.
Picture: Flickr