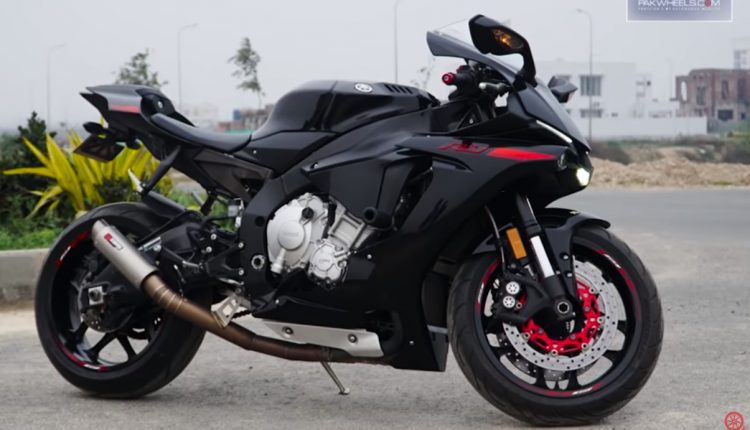 Yamaha R1 Detailed Review, Price, Specification & Features
This is another exciting review of a sports bike, and this time we have brought to you 2015 Yamaha YZF-R1.  The production of the R1 sports bike started back in 1999 by Yamaha. This bike was designed and engineered for racing only. Around 22 racing titles were won through R1 by Yamaha, and due to this, Yamaha R1 has gained worldwide renown and popularity.
This bike has a rich history and heritage, and its performance even today lives up to the hype. Yamaha R1 has been in possession of famous personalities like Babar Azam and Irfan Junejo in Pakistan.  Previous R1s had some manual controls which are now completely changed to automatic ones by virtue of superior engineering. One special thing about this sports bike is that the rider can tune to his/her taste and have a totally individualized experience.
Features
The first and most important feature is the design of this sports bike. The design is sleek, integrated, and gives an aerodynamic profile to the bike. Features on this bike include slide control, unified ABS, traction control, SCS, anti-wheelie control, launch control, and quick-shift system.
All of these controls can be controlled through the digital instruments cluster. There are modes and power options in this instrument cluster. The throttle cable in this model is fully-electric. The hardness and strength of the throttle cable can be adjusted by the driver to suit particular driver needs. A wheel lift control is added to ensure that there is a maximum forward thrust. This bike has an after-market Scorpion exhaust and new Michelin tires.
The quick-shift system helps in seem-less upshift and downshift when you require it and perfectly correlated these shifts with the speed of the bike. The exterior color of this R1 is black. Another variant under the name of R1 M was introduced that included many cosmetic changes to make it look sportier and more aggressive in nature. At the front, now R1s get dual-LED headlights instead of projector headlights included in the previous generations. These LED headlights can also be adjusted through the ECU of the bike. The side mirrors include LED turn indicators, and LED DRLs are also included to give it an aggressive look.
Performance 
the Yamaha YZF-R1 comes with a 998cc inline 4-cylinder CP4 engine. This is a  liquid-cooled 16 valves engine. This engine features a cross-plane crankshaft technology that is borrowed from the YZR-M1.  The CP4 motor in this engine ensures a stable and linear delivery of torque. This improves grip on the rear wheel and the overall stability of the bike. This bike can go from 0 to 100 km/h in just 4.1 seconds and from 0 to 200 km/h in just 9.45 seconds. As standard from the factory, this engine can rev up to 13,750rpm. This sports bike produces around 200 bhp, which is extraordinary for a bike. The engine is paired with a 6-speed transmission with a wet multi-plate assist and slipper clutch.
Yamaha R1 Detailed Review, Price, Specification & Features – video:
In order to improve the braking of this bike, Yamaha used 10-spoke cast magnesium wheels. The weight of the magnesium wheels is less than that of the alloy wheels. Even though they are lighter in weight, magnesium wheels are stronger than alloy wheels. Dual hydraulic cylinders are included to make the brakes more efficient. The front rotor of this bike is 320mm in size and is connected to 4-piston radial mounted front calipers. The hardness of the braking system can also be tweaked using the instrument cluster. This bike returns 15 km/liter on a smooth ride, and it can quickly go down if you drive it aggressively. In Pakistan, you will have to run this bike on Hi-Octane.
Chassis and Suspension
In order to reduce the weight of this sports bike, Yamaha has included an aluminum fuel tank with a capacity of 4.5 gallons and weighing only 3.5 pounds. Yamaha has used a slim aluminum Deltabox frame for this bike. Magnesium is also used in the chassis to make this bike lighter in weight and compact in shape and design. Yamaha has also used a swing-arm suspension system in this sports bike, which can be tuned using the ECU of the bike.
The use of magnesium wheels in R1 helps in responsive handling and quick directional changes on the track. Another important feature of the suspension is the United Braking System that helps in applying the rear brakes as soon as the front brake activates. This is important in preventing unwanted rear-end motion. To improve handling, fully adjustable KYB shocks are included. These shocks also help in transferring the torque produced to the surface of the track.
Verdict 
The owner of this R1 purchased it at the end of 2019. The owner has also kept Yamaha R6 and BMW S1000rr. The power delivery and exterior aesthetics of this bike make it stand out from other sports bikes. Previously, Yamaha R1 had some heating issues that are dealt with in this generation with superior technology. The owner changed the exhaust system, after which the pick of the bike improved and provided a smoother acceleration off the line. As far as spare parts are concerned, you have to order them from abroad; therefore, the parts are expensive. The maintenance costs of the R6 and the R1 is similar. This bike will cost you around PKR 3 to 4 million.
Click to discuss more about Yamaha R1 at PakWheels.com forums
Stay tuned on PakWheels Blog for more review-based content and drop your thoughts in the comments section below.
Recommended Read for you: Toyota Hilux Revo 2017 Owner's Review: Specs & Features