In a very surprising move earlier this weekend, the first display center was launched for Benelli and Keyway Motorbikes in Johar Town, Lahore. This launch was a total surprise for many people, including me. There was a simple Facebook event page created prior to the commencement of this event. So, I decided to explore the products from this company on an unofficial visit.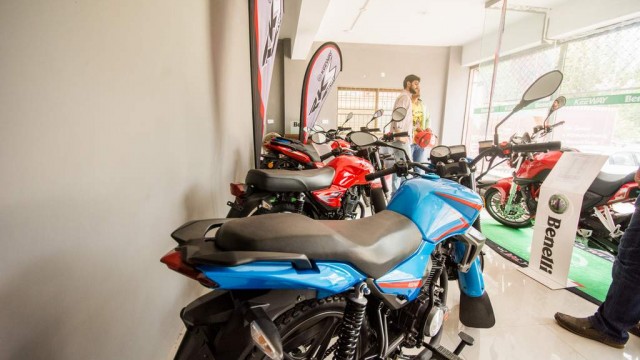 When I asked about the simplistic approach to quietly launch the display center from an official, who was there to receive and cater the queries of visitors, he replied:
We had spent huge amount of money on the official announcement for this venture earlier in June, but this time we opted for a simpler approach to let the public know that we are in business…
Currently the company is taking orders from their Lahore office and is planning to open new display centers and showrooms across the country.
We have received a lot of positive feedback from potential buyers and showroom owners. People have been very forthcoming and positive about our products. So we will hopefully be announcing some of our affiliated showrooms in a couple of months" replied the Director of the company.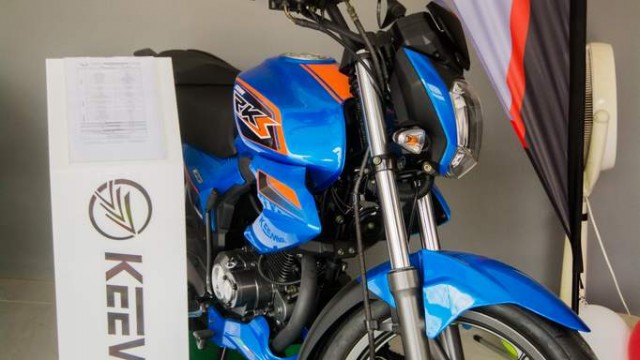 The company is offering two categories of products in Pakistan, where one would be aimed to cater the entry-level and the other would be aimed to intermediate-level bikers. The bike in question is Benelli TNT 25, which is a 250 cc, single cylinder, liquid cooled engine capable of producing 25 bhp at 9000-RPM and 21.5 NM of torque at 7500-RPM. This motorbike also comes equipped with a 6-speed transmission and Keeway RKS150 Sport, which is 150 cc, single cylinder, air cooled engine capable of producing 12 bhp at 8500 RPM and 11.0 Nm of torque at 7500 RPM. It is also worth mentioning that the company is claiming the 45-50 km/litre mileage off the RKS150 Sport.
Initially, the RKS150 Sport was offered in two variants, RKS150 Sport-GS and RKS150 Sport-CG, but I found out that the company is not taking orders for the CG variant. Upon my inquiry on this latest step, the director replied:
Initially we wanted to probe the market about what people are expecting from us and that is why we introduced 2 variants of the same bike. The CG variant of RKS150 sport was designed to be aimed at the Asian markets, while its other counterpart RKS150Sport-GS was specifically designed for the European market. As I mentioned earlier, this was a calculated step to engage the public's interest and people have confessed on buying a superior engine and a bike with better build quality. Moreover, the price difference was on 10,000 rupees, so we are not taking orders for the RKS150 Sport-CG.
Also Read: Benelli and Keeway motorbikes launched in Pakistan
Now I know all of the above mentioned facts are great but you might be wondering, "what about the bikes?" I will be honest, both TNT25 and RKS150 Sport are quite the lookers, coupled with a premium build feel at first glance, I would say they are very visually appealing and will definitely stand out from their competition. Unfortunately, I was not able to test drive them and that is why I can't express my opinions on the bike ride and other technical points. But one thing is for certain, these new bikes definitely hold the merit of further scrutiny.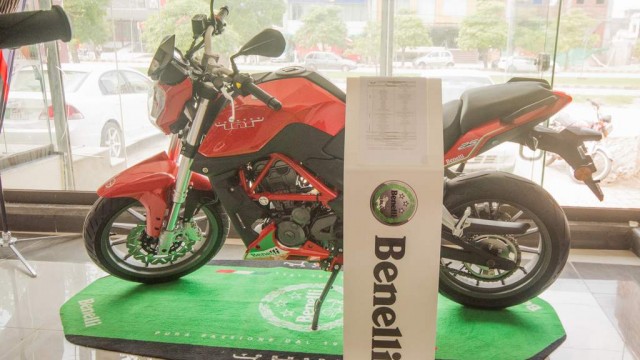 Furthermore, we have a psychological barrier in Pakistan when the total purchase crosses the figure of 100,000 rupees, and that is why I asked the company official on the possible financing of these bikes. And he replied:
We are currently negotiating with Silk Bank and Bank Alfallah, so hopefully in the near future, we will be able to offer our products to a wide variety of customers at their convenience
I decided to bade farewell by asking one last question from the director on the Govt.'s attitude towards their new automobile start-up, and he replied:
The current Auto-policy has really opened up the doors for a lot of investors. They have decreased the duty on the CBU's which is a really welcome gesture. Plus, to encourage new investors they were kind enough to relax some taxes for our initial units, which really shows a positive attitude towards encouraging auto-industry. The Govt. has also allowed us to import 90-100 units for the testing purposes, which will really help us in our future endeavors of introducing full-fledged sports bikes in the local market.
Please share your opinions with us.