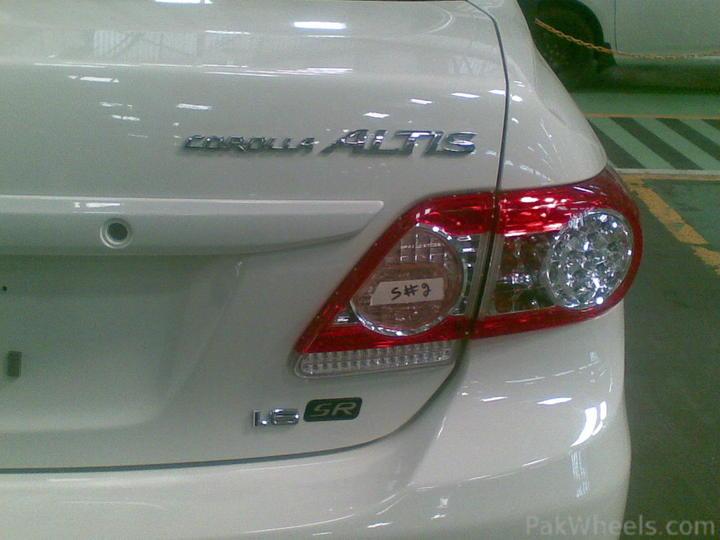 2011 Toyota Corolla Face Lift Spied
Finally Toyota Indus has decided to perform the Face lift on the Toyota Corolla.
At the front, there is a new front bumper and front radiator grille along with fog lamps. The rear also has the same changes to the bumpers and the rear light clusters are new this time round. Toyota emphasizes on 'creating an appearance of greater width' with these changes. It is confirmed that they will be introducing 1.6 Liter Engine It is rumored that the power plant will be a 1ZR-FE dual VVT-i.
The Toyota 1ZR-FE is a DOHC, 16-valve, 1.6 L (1598cc) engine equipped with dual VVT-i. This engine will be available with either manual gearbox (5 Speed) or a "multi-mode" manual transmission (MM-T 5 Speed)(referred a Cruistonic). Output for this engine is rated at 124 hp (92 kW) at 6000 rpm and 116 lb·ft (157 N·m) of torque at 5200 rpm net.
Specs:
Engine type : In-Line 4-cylinder DOHC 16-valve
Bore x Stroke : 80.5 x 78.5 mm
Compression Ratio : 10.2:1
As of now, no news could have bee confirmed regarding any possible changes on the interior of newer Corolla.
Prices are expected to be 1.55 Million and the fully loaded version will set you back around 1.7 Million. We are expecting it will be launched sometime in the first quarter of 2011.