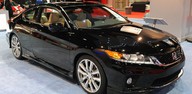 2013 Honda Accord Coupe HFP comes to SEMA and 2015 Civic Type-R to have 250 BHP
Although Pakistan is by the grace of God safe from hurricane Sandy yet we experience longer electricity black outs than New Yorkers are facing right now so we have had to post two exciting news in one about Honda showing off its performance version of the coupe called the HFP. Also, Autoexpress reports that the 2015 Civic Type-R will have 250 BHP.
The 2013 Honda Accord has just begun to arrive to dealerships globally, but SEMA came first and we got a chance to look at what Honda has got in store for us.
This is the high performance version of the Accord Coupe called the 'HFP', and the upgrades as you'll notice start from visual modification with 19′ wheels, some stickers, a spoiler, red illuminated interior and more importantly, a tweaked suspension for that extra performance.
Honda is only going to produce 500 units while the package, which can be ordered by paying an extra $4,650 will be available on both, the 4-liter and 6-liter engines.
Honda didn't want Civic to lag behind in the world of figures, AutoExpress just learned that the Civic Type-R which is bound to come in 2015 will have 250 BHP produced by a 1.6 liter engine whereas that power will be transferred to wheels via an eight-speed dual clutch transmission.
Seems interesting and although Civic and Accord are one of the few very popular cars here in Pakistan, yet these models are highly unlikely to come here as such models are arranged and made by the arms of Honda operating in those countries.