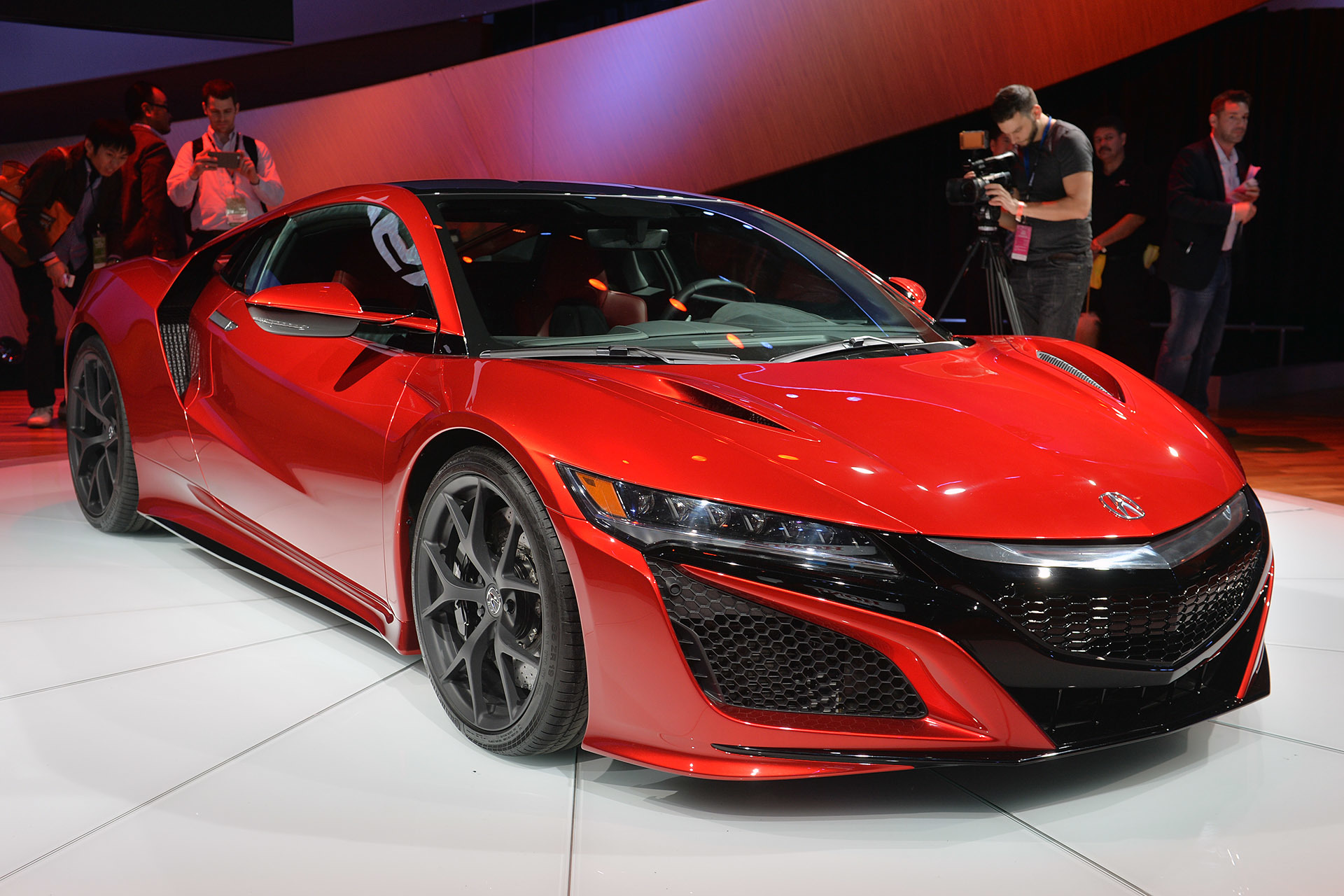 This is the 2016 Acura NSX
Acura, the luxury and upscale brand from Honda is not known to many in Asian countries. Acura is same  to Honda as what Lexus is to Toyota. The Acura brand is available in a very limited countries including North America, Canada, China and Hong Kong. Some  models of Honda like Integra and Euro Accord were sold in USA under Acura brand. Integra and NSX are well known to most of us. NSX stunned automotive world 25 years ago when it hit the road at that time.
Acura revealed the most anticipated NSX today (yesterday PKT) at the 2015 Detroit Auto Show after almost 8 years of initial concept car shown back in 2007. This is the second generation of NSX. The first generation lasted for almost 15 years when it was released in 1990 and final production in 2005. The first generation was all aluminium hand built car.
In the last few years, Acura had completely rebranded itself with a complete overhaul of design and technology living up against the German rivals. There were a lot of expectations from Acura when a concept NSX was shown 8 years ago. And it looks like that the new NSX has no shortcomings at this time and can be a good rival to other cars in this segment from Ferrari, Audi, BMW, Jaguar, and Porsche.
Like all other modern supercars, Acura came up with its own Hybrid drivetrain as well. The NSX is powered by longitudinally mounted  twin turbo V6 engine coupled with three electric motors making above 500HP with 9 speed dual clutch transmission. Two motors on the front axle while the third one in the rear. Larger air ducts, especially behind the doors are there to force more air into the intercoolers for those two turbines. The new NSX will be using aluminium and carbon composites for lighter weights. The performance numbers are not yet known and will be released very soon.
The new NSX is designed by Acura North America and will be built at new Acura plant in Ohio, USA. The pre-orders starts July 2015 with the delivery around the end of 2015. The base price is announced at USD 150,000.
Watch the full reveal video below with all the technical details of the Acura NSX