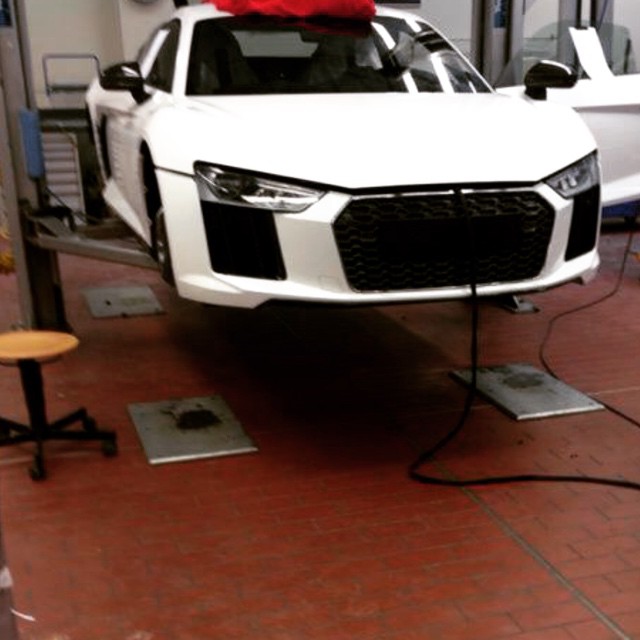 2016 Audi R8 Photos Leaked
The picture below has flooded the automotive forums around the globe and it looks like the cat is finally out of the bag. Yes, you are probably looking into the 2016 Audi R8 which is scheduled to be unveiled next month at the 2015 Geneva International Motor Show.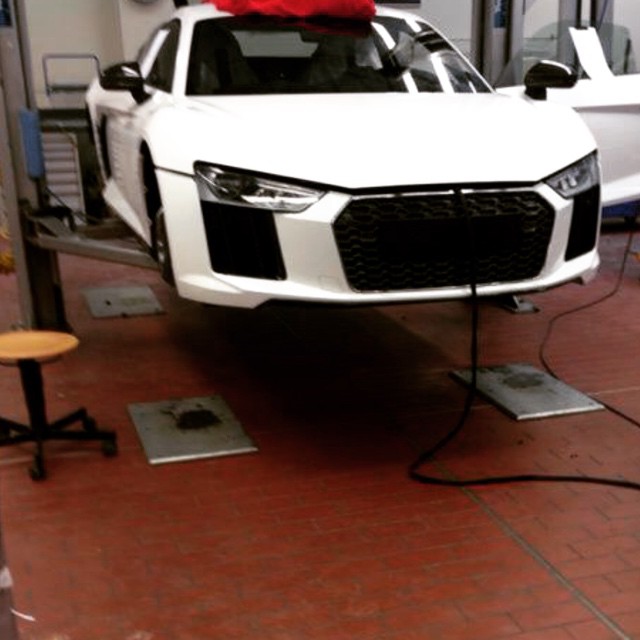 R8 is a famous two-seater mid-engine sports car manufactured by Audi. The first generation R8 was introduced back in 2006 and since then it has remained in production until late 2014. The Audi R8 came as a production version of the Le-Mans Quattro concept car shown at Frankfurt Auto Show back in 2003. R8 name came from Audi's R8 race car that won several 24 Hours of Le-Mans Endurance races.  The first generation R8 design is based on light weight aluminium space frame which it inherited from Lamborghini Gallardo. It is believed that R8 is one of the most comfortable and roomier car among its competition and can be used as a daily driver.
The first generation of R8 is available in different trim levels like a coupe and a convertible Spyder. It is available with a 4.2-liter V8 making 430 HP and 317 FT-LB of torque. The R8 V10 has a 5.2-liter V10 with 525 hp and 391 FT-LB of torque. The most power option is V10 Plus coupe powered by a 5.0-liter V10 with output of 550 hp and 398 FT-LB or torque. Audi's Quattro all-wheel drive and a six-speed manual transmission is standard while a seven-speed dual-clutch automated manual S-tronic with paddle shifters is optional.  R8 e-tron as well as R8 TDI were also shown as concept while some limited production models were also introduced. The most recent was a limited version of R8 LMX.
After Lamborghini replaced Gallardo with the beautiful Huracan, the Audi R8 felt old as the first generation remained in production for 8 long years. But Audi was already working on the next generation of R8 and some spy shots were captured while testing on the Nürburgring. You can call the new R8 a non-identical twin of the Huracan as it shares extensive design architecture and technology with the Huracan. Under the new R8 is the same platform found in the Lamborghini Huracan LP 610-4. Though the R8 will sit on wider and longer wheel base. The next generation R8 will have heavily revised and upgraded body and chassis using composites resulting in reduced curb weight.
The current R8 is available with a V8 or a V10 engine, but it is rumored that in the upcoming R8, Audi might bring in a twin-turbo V6 and replace the 4.2-liter V8 with it. Also, the 5.2-liter V10 will be replaced with a twin-turbo 4.0-liter V8, which is also available currently in Audi's flagship RS6, RS7 and S8 models. Like other brands, Audi is also working on downsizing the engine displacement without compromising on the power output and this is what is expected from the upcoming R8.
Looking at the spy shot, it looks like there are no laser lights as Audi showcased on the limited version Audi LMX. Also the side flares and the intakes behind the doors on the new Audi looks thinner compared with the first generation.
Audi also plans to introduce all electric version battery-powered R8 with driving range of about 250 miles. The e-tron R8 will be limited production car and will be priced much higher than the gasoline powered R8. I think we can wait for another 4 weeks and all accurate and authentic details with pictures for another most anticipated super car will be out. Production of the new R8 will take place at Audi's plant in Neckarsulm, Germany.