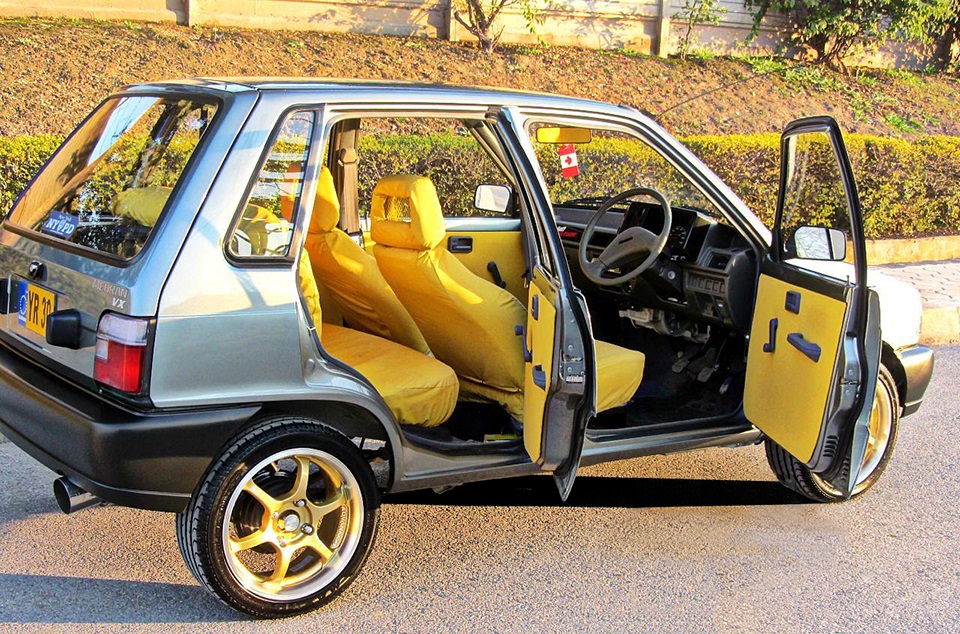 My Dream: A Suzuki Mehran VTi Oriel Prosmatec Fully Loaded
"It came, it saw, it conquered, and it stayed forever" – it may sound like a phrase from a history book describing the introduction of capitalism, but it fits Suzuki Mehran just as well.
Despite being the worst car available in Pakistani market with substandard build quality, and by no means substandard price, it continues to sell in tens of thousands. Even the imports which are by far better value-for-money choice haven't been able to kill the Mighty Mehran. Kill is a strong word, I doubt if they have even managed to put up a fair competition.
Having established the fact that Suzuki Mehran is here to stay, let us accept it wholeheartedly and contemplate on how to improve it. Yes, I giggled too, but let us at least make a wish-list of options we can put forward to Pak Suzuki to be incorporated in the Mehran to somehow justify the 650,000 rupees equivalent of sweat and blood we are paying for it.
I drove a Mehran some 10 years ago. On one of the main intercity roads after a slight bump at 70km/h, the axle disassembled and I ended up in front of an oncoming truck. Fortunately, the standards on which that 40 years old truck, laden with tons of gravel, was built were better than my almost new Mehran, and it managed to stop just in time with its front iron guard inches from my face. We sold it the next day and there hasn't been a Mehran in our family since then.
Since then, I have seen them multiply on the roads. I have admired them being sold like hot cakes despite offering bare minimum. I have experienced multiple shocks at hearing their price hike, but never considered buying one. Until recently.
After being told that the Mehran is not what it used to be 10 years ago, the roads are better now, and it's good for city commutation, I considered buying a used Suzuki Mehran for my younger sibling. I was disappointed though in my search. Every Mehran I looked at seemed effed up – rattles, emptiness, plastics, jerky ride, and immense cabin noise. Some good two dozen cars later, my friend who accompanied me came to a conclusion which I think was pretty accurate;
"Khurram, I think you're expecting too much from a Mehran. Let's try a brand new one and see if I'm correct".
And he was. The almost new 600km driven, unregistered almost brand new Suzuki Mehran demanding 650,000 of my rupees felt exactly the same.
Hence this post.
There are at least a dozen less than 7 years old options this sort money can get me. And most of them will have the following;
Better build quality
ABS
Airbags
Power Steering
Power Windows
Better Cabin Space and Leg Room
Insulated Cabin
Better Air-Con
A choice of automatic transmission
I am pretty sure I have missed some, but let us start with these.
On top of my list will be the safety features. Airbags may be asking too much from PakSuzuki, but ABS isn't. Let us wake up to the fact that this is 2015 – ABS isn't an option, it is a requisite. It isn't a lavish service entertaining the rich only. It is a basic safety feature because life of someone in Mehran is as important as the life of someone in a new Honda Civic (believe it or not). And it is the kind of feature which wouldn't meddle with the rest of Mehran's 'complex' working mechanism. So please, pretty please, add an ABS.
Next comes the cabin insulation. I have seen Mehrans with aftermarket insulation jobs, and you know what? It works. If a novice with no automotive knowledge can use a few dynamat/insulation sheets to bi-fold improve his cabin quietness, an established motor company with thousands of employees, engineers, sound masters can do better for less. Not only does this make the whole travelling experience better because well, the doors close better, plus you don't have to shout on top of your lungs to talk to each other over the sounds of Rikshaws and Qinquis and Bikes and your own engine screaming, you also get a very smart bi-product: Insulating actually helps the Air-Con cool the car quicker. So there's your chance to kill two birds with one stone, please don't blow this chance.
Then there is the power steering. Have you noticed how guys today are more pumped up in skinny shirts with huge biceps? Our friends at PakSuzuki are to be thanked for this. Do you imagine how eased will the drivers be if they don't have to go through an arm-wrestling contest each time they have to take a u-turn? Folks at Bilal Gunj and Shershah install electric Power Steering in 6000 rupees. This includes their profit as well as well as labor charges for the half an hour job. Can your state-of-the-art facility match those roadside mechanics in craftsmanship and price? Oh and while you're at it, a couple of motors for power windows wouldn't hurt – just the front ones would do. Because in the 21st century, you know what are the only two other things left which have peddles you have to rotate? A bicycle, and a primitive sewing machine our mothers brought in their 'jahaiz'.
The next thing on my wish list is a complete redo of the seats: Another one stone, two birds scenario. The better cabin space in many JDM mini hatchbacks like ESSE, Mira, Pino owes to the fact that their seats aren't as fat as a Pushto film heroin. They are smartly designed, thin, yet comfortable. They shape into a bucket and hold you in place as opposed to the rounded Mehran's seat where half your driving attention is spent on balancing yourself correctly each time you make a turn. With proper seats, I'm betting on at least 5 inch extra leg space and added comfort if Pak Suzuki looks into it.
And finally – the choice of an Automatic Transmission. Gone are the days when Automatic Cars were forbidden fruit. Since the introduction of imports, people have gradually started accepting A/T cars. With the current traffic situation where it's pretty common to be stuck in traffic for half an hour, A/T comes out as a no-brainer. From my personal experience, I haven't met a single person who has reverted from an Auto to a Manual. Life just gets easy if you're driving an A/T. To all the manual transmission fans out there cursing me at this moment – when you buy an E36 M3, make sure it is a manual. But this is an 800cc Mehran for heaven's sake; get an A/T, your left leg will thank you for it.
So that's my wish-list for the 2016 Mehran. Mind you I am not asking for much. I haven't mentioned Projection Headlamps, 8 airbags, dual zone climate control, 14 inch BBS Alloys, a CD player or a Navigation system. Mine is the most minimalistic approach to justify the not-so-modest price tag – it isn't easy earning that kind of money in Pakistan.
What will make Mehran attractive for you for the price? Do you agree with my approach? Or what can or should be eliminated? Do you think there should be an upscale trim in Mehran? Don't forget to post your suggestions below in comments. Who knows, maybe someone from Pak Suzuki wandering on the internet stumbles upon this blog-post and re-evaluates their business model.