Yesterday (Sunday), when I woke up and the first thing I did as always was to check out my Facebook timeline. I was expecting there will some news about moon sighting or maybe some Ramadan Mubarak post as always we see just before Ramadan. Well, it was not like that. Moon was not sighted, but something else has been spotted – something explicit and very BIG! Social media across Pakistan was a buzz with one and only one news, "Civic X". A couple of days ago we reported that the launch of the upcoming 10th generation Honda Civic is near and few days away, and it stands true. I drafted a blog few days ago and concentrated on what we know and what to expect from the upcoming Honda Civic and before sending it to my editor, I hoped that it will be my last blog about the Civic…but from the looks of it, it's not!
Also Read: 2016 Honda Civic – What We know, What to Expect!
This last Sunday, some selected lucky people got a chance and had a sneak peek view of the 2016 Honda Civic before any public release. I came to know that it was a very private event, and everything has to be kept very secretive but as always the pictures leaked out and became viral. Still many things are not clear, but we can predict few things with the available unofficial information. So let's go over it.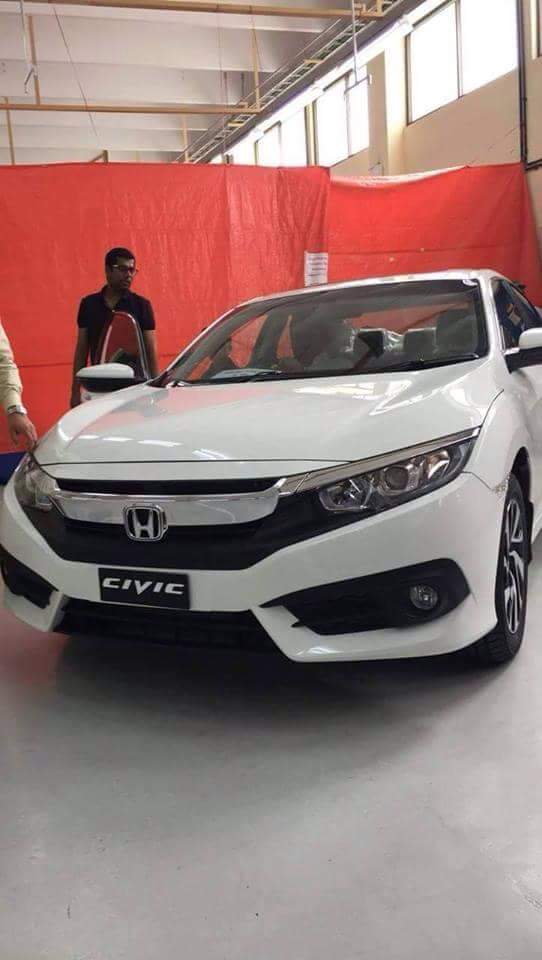 At launch Civic will be available in two model and its confirmed by the people who attended the event. As we reported earlier many times, it will be offered with the old R18 1.8L engine and labeled as 1.8L Oriel while the other attractive model we always wanted to see will be a 1.5L Turbocharged variant. Honda is calling it a 1.5L Turbo. The 1.5-litre VTEC Turbo produce 173 HP @ 5,500 RPM with torque figures of 220 NM from 1,700 to 5,500 RPM. The 1.8-litre i-VTEC produces 141 HP @ 6,500 RPM with torque figures of 174 Nm @ 4,300 RPM. Big news on transmission front, there is no manual transmission on both models as we predicted. I am sure many people who wanted to opt for a manual will still consider the Civic due to its many other features and qualities. No updates on suspension but MacPherson Strut Front Suspension and Multi-Link Rear Suspension will be there.
We got hold of a slide from one of our very respected PakWheel members which can show some of the details as under and which are self-explanatory. The slide also shows a comparison between the 9th and 10th Generation Civic.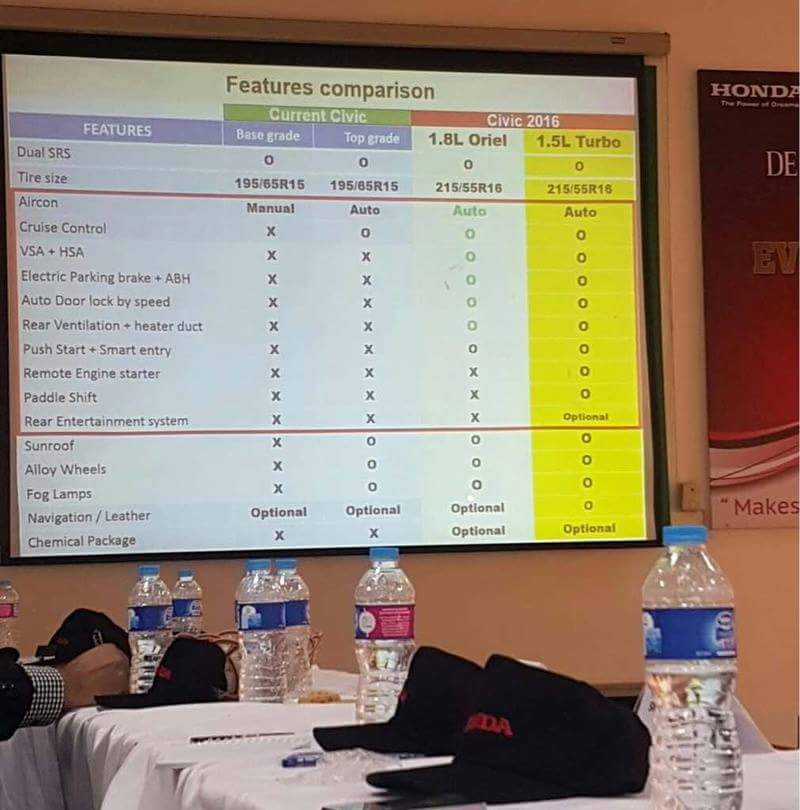 Both 1.8L and 1.5T will be equipped with front Driver and passenger airbags. There will be no side and curtain airbags [which make total 6] standard like we have seen on USDM Civic.  I reported in my previous article about the tyre size, and both 1.8L and 1.5T will get 215/55 R16 size alloy wheels. Many people wanted 17″ rims option but looks like as of now, it's not there.  Both models will get climate control units, and cruise control is also standard on both 1.8L and 1.5T.
Vehicle Stability Assist [VSA] is also standard on both models. Honda defines VSA as following:
"The system which helps to stabilize the vehicle during cornering if the car turns more or less than desired. It also assists you in maintaining traction while accelerating on loose or slippery road surfaces. It does this by regulating the engine's output, and by selectively applying braking".
Beside VSA there is a new feature for Civic, which is HSA [Hill Start Assist]. It's an active safety feature and will assist when you are parked on a slope and start driving uphill. It will also help driver when you are backing up/reversing uphill. It helps driver while switching from brake to accelerator paddle so that the car doesn't descent, and you get some extra couple of seconds to react. Both models will get HSA.
Another new thing is Electronic Parking Brake with Auto Brake Hold [ABH] and its standard feature on both models. Gone are days of manual hand brakes. Now you will press a button, and the Civic rear wheel will get locked for parking. Automatic Brake Hold (ABH) maintains rear brake hold even after the brake pedal is released. This is a very nice feature in a start-stop traffic as you can remove the foot from the brake paddle and the car will remain in gear until you press the accelerator again. Due to the elimination of traditional handbrake lever, Civic now has a huge storage space between the two front seats. Auto door locking safety features, which locks the doors after reaching a certain speed is also a standard feature.
Push button start and Honda's smart key access is also a standard feature. You don't need to bring out the key out of your pocket to unlock the car. As always, immobilizer will be standard on all variants.
The remote engine starter option is only available for the 1.5T model. Rear entertainment system [not sure at this time what that will be, maybe dual video screens in the headrests for rear passengers as we can predict] is an optional item on 1.5T and will cost extra. There will be ducts for the rear passengers for heat and air conditioning which are basically on the back end of the central storage between the front passengers seats. Both 1.5T and 1.8L will have this as standard.
The most wanted feature that is paddle shifting mounted on the back of steering wheel is only available on the 1.5T variant. As of now, both 1.8L and 1.5T will have sunroof, and fog lamps are also standard. Stock fog lamps is a great feature on Honda Civic as Corolla owners have been spending thousand on fog lights and considering our weather in winters, you really need them. Auto dimming mirror which is a very basic driver convenience feature is not available on any model.
The other big news [what we know till now] is there is no Apple Car Play/Android Auto compatible head unit as we have seen on overseas models. There will be Android based 7″ LCD head unit with navigation and a basic 5″ head unit with CD player. 1.5T will get a 7″ unit with navigation as standard while 1.8L will get a simple 5″ head unit but buyers can opt for navigation system on 1.8L models and in that case, they will get a 7″ system. Apparently, it will cost a fortune as we have seen in the past. Bluetooth connectivity will be a standard feature on both models. After discussion with many potential 10th generation buyers, this is a big disappointment as many Honda enthusiast were expecting same head-units as we have seen on the overseas models.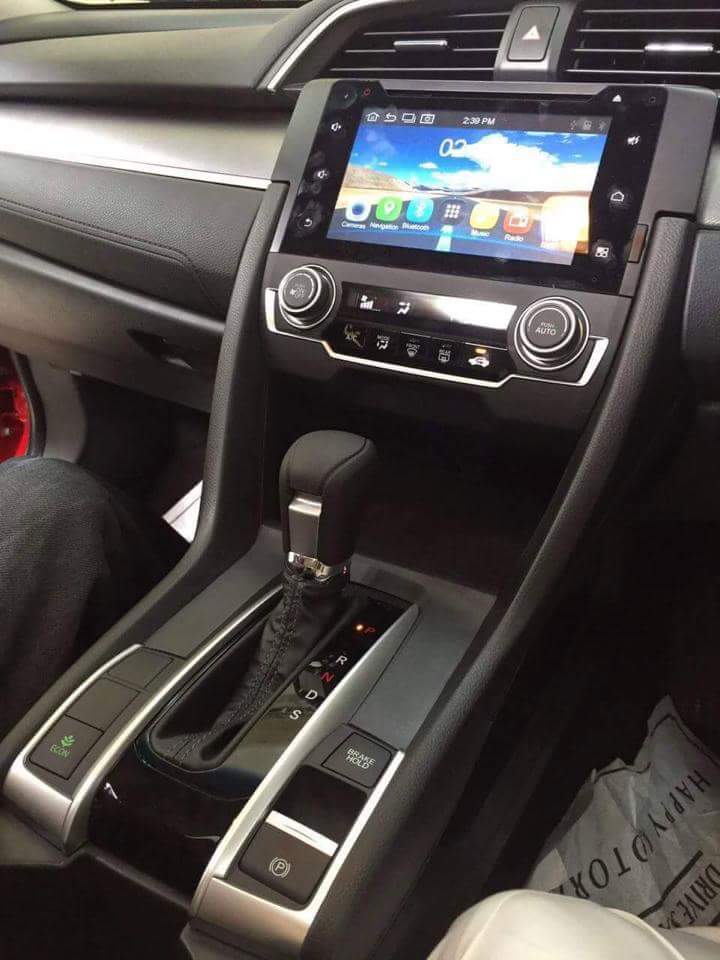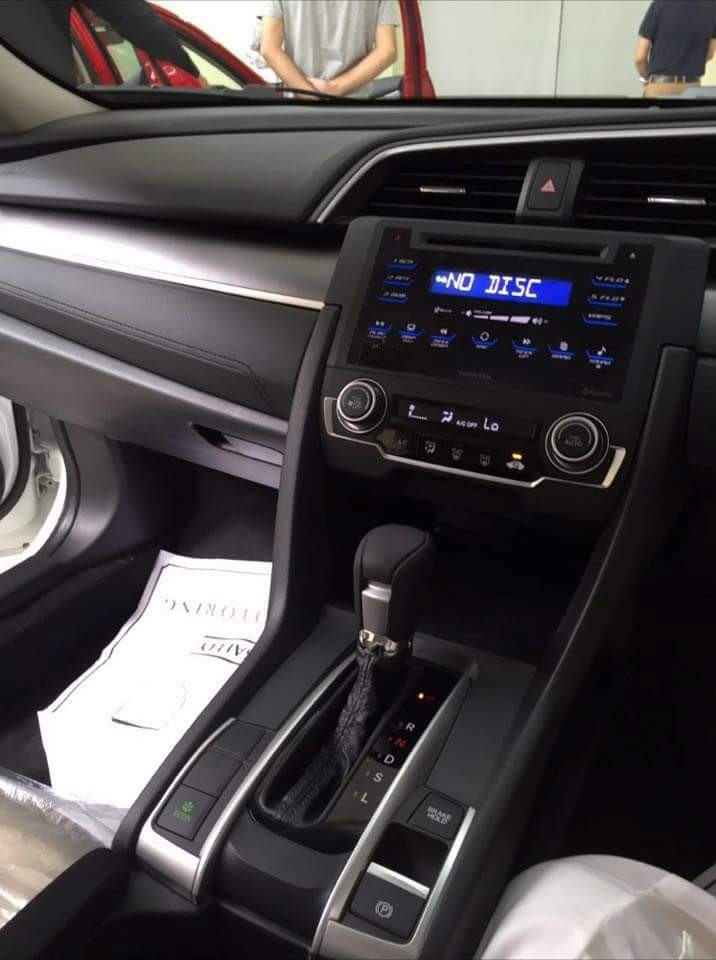 Besides all above, with available pictures, it looks like the famous full digital TFT color cluster is also not available as can be seen on international release. It seems we will get a simpler partial TFT display. This is again a big disappointing for many people. We hope this is not the case and when there is an official release we see something different but as of now, this is not the case.  There is no news on backup camera, and we don't have any rear end picture, so we can't confirm this feature at this time. I can expect and hope that it will be a standard feature.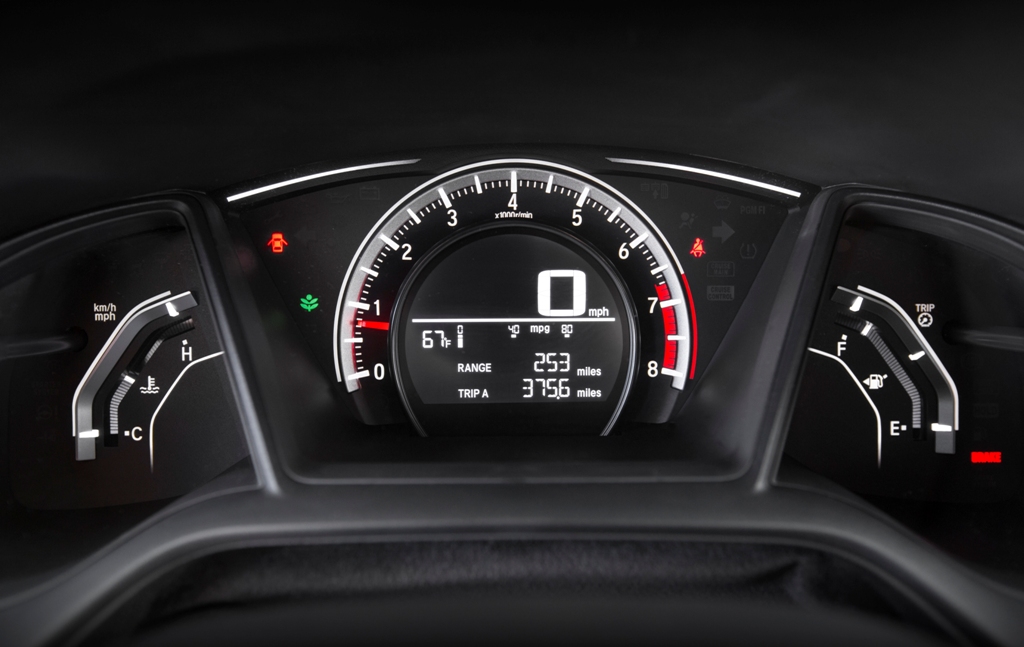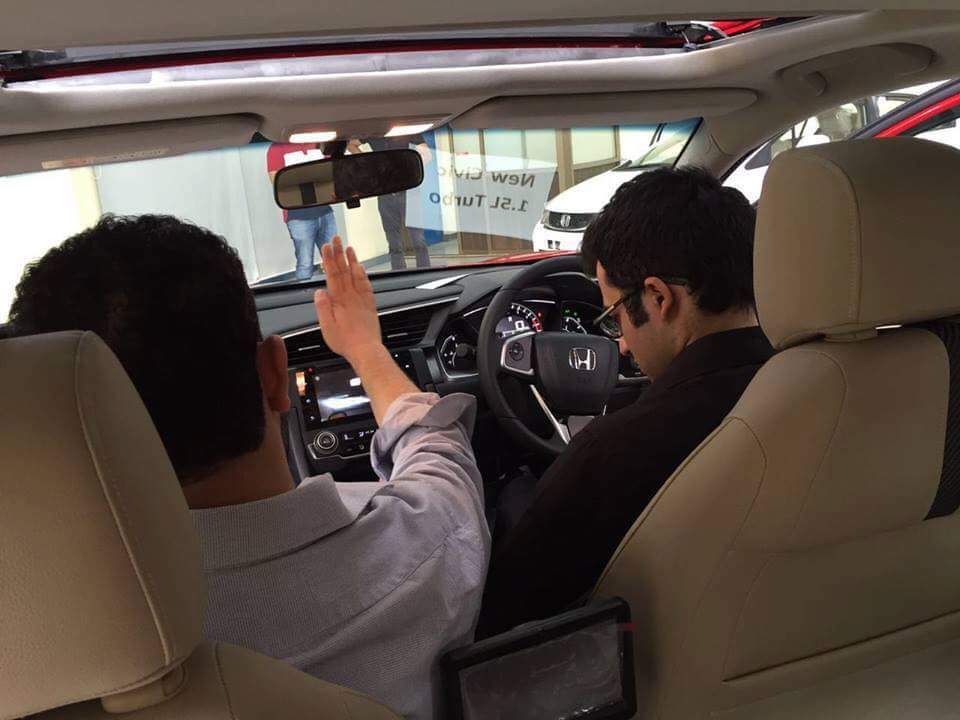 Now come to disappointment ranked number#1.
There are no LED headlights on both models as we have seen and loved on international models. I think we should be happy that at least we are getting LED daytime running lights which there are not available on the competitors model [I don't want to name it].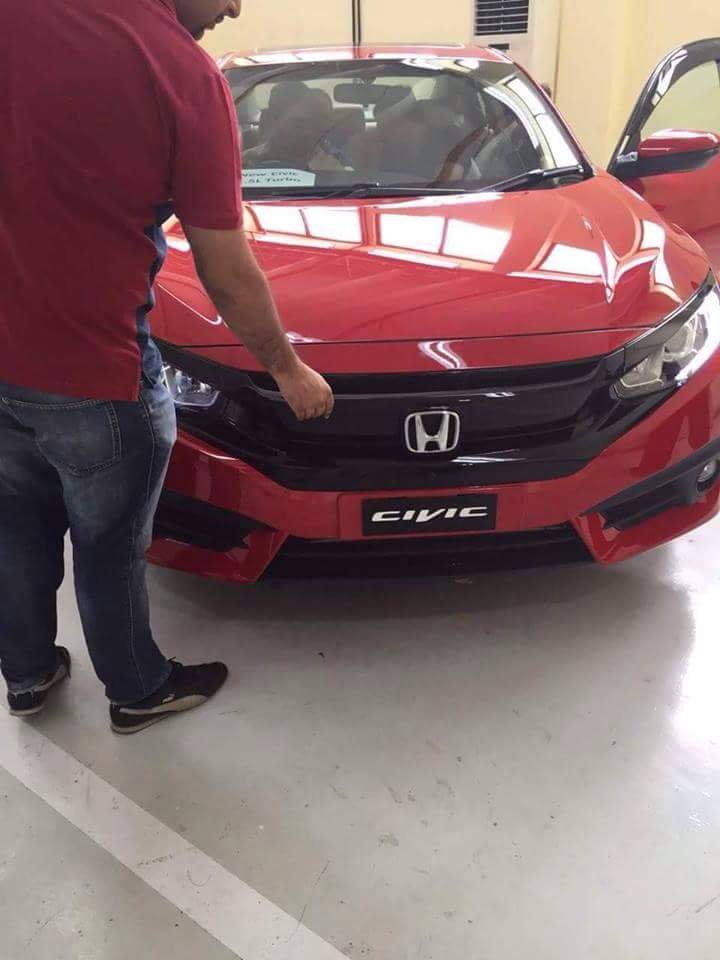 Beside that our reporter shared on PakWheels Forums that the door armrest has leather, and the inside door panels are well crafted with aluminum inlays. There is a soft-touch dashboard, and the quality of material is quite good. Unofficial reports suggest that on the exterior there will be Red, Blue, Black, White and shade of silver. There is confusion about power adjustable driver seat feature but seems like it has a slim chance. Our reporter didn't find one on the car he saw. More news is that there will be no lane watch camera, and there will be no Honda Sensing active safety System on any model from Honda Atlas as of now.
Also Read: Video: Watch 2016 Honda Civic "Honda Sensing" Active Safety Features Demonstration
Honda is also offering a detailing package on a brand new car which might include glass/ceramic coating on the exterior for protection. It will be optional for both models and cost of this option is not yet known. Expect something like PKR 15,000 for the clearcoat. There is no news on the price of two models, but rumors are that 1.5T will be around Rs2.8Million while Price of 1.8 Oriel will be floating around Rs2.6Million mark. The price is before any tax and registration fees. Pre-booking will open today, Monday, June 6th all across Pakistan authorized Honda dealerships at a non-refundable deposit of  PKR 1 Million.
Also Read: Dealerships to Start 2016 Honda Civic Bookings This Monday!
It's around 9 PM on East Coast here in NY while I am finishing this article. By the time this article is published, there will be many new things will be cleared as more information comes out. We shared maximum what we could at this time. In the end, I will appreciate Honda Atlas for releasing a brand new car that too within six months of an international release. There will be shortcomings, and many people will not be happy as the new Honda Civic might not fulfill their expectations but I can still assure you that one must do check out the new Civic and test drive it. It might be lacking features which everyone else got overseas, but there is one thing which comes standard on the new Civic, the fresh face and modern looks and most importantly the fact which makes it back to what a Civic famous for "The Driving Pleasure".
Discuss Civic X at Pakwheels Community: Pakwheels.com/Civic
[Disclaimer: The information shared here is an unofficial and based on details made available by different sources]