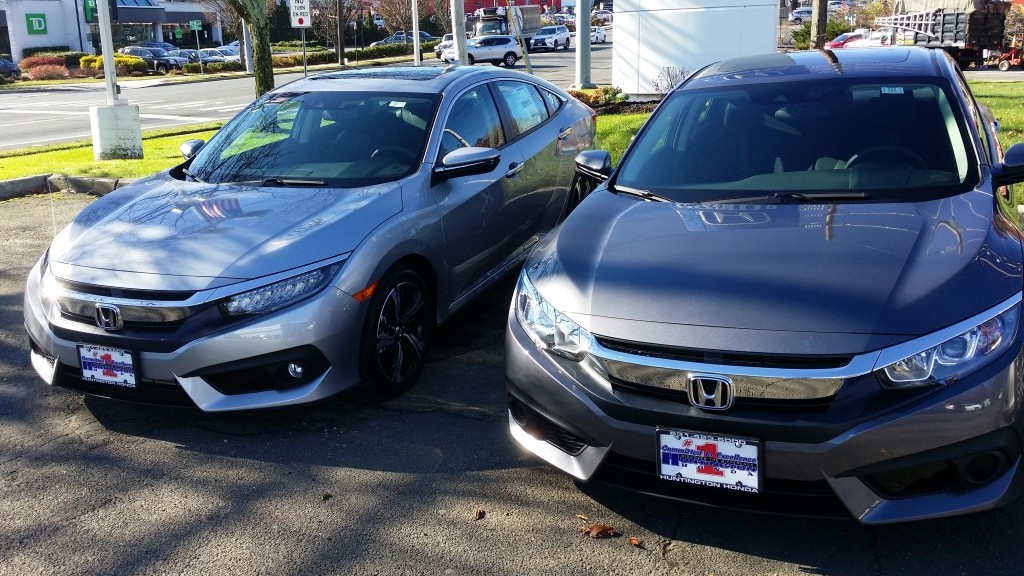 2016 Honda Civic – What We know, What to Expect!
There is not a single week on PakWheels when there is no news or article on the upcoming 10th Generation Honda Civic [Civic X]. On  PakWheel forum, I started a thread almost two years ago when the first spy shots of the Civic X hit the internet. The hype can be judged from the fact that the "Civic X Pakistan Launch thread" had around 22000 views and less than 70 pages back in November 2015. As of today, there are around 265000 views and above 200 pages. This is just one parameter which shows that how much people are anxious to know about this new car. I repeatedly mentioned in my various articles that anticipation and excitement is totally genuine, the reason being the car is truly a game changer.
Read Fazal Wahab's 2016 Honda Civic Detailed Review here!
2016 Honda Civic was designed for the first time outside Japan at Honda Design Studio in downtown Los Angeles. Interestingly the Advanced Design Studio is a 6,500-square-foot facility [little over one kanal house]. Obviously, the small area is occupied by very futuristic and creative minds with advanced tools to work. Honda chose LA to launch their Civic back in September 2015. Later this year the launch spread to other markets like Middle East, Australia and recently near our neighborhood in ASEAN [Association of Southeast Asian Nations]. The release of Civic in ASEAN, especially in Thailand is relatively important for Pakistan as in the past Pakistan has been following Thai market as far as local Toyota or Honda products are concerned. The Civic X is already for sale in Thailand for almost two months which means soon it will be arriving at our dealerships as well. Well, it has already been spotted undercover on roads in Lahore and the anxiety among the Honda fans, and many other car enthusiasts is already sky high. Rumors are we might be just days away from the launch. Honda calls Civic X, a global model which means its identical from outside across the globe. Let's go over some quick main facts and will focus on Thai spec Civic and see what we know up till now.
Also Read: Spy Shots – 2016 Honda Civic test spotted in Lahore
Engine & Transmission:
I am starting from the drivetrain because this is the one main area where there is a significant change. Thai Civic X is powered by a newly developed 1.5-litre Earth Dreams turbo engine. The 1.5-litre VTEC Turbo produce 173 HP @ 5,500 RPM with torque figures of 220 NM from 1,700 to 5,500 RPM. There are no 0 to 100kmph official figures yet, but various automotive journalists have tested it and found it between mid 7 to 8-second mark.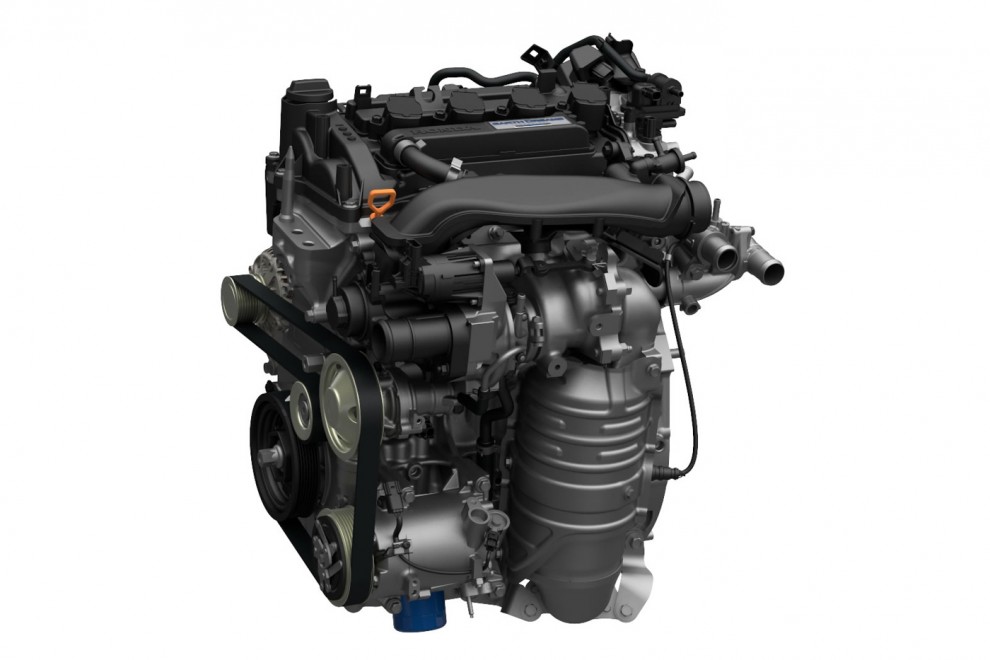 Besides the turbo engine, Civic X is also available with the older R18 engine which we have seen in the 8th and 9th generation Honda Civic.  The 1.8-litre i-VTEC produce 141 HP @ 6,500 RPM with torque figure of 174 Nm @ 4,300 RPM.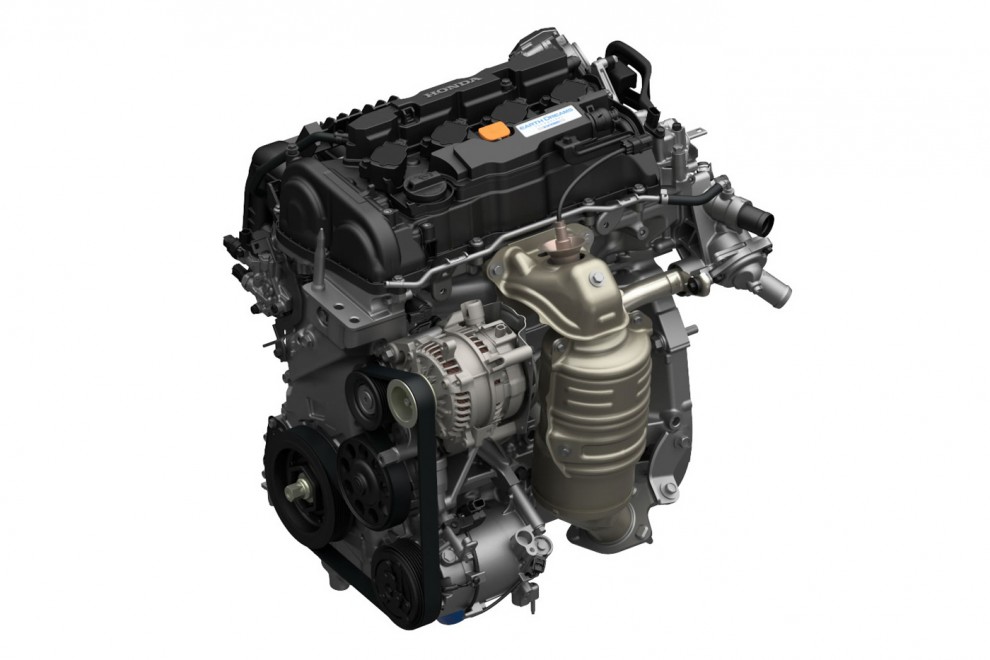 You will be able to identify the 1.5-litre turbo Honda Civic because of the two exhaust tips, one on each side, under the rear bumper. Also, a VTEC turbo badge on the right side on the trunk while the 1.8L will get a single exhaust tip and i-VTEC badge.  The car in the Pakistani spy shots was also seen with two tips which confirms that a 1.5L Turbo will be available in Pakistan. One of our bloggers said it last year that its possible there will be an R18 engine version Honda as well. The 1.8L engine Honda Civic is also available for the Thai market.
Also Read: Honda Civic 2016 With Current R18 Engine Is A Possibility In Pakistan
On transmission front, the Thai Civic is equipped newly developed continuously variable transmission (CVT). All variants of Civic X no matter 1.5L turbo or naturally aspirated R18 will be fitted with this new transmission. The top of the line RS grade on Thai spec Civic will get paddle shifters only.
After some research, I found that Honda is not offering a manual transmission as an option in the 2016 Honda Civic at this time except the 2-liter NA USDM model. This means Honda have laid the manual transmission to rest for this new generation as far as 1.5L and 1.8L units are concerned. As we follow Thai spec Civic, it gives us an indication that Pakistani market will be skipping a manual transmission as well. This can be turn off for some of Honda enthusiast, but this is what we can report at this time. I am sure many people who wanted to opt for a manual will still consider the Civic due to its many other features and qualities.
1.5-liter Turbo with CVT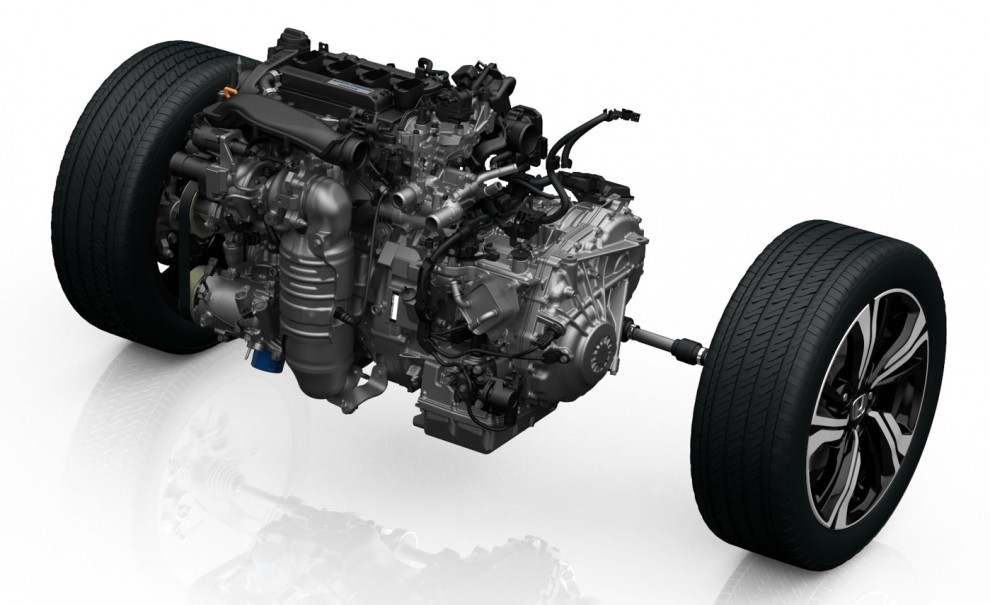 1.8-liter Naturally Aspirated with CVT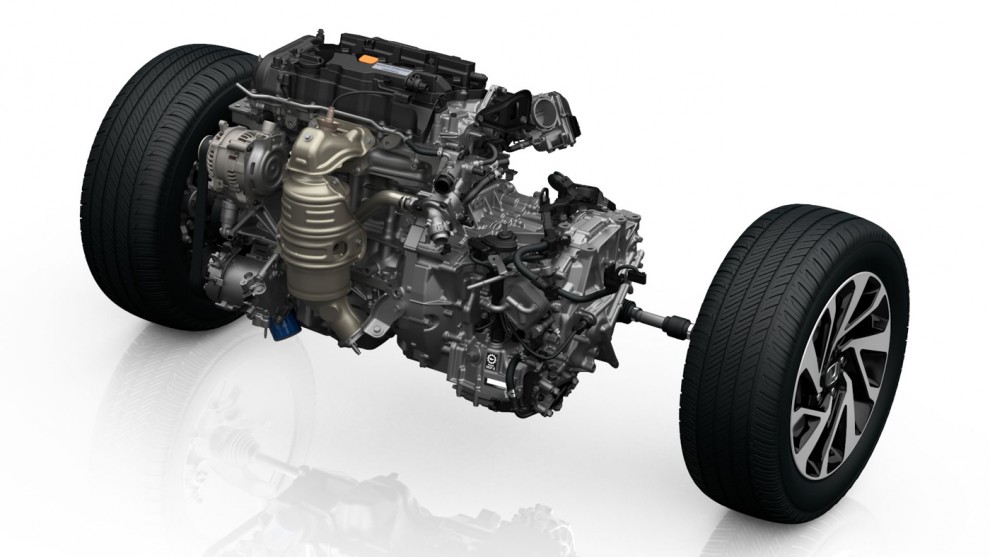 Suspension:
Thai Civic X is equipped with MacPherson Strut Front Suspension and Multi-Link Rear Suspension. That is the standard suspension system for all variants and have been seen on the 10th gen Civic on all international markets.  Mult-Link rear suspension was on the 9th generation Civic in the global market already while PKDM 9the generation Civic received "Reactive-Link Double Wishbone Suspension". The new Multi-Link Suspension system is modified & improved over the previous generation with stiffer anti-roll bars and is very fun to drive compared to the previous generation. The ride quality is much improved. We hope this time PKDM will follow same suspension system as Thai for the new generation of Civic.
Front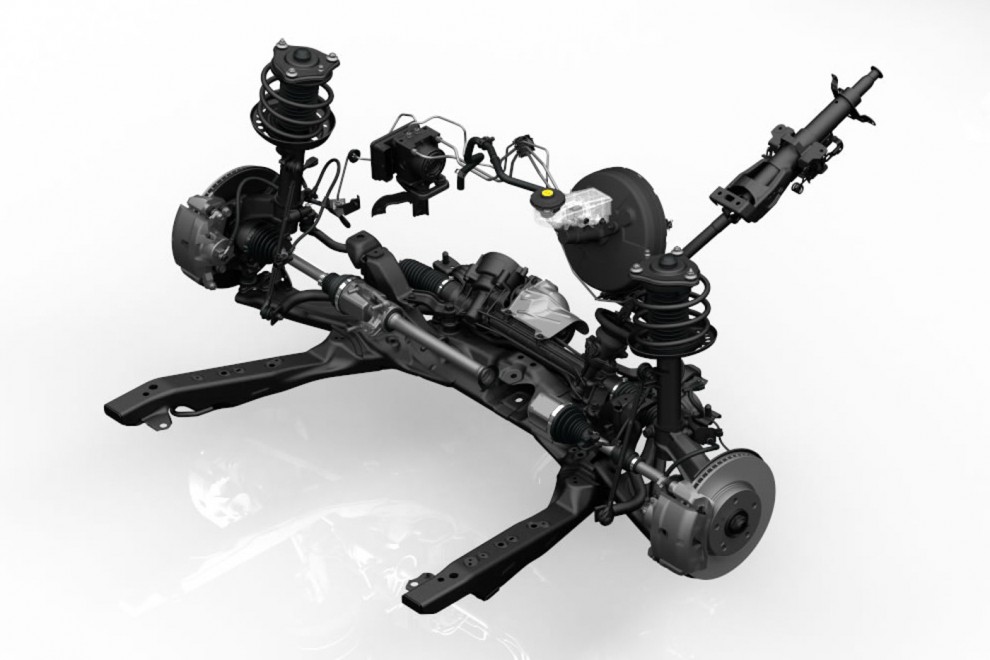 Rear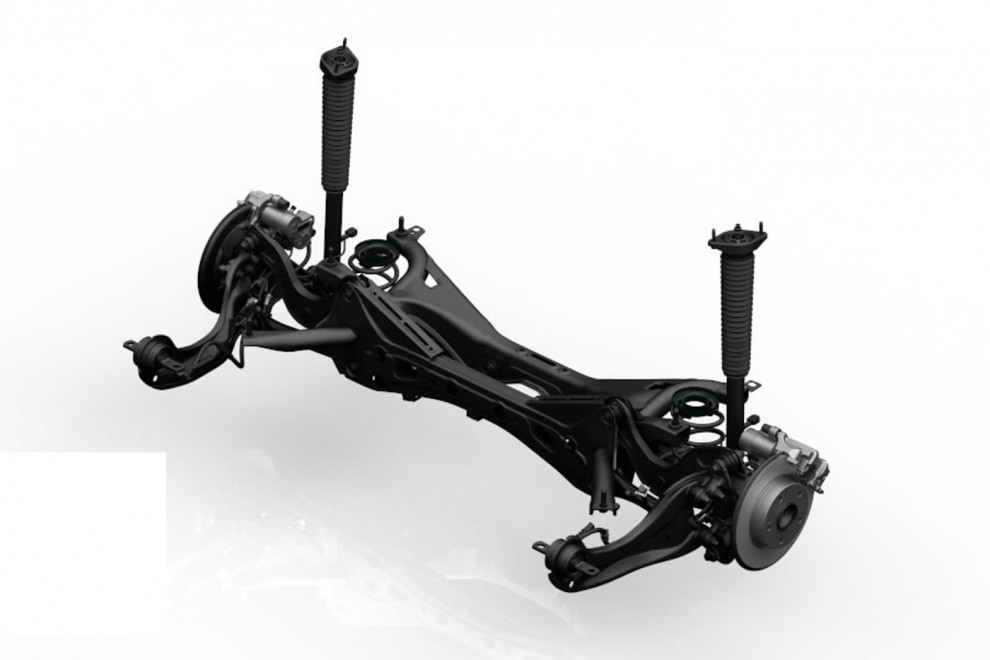 Civic variants:
Thai Civic is available in four variants. The 1.8-liter E & 1.8-liter EL for the non-turbo versions while 1.5-liter T is classified into two grades also as "Turbo" and top of the line up the "Turbo RS". 1.8E remains the very basic model. As we are predicting there won't be manual transmission options, it looks like PKDM might be offered with four trims as well, two each for 1.8L and 1.5 Turbo. What they will be called, we will let you decide.  On Thai spec Civic the majority of options and features are only available on Turbo variant, which makes us think same for PKDM. If you want a top of the line model, you have to pick a turbo model.
Prices on Thai model have increased on average of PKR 65,000 for Civic X. The current MRSP translate to PKR as follows:
1.8E > PKR 2,549,980/-
1.8EL >PKR 2,814,075/-
Turbo > PKR 3,224,889/-
Turbo RS  >PKR 3,518,327/-
The prices mentioned are for the Civic X in Thailand, and are mentioned here for comparison purpose to show how different grades, trim and features impact the pricing of the car.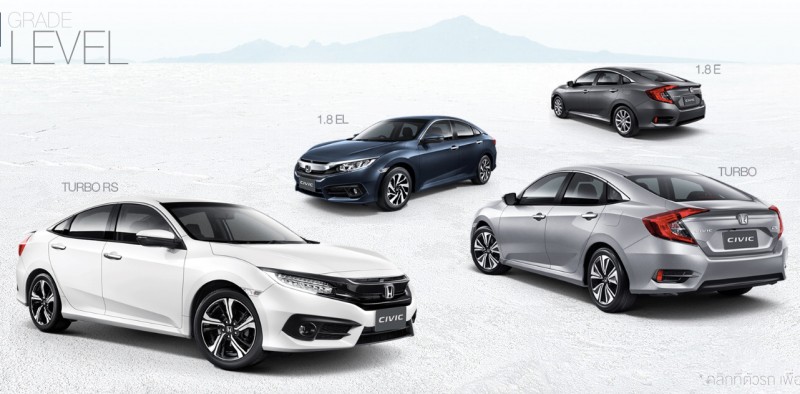 Exterior:
In the past, the United States domestic models [USDM] and ASEAN models had slightly different exteriors. Different taillights, headlights, bumper, trunk, LHD/RHD are few of the features which can be used to differentiate.  As the tenth generation is a global vehicle, its identical almost everywhere it is sold or will be sold. Although there is one small difference on the exterior, the front fender side marker on USDM is amber while its white on ASEAN.
Thai Civic is available in following colors, and we might be getting same or slightly different shades.
Cosmic Blue M
Crystal Black pearl
White Orchard Pearl
Lunar Silver Metallic
Modern Steel Metallic
USDM Civic is available with three additional colors; Aegean Blue Metallic, Burgundy Night Pearl, and Rallye Red. Availability of these on PKDM Civic is a question mark and seems unlikely.

Depending on the grade/trim there are some exterior differences. At the front, the daytime running LEDs and C-shaped LED taillights remain standard across all the trim levels on the Thai Civic. Projector headlights are standard on all trim levels except the top of the line RS model which gets the Honda's first LED Headlights. Except the base model, all variants get fog lights. The availability of LED headlights on PKDM Civic is highly unlikely, but we can wish these do come. Honestly, LED lights make the new Civic X stand out, day or night.
Both non-turbo versions come with 215/55/R16 size alloy wheels while both the turbo version gets 215/55/R17. For the 9th generation, PKDM was fitted with 195/65/R15 steel or alloy wheels. Such a size on the new Civic will look awful. It looks like the new Civic for our market will get an update for wheels as well. It might be the base model with 215/55/R16 size steel wheels with covers while 17″ alloy wheels on turbo versions. To compete with its all-time rival Toyota Corolla in the local market, Honda Atlas might be looking for cutting corners and exterior will be one under their knife.
Interior:
Honda did a fantastic job on the exterior and all other technical/ mechanical front. Interior is also something that is a job well done in all aspects and has been praised worldwide.
Also Read: 2016 Honda Civic Bags Wards Auto Award For Best Interior
Honda has packed the interior with an improved design, better materials, and excellent fitment. On technology and features front, blue tooth connectivity is standard across the trim levels. Steering wheel mounted controls will be standard across all trim levels. There will be analog/digital cluster on the base model with a 5″ radio unit.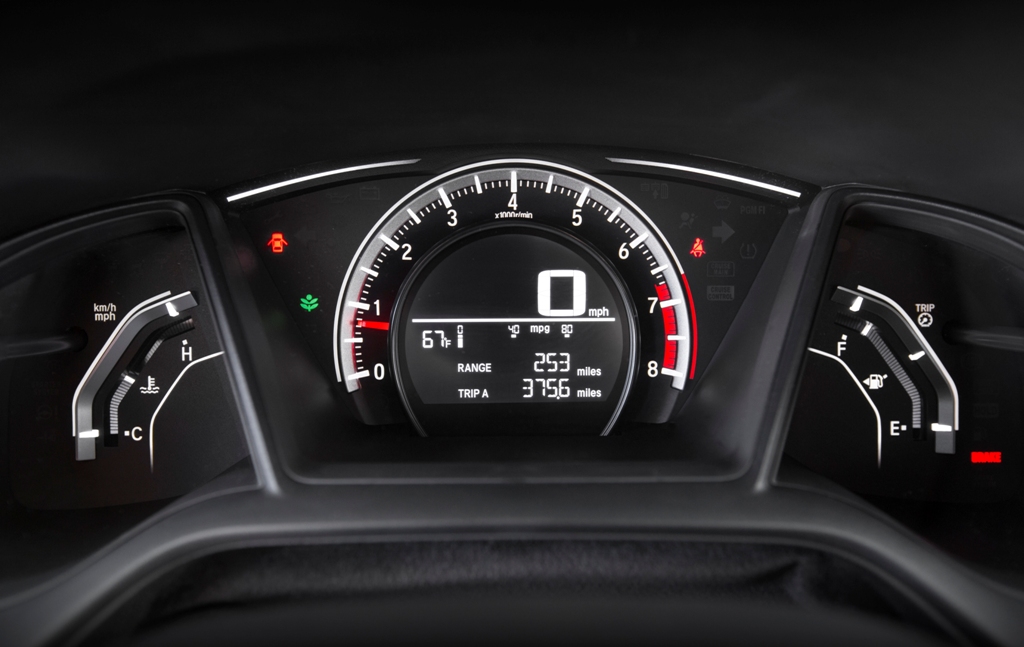 All upper trims [1.8EL, Turbo & RS] have a new 7″ touchscreen LCD unit with Apple Car Play/Android Auto compatibility. This means now you can project some of the compatible apps onto the head unit, such as Google maps. There will be a full digital cluster projecting vital car data, and phone calls log as well music/RDS data which is being played at the time. Please transfer your music on USB as it's bye bye to conventional CD disc.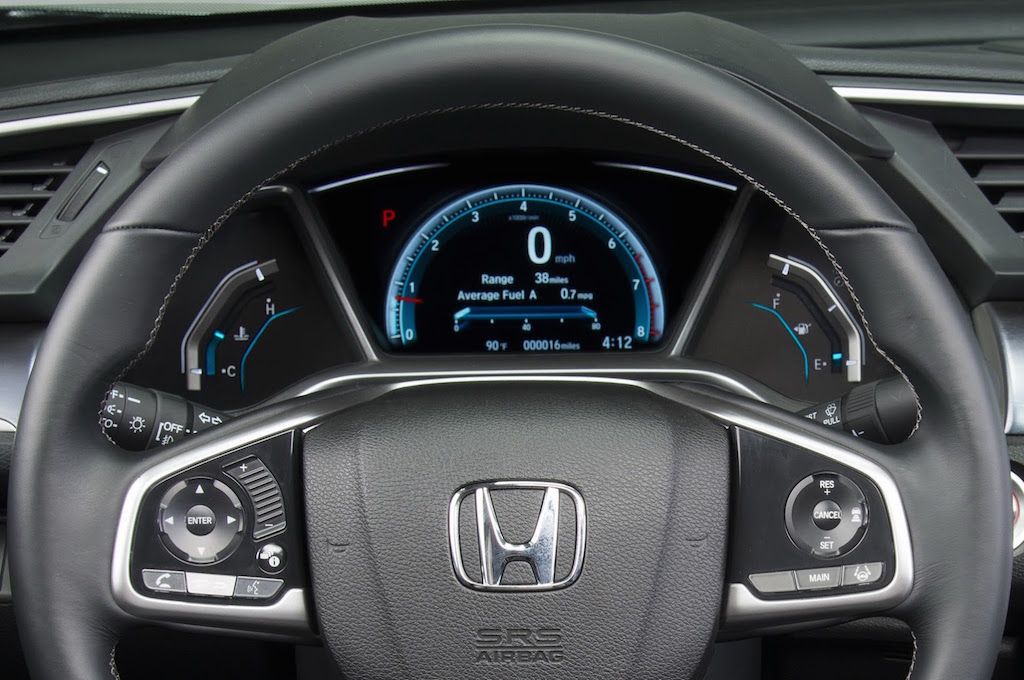 There are two USB ports and one HDMI input with eight speakers on all trim levels except the base model which will be equipped with only one USB and no HDMI, and there will be four speakers.
Due to the availability of Carplay/Android Auto you can use compatible apps on car's head unit including maps, text messages. The head unit can read you text messages, or you can compose one as well using voice recognition.
And with the compatible maps app, if even you don't opt for a navigation unit, you will still be able to have navigation provided you have data plan on your phone and google maps installed. As Carplay/Android Auto is standard feature except for the base model, we can expect same on PKDM as well. The remote start, keyless entry and push-button start, climate control and electronic parking brake, backup camera comes standard on all trim levels although cruise control is not available on base model. Except base model, all trim levels get 8-way power driver seat plus 4-way power adjustable passenger seat on top of the line RS model. Features like rear automatic rear view dimming mirror, automatic wipers, and dual climate control system remain exclusive to RS model.
From a long list of standard features, it's evident that Civic X will still be well equipped even if you don't opt for the top of the line model. But we still fear that to remain price competitive in the local market, we might be missing on some features. Still it will be a great upgrade from the previous generation.
Safety:
Safety features are something have usually been lacking on PKDM comparing overseas models, no matter which brand you see. Still Honda always remained ahead of others. On Thai Civic two airbags [drive+passenger] are standard while there are additional four [side and curtain on each side] in the top of the line RS model.  Vehicle stability assist [VSA], ABS with electronic brake distribution [EBD], Hill Start Assist remain standard. Only RS model comes with lane watch camera fitted on to the left side view mirror which basically activated when you switch the left indicator and displays the left side of your car.
Apart from above-mentioned features, something more important comes standard on Civic X, which is the newly designed advanced compatibility engineering (ACE) body structure that has a new crash stroke design. The frame rails are developed and fixed in a manner that they crash downwards in a front head-on collision. In high-speed crashes, this technique will reduce the risk of engine pushing into the passenger cabin/compartment. The new chassis is about 30kg lighter than the previous generation but has 25% more torsional rigidly. High-strength steel is used in major crash zones while there will be a single piece subframe in the rear as well as soft chassis areas to absorb the energy of the accident.
On the safety front, I think PKDM Civic will get most of the features as available on Thai spec due to them being a standard feature. As far as the Honda's Active Safety System "Honda Sensing", we can only dream about it as it's not available anywhere else except USDM and Australian Civic and to be honest, our roads and traffic culture are not yet capable of handling one at this time.
Also Watch: 2016 Honda Civic "Honda Sensing" Active Safety Features Demonstration
Conclusion:
Overall I think the new Civic X will be better than ever. I would say it will be best we have seen. We might miss on some features, but I hope as far as quality and workmanship are concerned it should be on par with Civic we have seen overseas. On top of all, I wish that we don't see a steep price hike. A slight increase in price is always understandable, but Honda Atlas must play their cards right. Pricing the new 2016 Civic in Pakistan is going to be the key to the success or failure of the car in Pakistan. Yes, it is a feature-packed vehicle, but if for some reason Honda Pakistan thinks they can price it in the vicinity of the Audi A3 sedan, it can result in a disaster. Even at around PKR 3 million, the new Civic has a threat from its foreigner family member, the Honda Vezel. Considering the popularity of Honda Vezel, it is one vehicle that can actually hurt the sales of the Honda Civic 2016.
Now let's wait and see how the story unfolds.