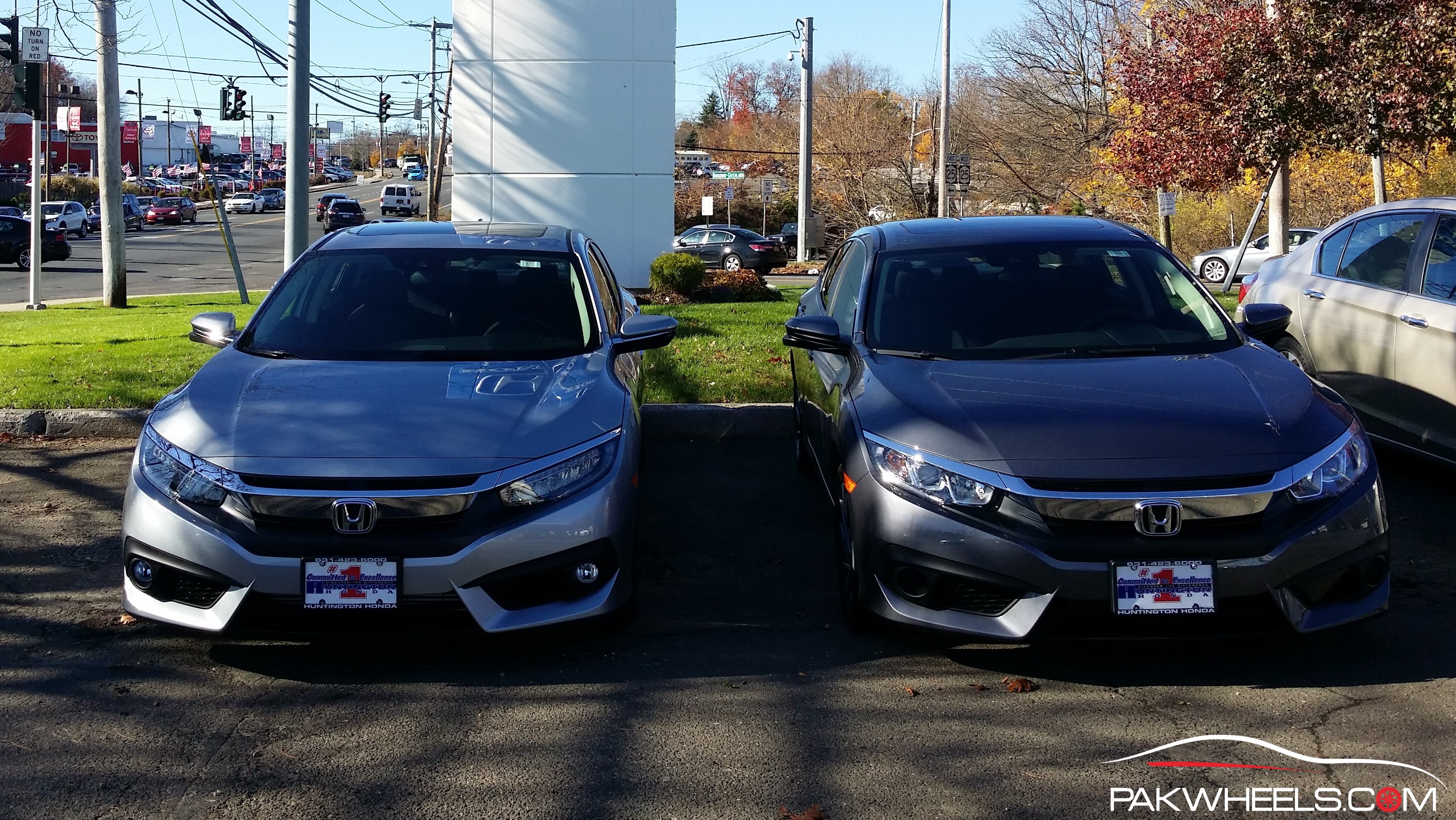 10th Generation 2016 Honda Civic Review By A PakWheeler: An Epic Civic
There are many car brands across the globe, from high end super expensive supercars to luxurious sedans. But there are a couple of them that always light up the global automotive scene and become the focus of the limelight. When you think about the best cars in the compact car segment that is also known as "C" segment, two cars come to mind; Honda Civic and Toyota Corolla. The rivalry between them is also well known.
Few years ago when Toyota released their 11th generation Corolla, it was praised for both its European and American releases. On the other hand, Honda was not when they launched their 9th generation Civic, as compared to Toyota. Owners of 9th generation Civic had complains about its poor handling and suspension, cheap materials, road noise and overall bland and dull exterior and interior. Issues like those made people think; 'where is the Civic factor for which it was always praised?'.
Refined products in the shape of Mazda3, Ford Focus, Hyundai Elantra and, of course, Toyota Corolla, had gained popularity. Though despite all the shortcomings and criticism Civic still sold very well across the globe and above 300,000 units a year in the US alone for the 9th generation. Reason: "It's still a Civic".
Also Read: 10th Generation 2016 Honda Civic Officially Revealed
Earlier in April 2015 I had a chance to visit New York International Auto Show and like everyone on the show floor I was stunned to see the lime green concept Civic on display. Honda North American Design Team from Los Angeles came up with the concept of 10th generation and surprised everyone for a reveal that wasn't even planned in the first place. Later internet was buzzed with spy shots of the car and after a long wait finally, the new Civic was revealed on 16th September 2015. The new Civic is now available at the dealers for sale here in the United States and I thought, I should take a trip to one and see the car personally and share my opinion about the car. I neither own a Honda or a Toyota so let me assure you that my thoughts are truly independent and neutral and not for or against any specific brand.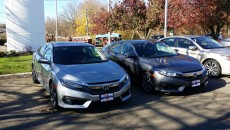 Civic has always been the flagship model for Honda due to its large global presence, especially here in the US where half of worldwide Civic sales happen. Honda was seeing the market trends and was well aware that this time they don't have the luxury to misfire with their flagship once again. They make it well or lose the whole thing. Entry level cars from Audi and Mercedes-Benz in the form of A3 and CLA respectively were already taking Honda's buyers away, while Hyundai Elantra and Corolla are also selling like hot cakes. Honda Japan gave the task of designing the new car to their American operation and design team, and they started with a clean slate.
I was told that when 9th generation was released in April 2011 and wasn't liked and praised overall, Honda immediately started working on the 10th generation. Interestingly the platform was approved in 2012, the same year Honda did an immediate face-lift for US domestic model. The facelift with exterior tweaks helped very little overall, and Honda couldn't bring a fun-to-drive character for which Civic was always well known.
Watch Official Launch Event Of The 2016 Honda Civic Sedan Here
After reading and writing number of blogs about this new Civic; I could not wait to see one when it finally reached my local dealership. When I arrived at dealer's lot for a test drive event this past Friday, I could not find a parking spot because people had come in a big number to see and test drive the new Honda Civic 2016. After making a dozen of loops around the streets, at last parked my car and ran towards the showroom. It seemed like all my city was there to see this new car.
For the US, Honda will release multiple variants of Civic. A 4 door sedan and a two-door Coupe that has already been revealed. While a five-door hatchback, an Si and Type -R will follow in near future. For US market, Civic will be available in 5 trim levels [LX, EX, EX-T, EX-L, Touring]. I had the opportunity to see the Touring variant.
Let's go over some aspects of the sedan.
Honda Civic 2016 Exterior
Honda started designing the new Civic with a clean slate means it's completely new with nothing common with the previous generation(s). Like other automotive brands, Honda is introducing a global platform for Civic, which will underpin future Honda Accords as well as the next generation of Honda CR-V. The new platform gives more flexibility to release numerous products using the same platform. Also, it reduces the cost of manufacturing.
This global architecture also means that materials and components will remain the same regardless of region as well as the manufacturing process. I can't confirm this, but I specifically asked Honda product expert if USDM or European, as well as Asian Civic, will be same. According to him, it's a little early to say but one can easily assume that it will be same like many other cars on global architectures. For example, the upcoming Toyota Prius 2016 is on Toyota New Global Architecture [TNGA].
Prius is available worldwide in same exterior, interior design. So if we believe this, it means that at least exterior wise, USDM and Asian Civic in which we are more interested will look alike. The rear license plate area on the trunk is longer and elongated which also gives an indication that the same model will be offered in Europe to accommodate the longer license plates.
Honda Civic 2016 is currently offered as a hatchback in Europe, but a sedan version is expected to launch in future, and the same model with same exterior might be sold in the Europe as well.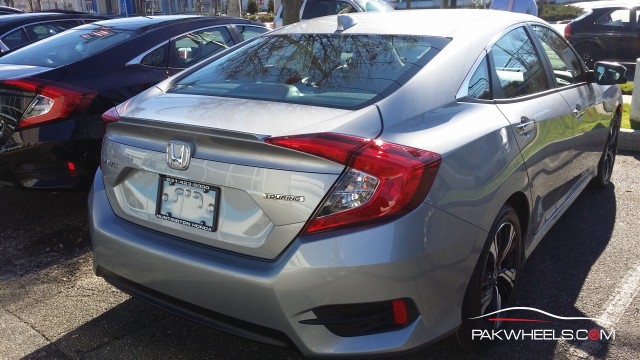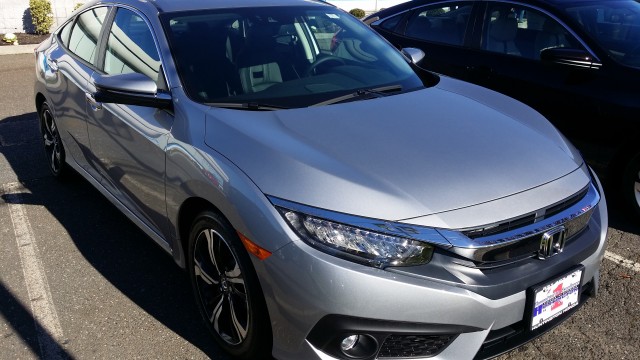 The front of the car match now with most of Honda's product line especially Accord. At first look from the front, one can mistake it for Accord due to the shape and size of the new Civic. The car is aggressively styled and at the front, the beautifully designed chrome grill that Honda calls a"Honda Wing" runs from optional LED [Touring Trim] headlight to headlight. The base models will still get LED daytime running lights but halogen projector headlights. Two prominent modern looking signature curves/lines run from front to rear. The angular top line terminates at the top of the trunk that gives the car a very athletic, sportier and elegant look. At the rear, the futuristic LED tail lights that are standard across different trims makes the car look very attractive. The tail lights wrap around the upper portion of the trunk and blends into the curvy lines from C-pillar with the sloping rear screen. This results in exterior to be more of fastback coupe design.
The new generation of Civic sedan sits on a wider and longer platform. The wheelbase is 3″ longer and nearly 2″ wider and 1″ lower than the previous generation. Although these numbers look small, but the results is enormous. The hood is longer while roofline slopes down at an angle that eliminates the look of a traditional trunk.
Overall due to all the extensive radical changes the exterior is defiantly bold and upscale. It's sleeker, smarter, sportier and eye catching.
Honda Civic 2016 Interior
Like exterior, the interior is also brand new. Due to wider and longer wheelbase, the interior looks spacious. The fit and finish of materials are truly premium class and a huge upgrade from 9th generation. There is a lot of soft touch material in the entire cabin. Dashboard, as well as the doors panels, are now soft to touch rather plastic we had in the previous generation. High quality well made plastic panels are limited to areas of high wear and tear. As Honda studied Audi A3 for the design of the interior, you can easily feel and tell the difference comparing other cars in the segment as soon as you open the door and sit inside.
Driver seating position is lowered while there is an increased rear leg room of 2″ which is one of the largest in the compact segment. Overall cabin volume is increased by 3.7 cubic feet or 105 liters. The two-level dashboard from the previous generation was ditched for the new Civic. Although a digital instrumental panel/cluster is provided which reflects numerous car related data including speed and RPM as well as it displays music, telephone connectivity options, phone book, call log, compass and navigation data. The lower trim levels will have a traditional analog RPM needle but a digital speed display.
The traditional handbrake is replaced with an electric parking brake as well as an Automatic Brake Hold (ABH). ABH maintains rear brake hold even after the brake pedal is released. This is a very nice feature in a start-stop traffic as you can remove the foot from the brake paddle and the car will remain in gear until you press the accelerator again. Due to the elimination of traditional handbrake lever, Civic now has a huge storage space between the two front seats. You can store a tablet or even a laptop in the center console. Again this was something not available in the last generation. The upper trim levels come with a push button start while the new key fob also features a remote start for EX and above trim levels as standard. Key Fob is also equipped with a proximity sensor, so you don't need to bring out the key to open or close the door.
There is newly designed leather wrapped steering wheel that looks and feels nice to the touch. The steering is equipped with multifunctional controls which give driver full access to the connected smartphone as well as media and navigation. On the entertainment front, Honda equipped Civic with 7″ media center capable of  Apple Car Play and Android Auto smartphone integration with voice control. Apple's Siri worked flawlessly, and I was able to dictate a message and the system was able to read back an incoming text. Base LX trim will have 4-speaker 160 Watt music system while EX, EX-T and EX-L trim levels will get an 8-speaker 180 Watts music system. The top of the line Touring is equipped with a 450 Watt premium audio system with a subwoofer. Dual climate control is standard while heated front and rear seats are available on the Touring trim as standard.  There is no knob for volume control and it's a touch screen, and for many people this could be frustrating to deal with. You can use a corrugated joypad on the steering wheel to change the volume because it is a little difficult to touch the exact spot on screen for volume control while driving.
Due to increased cabin size driver and passenger don't feel cramped at all. I am 5′-11″ and I pushed front driver seat all the way back and I had still ample space between my knees and front seats. Due to slopping roof design, going in and out of the car for a tall person might be slightly difficult. My head nearly touched the headliner when I sat all the way back. The rear seats are 60/40 which will help load a longer size cargo.  If we go to the trunk area, you will be impressed with the storage space.  Many people thought that the new fastback design might have compromised on the storage space but its opposite. Civic has now the largest trunk space in the "C" segment sedans with capacity of 15.1 Cubic feet which is 2.6 cubic feet more than outgoing model. Due to wider and taller trunk opening; loading/ unloading is easier.  In nutshell the redesigned interior of new Civic is comfortable and beautiful  with new and better materials with lots of new innovative technology and abundance of space .
On technology front the Civic is equipped with a lot of new safety features. Honda active safety features known as " Honda Sense" is available while its standard feature on Touring trim.  Adaptive Cruse Control "ACC" lane departure warning, lane-keeping assist, road departure mitigation, forward collision warning and collision mitigation braking are part of this package. The Honda sensing package can be added to any trim level for an extra cost of only $1000 which is really cheap comparing the price of such features available on luxury cars. Heated side view mirrors are standard while rain sensing wipers are available at higher trim levels. I  can confidently say that this is the best premium class interior in market among the economy class cars with driver friendly , comfortable and focused interface.
Safety & Handling
Honda not only improved its exterior and interior departments but there is everything new under the beautiful skin as well. As mentioned earlier the Civic is underpinned to an all-new global platform. According to Honda, the new car is based on an advanced compatibility engineering (ACE) body structure that has a new crash stroke design. The frame rails are designed and fixed in a manner that they crash downwards in a front head-on collision. In high-speed crashes, this technique will reduce the risk of engine pushing into passenger cabin/compartment. The new chassis is about 30Kgs less than the previous generation but has 25% more torsional rigidly. High-strength steel is used in important crash zones while there will be a single piece subframe in the rear as well as soft chassis areas to absorb the crash energy. Honda's is expecting 5-star rating in an overlap front test which is impressive comparing competition. Civic is equipped with driver and passenger airbags, side airbags with rollover sensors as well as rear head airbags as standard along with side impact beams in doors.
The lowered and improved chassis with the wider wheelbase, and low center of gravity has helped the Civic with driving dynamics and stability. I test drove the car on highway turns at speeds above 100 Kmph as well as tight turns and corners in streets and I greatly felt the difference in stability and control. I can confirm that the Civic have come back to features for which it was always praised before 9th generation. The new Civic has a newly designed Mac-Pherson strut front while multi-link independent rear suspension with the addition of hydraulic bushes which makes the suspension very soft and comfortable even on rough roads. An Electric Power Assist Rack & Pinion Steering [EPS] results in perfect and well-controlled handling whether you are on straight flat highway or around the curves and tight corners.
I am not a Civic driver, but I have heard a lot from 9th generation owners about the road and engine noise. I felt the car to be much quieter, and it was confirmed by Honda salesman as well who was sitting right next to me on the test drive. He agreed that noise was one of the major issues with previous Civic. I was told that the new civic is 58% better isolated from the engine, wind and road noise by use of one of the best sound deadening materials. Honda has made a serious improvement in this department. To be honest, the ride quality and quietness of the interior can easily be compared with any German car, and why not? A3 was the benchmark for Honda in this regard.
Engine and Transmission
Honda has replaced the famous R18 engine from Civic lineup from US market. The big news is here under the hood. Honda released for the first time a new turbocharged 1.5L, 4-cylinder engine for Civic lineup. The direct injection engine uses a small diameter turbo with the output of 174 hp and 162 Ft-lb of torque which is 31hp more than the previous generation. During the test drive, it was quite evident that there is something new and powerful under the hood. There was very slight turbo lag but its not noticeable in normal driving conditions. Honda has paired the 1.5L engine to the newly designed sports tuned CVT [continuously variable transmission] with a torque converter. CVT transmission responds quickly, but you can hear a noise that is normal with any CVT transmission. When accelerating hard, the RPM rapidly go high but then settle down.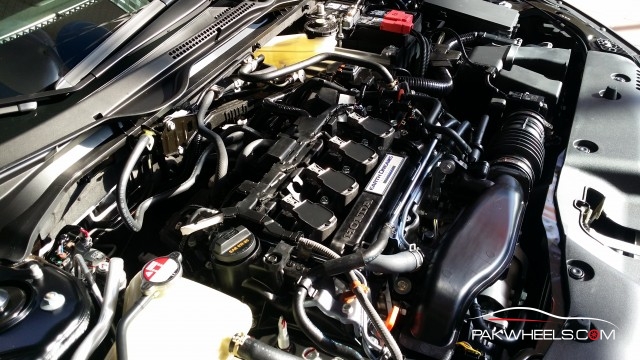 The 1.5L engine [EX-L, EX-T & Touring] is only available with CVT and there is no manual transmission with the turbo engine in the US. The combination of highly efficient turbo engine paired with a well-tuned CVT, results in 31 mpg in the city and 42 on the highway on US economy cycle. With the tiny 1500CC engine, the performance and fuel economy is excellent and one of the best among the competitors.
Along with turbocharged engine, Honda is introducing a 2L NA engine for the two base Civic model [LX & EX]. The base LX is the only model that is available with a traditional 6-speed manual transmission, although a CVT is also available. The 2L engine is the most powerful standard engine ever offered in Civic with power figures of 158 horsepower and 138 pound-feet of torque. The 2L engine has a fuel economy of 27 mpg city and 40 mpg highway on US cycle. The numbers are improved to 31/41 with the same engine when optional CVT is added. I didn't drive the base LX or EX but I was told that fun factor and driving dynamics are as good as the turbocharged Civic. The only thing that I felt missing in the turbocharged Civic are the paddle shifters.
I drive a turbocharged car equipped with paddle shifters and DSG transmission and frankly to date I have hardly used the paddle shifters. To be honest, the new Civic is perfect the way it is. If it lacks paddle shifters, I don't think its a big deal or something negative. Afterall, Civic is an economy class daily driven sedan and not a sports car that you take for a drag race. We will have to wait and see what Honda presents in the shape of Civic Si; the sportier version of Civic sedan.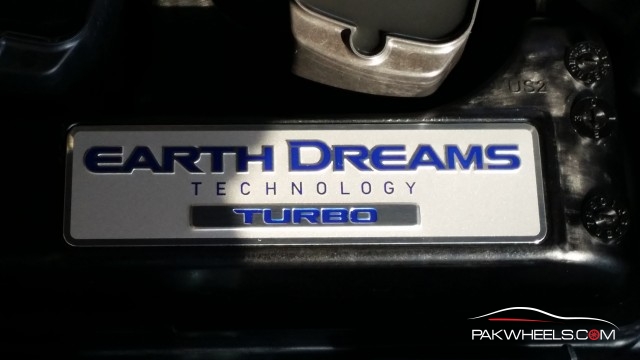 The new Civic comes with better and improved brakes with Electric Brake Distribution [EBD] with Brake Assist. With newer Honda platform, the wheel sizes are also new as well. Civic now comes standard with a 215/55/R16 wheel size for base models [LX & EX, Steel wheels only on LX] while upper trim levels will come standard with 215/55/R17 alloy wheels. I was told that the wider tires have increased the stability and improved the handling.
I asked numerous Honda experts at showroom about the possibility of the turbocharged engine in the other markets. I came to know that due to global platform same engine lineup will be available in the other markets. Again I was not told specifically what will be available for Pakistani market. I asked if R18 can be an option for this new platform in any other country; the answer was "there is a slim chance". One reason is that even 2L engine is only available in North American market. In Europe, Civic is offered in hatchback currently and Honda might be releasing a sedan version but that too with a 1.5L engine. There had been news about a 1.0L Turbocharged Civic. Unconfirmed reports suggest that a newer Civic hatchback for European market might get the smaller displacement engine in 2017. The sedan version will remain with 1.5L Turbo engine for petrol model while a 1.6 I-DTEC might come in future for Europe though the petrol model already has excellent fuel economy.
Honda is not offering 1.8L engine in any latest Civic in production model except the 9th generation Civic. Honda would not have replaced the R18 from US market with a 2L engine if they had planned to continue it in the 10th generation for other world markets for Civic. According to Honda rep, they might have upgraded or tuned the R18 and offered it in 10th Generation if they wanted to keep the same engine. For now this is unknown and unclear what engine option/s will come to our shores.
Honda Civic 2016 Price
For US, the base LX with 2L engine and manual transmission starts at $18,640 [PKR 1,960,000] while LX with CVT will bump the price to $19,440 [PKR 2,050,000]. The entry level turbocharged Civic with CVT starts at $22,000 [PKR 2,320,000]. While top of the line Touring is around $26,500 [PKR 2,795,000]. Honda Sensing Package can be added to any trim level at an extra cost of $1000; while it is standard on Touring.
Verdict
Overall Civic has come a long way, and Honda has really listened to its customers and fans regarding their grievances against the 9th generation Civic. By releasing the 10th generation Civic, they have now set a new benchmark in compact car segment beating all others in every aspect. From its exterior to interior, performance, handling, safety and reliability; Honda has leaped miles ahead of others and has re-established itself in the most widely sold car segment.
Honda brought newer technologies and innovations, and made Civic a fuel-efficient and fun to drive car which it was known for. The new Civic is so refined that I think it is really going to hurt its own cousin Acura's ILX model which is a luxury car brand of Honda. As I mentioned earlier, I never owned a Honda or Civic or for that matter a Japanese car but I have now another model to look before I book and drive a new car, and that is Honda Civic. Honda says that,  "This tenth-generation Civic is quite simply the most ambitious remake of Civic we've ever done". Just today, the new Civic won the award for the "Best New Small Car of Canada". Civic is already praised by Consumer Report as well as many prestigious automotive journalists and magazines. The new Civic is expected to be a finalist for the North American Car of the Year award, and there are bright chances of it taking away the award as well.
All in all, the new Civic is truly, "An Epic Civic."
Discuss 10th Generation Civic Launch on Pakwheels.com/Civic
2016 Honda Civic Pictorial Review from fazalwahab.