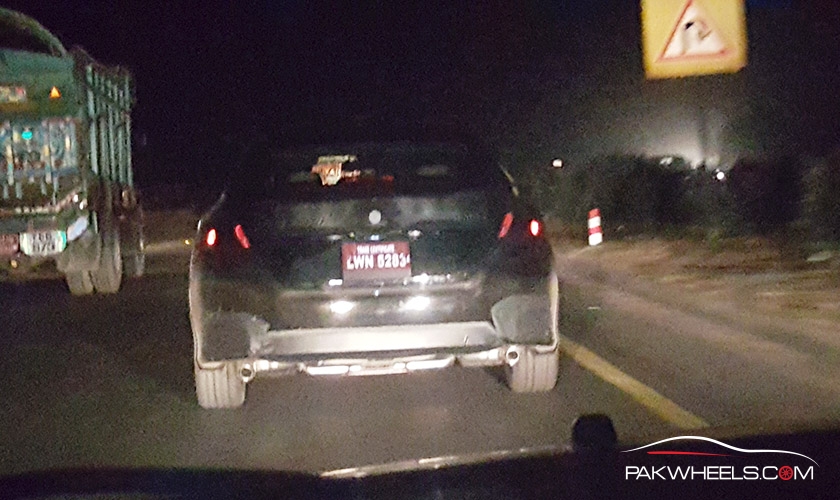 Spy Shots – New 2016 Honda Civic Spotted While Testing In Lahore
The excitement and speculation of Honda Civic 2016 got to a whole new level as two test mules were caught being tested on Lahore-Multan Road, last night.
Also Read: The New 2016 Honda Civic Is Almost As Big As A BMW 3 Series
Test mules are used by auto manufacturers to test their cars according to the road and weather conditions of a country before public release. They are equipped with prototype equipment to gather data for development purposes and are camouflaged to prevent public attention and speculation. With Honda Civic 2016 officially making its way to Asian markets by launching in Thailand, Indonesia, Singapore, Philippines and test mules of 2016 Honda Civic emerging on Pakistani roads also testify a sooner launch in our market. Photos also clearly indicate dual tailpipes and exterior dimensions of the car.
Discussion: 10th Generation Civic " Exclusive Pakistan Launch"
Not too long ago we reported that the new 2016 Civic will be launched here in Pakistan as soon as June-July. And from the looks of it, Honda Atlas is working hard to make that possible. The Honda HR-V didn't do as well as Honda Pakistan had hoped for. And it is time Honda Pakistan brings out a car that can actually change the fortune of the company.
Following are the first and exclusive photos and videos of 2016 Honda Civic in Pakistan taken by our Content Writer, Adan Ali.