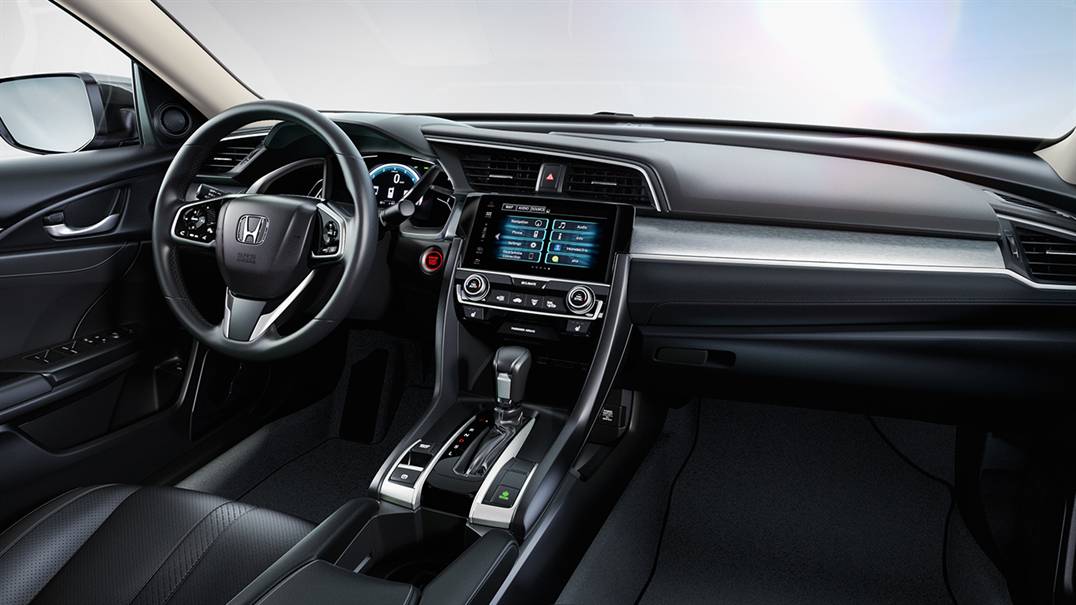 2016 Honda Civic Bags Wards Auto Award For Best Interior
I remember back in the day, the barber shops used have a notice saying "Siyasi aur Mazhabi ghuftago say parhaiz karain." (Avoid political and religious discussions). Looks like soon maybe they will have to add one more item to the list, "Please avoid Civic and Corolla discussion."
Honestly, in recent days, the hype for the release of upcoming 10th generation Honda Civic have reached to a new level, and it's the most trending discussion. Automotive enthusiasts agree that it has never been like this in the past in Pakistan. Thanks to the internet and the social media, people are getting more and more informed about automobiles, and we should give credit to Pakwheels.com for this.
Also Read: Spy Shots – 2016 Honda Civic test spotted in Lahore
The craze multiplied multiple folds when my fellow blogger Adan Ali caught a 2016 Honda Civic test mule in Lahore. The video and images have gone viral. Some people still have their doubts and say that it's not the 2016 Civic but an automotive sense, and a slight bit understanding of minor details confirm that the test mule is 100% next-generation Honda Civic, and the launch is very near. Back in November, I shared a detailed review of the 2016 Honda Civic. Before seeing the car, I was skeptical that it would be like any other previous Civic, but I was wrong. It's the best Civic ever. It is the best car one can buy at this time in the United States in compact economy class segment. Enthusiasts have been trying to compare Civic to an Audi A3 although I have my reservations about it. But I will not go into details on that and will keep it for the next time.
Read Fazal Wahab's 2016 Honda Civic Detailed Review here!
Since the launch of the new Civic, the car is in the media limelight. It is praised for its quality, design, and refinement, and is placing a new benchmark which made the task for the competitors a little difficult. Since January 2016, the US sales of Civic [122634 Units] is around 8000 ahead of its all-time rival Toyota Corolla. Civic sales are up 37% from previous year, and it is a clear sign that Honda did everything perfectly right for this generation Civic.
Like any other field, automotive companies are also awarded for their work, technology and innovation, products, and research & development. Companies spend a significant amount of money on R&D and don't want to go wrong. This is the reason the new Civic won the awards one after another.  Below are some of the well established and respected awards although there are many others as well,
AutoGuide.com 2016 Car of the Year Award
2016 Canadian car of the year "New Small Car" Award.
Kelley Blue Book's 2016 Best Buy Awards.
Kelly Book 2016 Small Car Award.
"TOP SAFETY PICK+" by "Insurance Institute For Highway Safety"
and the most prestigious and well respected  "2016 North American Car of the year".
My observation and assumptions was 100% correct back in November 2015 when I reviewed the Civic and posted in the last line of the article that this car is going to take away the North American award. In fact anyone could have easily judged; the car is really impressive.
Among all these awards and accolades which are given on the overall performance, quality, design, features; there are different international organizations who awards on the individual qualities. Among all, WARD's is an international famous organization covering automotive industry for more than 80 years. Every year the organization awards 10 best engines, 10 best interiors, and new technologies. After intensive test drives of dozens of new cars and in-depth interaction with the interior, experiencing the design, efficiency, space, material and many other factors, Wards declared 2016 Honda Civic interior among the top 10 best interiors. Civic stands next to some luxury car models which includes Audi TTS, BMW 7-Series, Cadillac XT5, Chevrolet Camaro, Chrysler Pacifica, Lexus RX, Mercedes-Benz GLC, Nissan Maxima, Volvo XC90. Honda Civic is the cheapest among all but cheap does not mean low quality, the car interior was so much appreciated that Ward's editor said:
"The new Civic is the least-expensive vehicle on our list this year, but it hardly qualifies as cheap."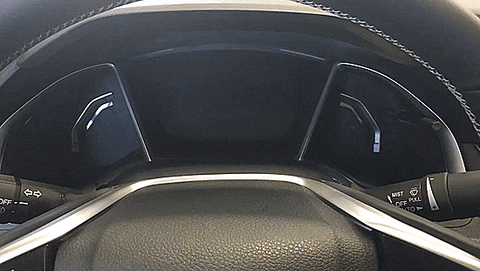 Please keep in mind that the award is given to the fully loaded Touring model, which comes with all bells and whistles. Still it's a great achievement for Honda as the last generation Civic interior was not well accepted and was called bland and boring. Though some people will not agree with me on this. Like the exterior of the new Civic, the interior is brand new with nothing identical to the previous generation. Due to wider and longer wheelbase, the interior looks spacious.  There is a lot of soft touch material in the entire cabin. Dashboard, as well as the door panels, are now soft to touch rather plastic we had in the previous generation. High quality well made plastic panels are limited to areas of high wear and tear.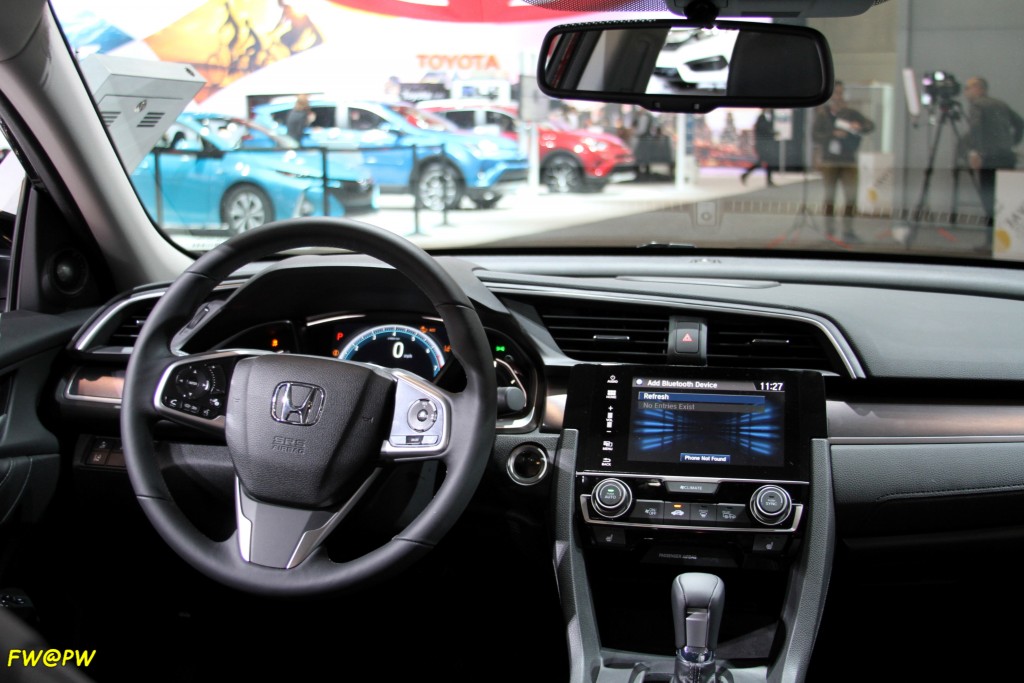 The newly designed leather wrapped steering wheel looks and feels nice to the touch. The steering wheel is equipped with multifunctional controls which give driver full access to the connected smartphone as well as media and navigation. On the entertainment front, Honda equipped the Civic with a 7″ media center capable of Apple Car Play and Android Auto smartphone integration with voice control. The 450-watt premium audio system with ten speakers will make you feel like you are in a theater. There is no knob for volume control and it's a touch screen, and for many people this could be frustrating to deal with. Overall the materials used and the quality of the new Civic's interior is on par with a high-end luxury sedan. The new Civic comes with some excellent optional active safety features known as Honda Sensing. You can have this package added to any trim level while its a standard feature on fully loaded Touring trim. Adaptive Cruse Control "ACC" lane departure warning, lane keeping assist, forward collision warning and collision mitigation braking, road-departure mitigation, are part of this package. A backup camera is standard across the model lineup. Automatic dimming rear view mirror is also available on upper trim levels.
Learn more about Honda Sensing here
The interior space is very well designed. The increased wheelbase has resulted in an increment in cabin volume over the previous generation. It is increased by 3.7 cubic feet or 105 liters. This gives additional 2″ leg room in rear seats. Optional Leather Interior (standard on Touring trim) makes one feel like sitting in an upscale car. The rear seats also come with heaters which is not common in the cars of this class. The 2016 Civic is well insulated from road noise which was a major problem in the previous generation. The new civic is 58% better isolated from the engine, wind and road noise thanks to the one of the best sound deadening materials available in the market.
Overall the new Civic is a head turner not only on its exterior but interior qualities and features as well. I hope and wish we get same quality and refinement from our local assembled Pakistani Honda Civic. Let's be hopeful we get same features as we have seen on international versions. The time is not far when we will see it on our roads. If anyone of you is thinking to buy a new car, I would advise to wait and check out the new Civic first. You will not be disappointed. Truly the new Civic is an "epic" Civic.
Discuss 10th Generation Honda Civic on a dedicated thread at Pakwheels.com/Civic and share your thoughts, opinion, expectations, wish list and anything related to the upcoming 2016 Honda Civic.
10th Generation Civic Safety Features. from fazalwahab on Vimeo.