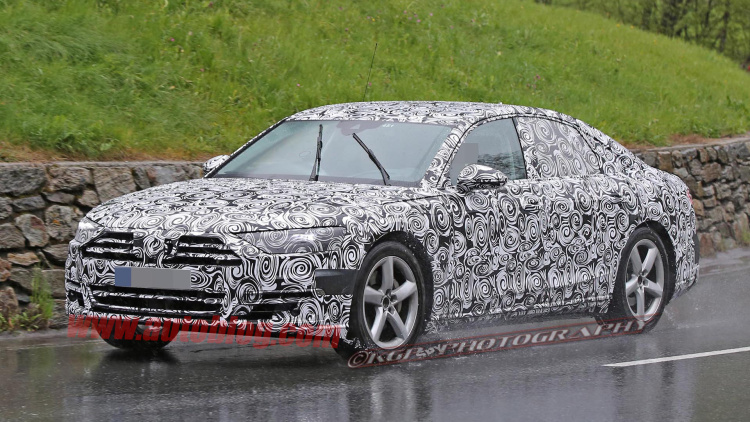 2018 Audi A8 Test Mule Spy Shots – Audi To Launch Limo Version Of The New A8 As Well
Just a week or so ago, Audi's new technical boss Dr. Stefan Knirsch revealed that the German automaker might be bringing a longer version of its luxury A8 saloon to compete with the Mercedes-Maybach S600. Audi has already launched a one-off A8 limo to show what the car might look. But it would not be surprising if the company reduces the size to make it a bit manageable. At the launch of the new Audi SQ7, Dr. Knirsch told the press,
"The success of the extra-long version of the S-Class has got us wondering about whether there could be a business case for that in the future."
Other than the new limo version of A8, it was also revealed that the new A8 will come with Level 3 automation. And that means the car will be able to drive on its own. The news was confirmed by CEO Rupert Stadler. All of this has made Audi a hot topic in the automotive news lately.
And the new spy shots of the 2018 Audi A8 has only proved to be a cherry on top.
Audi unveiled a concept vehicle called Audi Prologue at the 2015 LA Auto Show. The concept car was shown as the base of the new A8 saloon. So although the new car is hidden behind black and white masking sheet with a squiggly pattern to cover up the lines and cuts of the new car, you can expect the 2018 Audi A8 to be very close to the 2015 concept vehicle design-wise. But still you can see the influence of new Q7 on the front end. As always, Audi has come up an aggressive looking front end.
Audi is gearing up to put its new A8 along with its limo version, if that happens, in direct competition to S600 and even Bentley Fly Spur. The new luxury saloon has not doubt a long way to go.