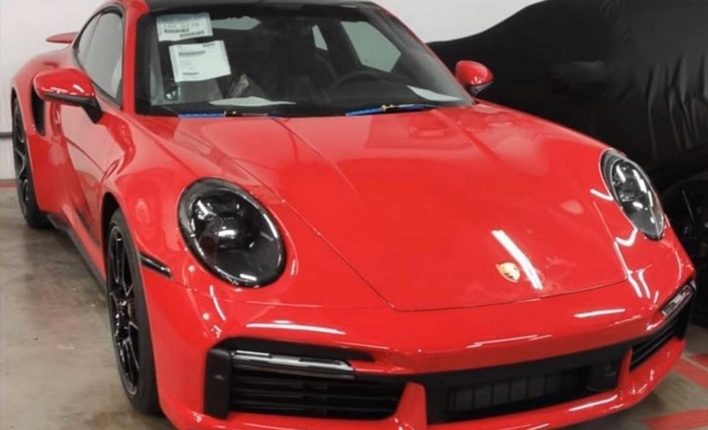 2021 Porsche 992 Turbo S photos leaked ahead of its launch: Have a look!
In an exciting development, the photos of all-new 2021 Porsche 992 Turbo S leaked just ahead of its expected launch at the Geneva Auto Show.
How does it look?
The leaked photos of the incredibly designed 992 Porsche Turbo S has blown away the car enthusiasts on the internet. It inherits its looks from the base model of the 911 Porsche model but adds more aggressive bumper styling at the front. The rear side of the majestic sports car incorporates much wider rear fenders with engine intakes. Above the engine cover, at the rear side, there is also a spoiler provided by the German auto giant. The side air intakes are quite similar to those of its previous version. Nonetheless, it looks quite identical to Carrera S but generates a lot more power. Its predecessor 991 chassis Turbo S delivers a maximum output power of 580 hp. However, the upcoming 992 Turbo S is expected to break the 600 hp power barrier quite comfortably. Slide to view the leaked photos of 992 Porsche Turbo S 2021.
Power and Transmission:
There's another surprise package for the car enthusiasts in the shape of its all-new transmission package. The 992 Porsche Turbo S is expected to feature a new PDK 8-speed dual-clutch transmission to help the twin-turbocharged engine provide lightning-quick gear shifts. Perhaps it's certainly an enormous change in the newer version of the car. The older version of the car used a 7-speed transmission. The top speed of the 992 Porsche Turbo S will be over 200 mph. The car is expected to accelerate from 0-60 mph comfortably under 3 seconds, which is extraordinary. The pricing of the all-new Porsche is not yet clear at this point, but the German automaker might hint it at the Geneva Auto Show when it makes its debut.
What are your thoughts on the upcoming 2021 Porsche 992 Turbo S? Let us know in the feedback section and stay tuned to PakWheels blog for more similar updates on the automobile industry.
Recommended for you: Honda CR-Z Owner's Review: Price, Specs & Features