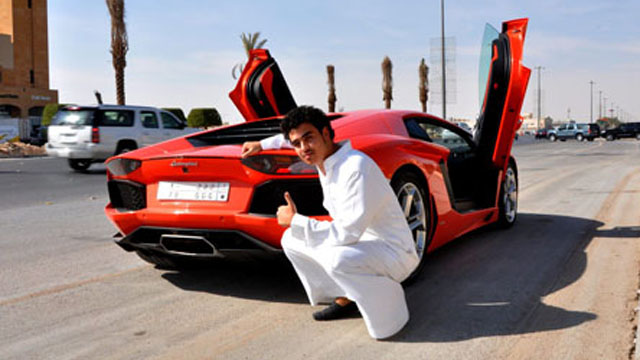 22-years-old becomes the first to have a Lamborghini Aventador in Saudia Arabia
While for alot of 22-years-old, this age reflects the beginning of their hardship to acheieve what they dream for but for Dhiaa al Essa, it is not. He recently became the first person in Saudia Arabia to have a Lamborghini Aventador by paying a whopping 71,000 US $ extra in order to skip the waiting list of over 18 months.
Small World News Service spoke with Dhiaa Al-Essa after the car was delivered and he had this to say,""It's amazing the Lamborghini has arrived. I wanted to be the first in Saudi Arabia to get the Aventador. Of course there is competition but for me personally it is not a competition, I just love cars – and if you want to be first you have to work hard and pay more."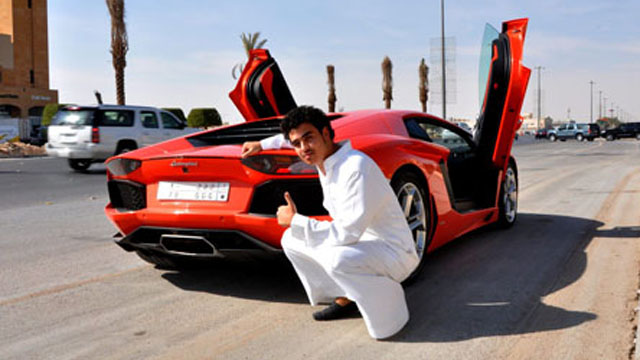 Moreover, Dhial Al Essa has quite an impressive collection of exotics and the Aventador will not feel all lonely with him at all. According to GTspirit, Al-Essa's collection is valued at 12 million dollars and includes;"a Bugatti Veyron Super Sport, Koenigsegg Agera, Rolls-Royce Coupe, Rolls-Royce Phantom, Range Rover (2x), Mercedes McLaren SLR, Lamborghini Gallardo, Lamborghini Gallardo Superleggera, Lamborghini Murcielago P640, Ferrari F430, Ferrari 599 GTO, Ferrari 599, Ferrari 458 Italia, Ferrari California, Ferrari F430 Novitec Rosso, Porsche 997 Turbo, Porsche 997 GT3 RS, Porsche 997 Turbo Spyder, Porsche Cayenne Turbo, Porsche Panamera Turbo, Bentley Continental GT, Mercedes S65 AMG, Mercedes G55 AMG, Mercedes E63 AMG, Mercedes CL65 AMG, BMW M5, BMW X6M, BMW X5M, BMW 760LI, Audi R8, Audi A8, Lexus LS460, and Maybach 62."
Quite amazing that the lad says about working hard at the age of 22 while the world ponders at what they could do if they had a grandfather whose wealth was estimated by Forbes magazine at 1.5 billion $.