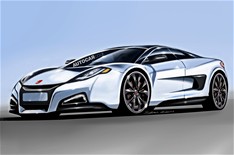 Honda NSX Reborn concept may come to 2012 Detroit Auto Show
Unlike the Toyota's FT-86 concept, which eventually saw the light as a production ready car, Honda meanwhile has just teased the world with concepts of what maybe the next NSX and again, Honda will be showing the brand new Small Sports EV Concept tomorrow at the Tokyo Motor Show which will preview the styling of the NSX successor, which pleases us due to the fact the study has some nice lines and much shorter overhangs.
The existence of two concepts reiterates recent comments from Honda chiefs that the company is working on a range of sports models. President of Honda Motor Europe, Manabu Nishimae, described how the company "knows that there are customers who want Honda sports cars, and we are developing and intending to deliver products for them".
There are no official details regards the Super Sports' engine transmission, but expect a high-performance hybrid or electric powertrain in keeping with the company's current push towards further electrification of its range. An all-wheel drive system is also possible.
The NSX-previewing new concept will bow at the 2012 Detroit Auto Show on January 9th, so we don't have much waiting time unit we find out if the the rumor is founded or not. It's not clear if they've solved the affordability issue, but expect to see something like the Acura concept that's making its way to the Avengers movie next year.