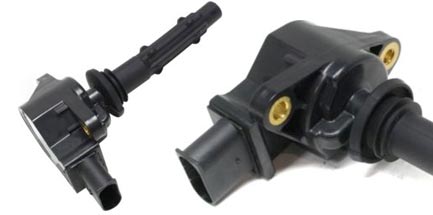 5 Common Symptoms of Bad Ignition Coils
In order to understand the concept of bad ignition coil, first, you'll need to know what is an ignition coil and it's use. For a layman, I would simply say that an ignition coil is a voltage transformer which comprises of two coils: primary coil and secondary coil. Its main purpose is to ignite the spark plugs. It is one of the most vital components of the ignition system in your car.
Mechanics often trick you into getting your ignition coils replaced for petty issues, once they analyze that you don't have much knowledge about car. If a mechanic ever tells you that your car has a bad ignition coil and it needs a replacement, just look for the following symptoms in your car before decide to go with his suggestion:
1. Start-Up Problem:
One of the most common symptom of bad ignition coils is start up problems, especially cold starts. In order to confirm the doubt that this problem is occurring due to bad ignition coil, inspect your High Tension Leads (commonly referred to as plus wires). When an ignition coil fails, it does not transmits the required amount of charge to one or more spark plugs. This issue can grow even intense in cold weather. Inspecting the High Tension Leads can help in identification of whether current is being transferred from the leads to every spark plug or not.
2. Disturbed Fuel Economy:
Observing your fuel economy for at least 2 tanks can be helpful. If your fuel economy appears to be lower than normal, it can be a symptom of failed or failing ignition coil. This is caused when the spark plugs are not receiving enough amount of charge and causes the engine to struggle, which ultimately results in the consumption of more fuel to compensate the shortage of current.
3. Backfiring:
Backfiring can be one of the earliest symptom of a bad ignition coil. Backfiring usually happens when surplus fuel is emitted through exhaust. You will notice black smoke emitting from the exhaust along with dense smell of fuel in some cases. Emission of black smoke can be due to many other reasons as well but one of the reasons can be a failing ignition coil. You must address this issue at earlier stages in order to avoid severe damage and costly repairs.
4. Unstable Drive:
A failing ignition coil results in a very irregular and unstable drive. When you start your vehicle with a failing ignition coil, it causes your vehicle to cough and splutter. You may also experience jerks at higher speeds. Vibration may also be observed at idling.
Vibrations are also caused by bad engine mounts. Click here to know the symptoms of bad engine mounts. 
5. Stalling:
Failing ignition coil results in emission of abnormal sparks towards the spark plugs. This causes stalling in your vehicle. You may notice intense instability in your engine and the engine might sometimes shutoff completely instead of normalizing at idle.
Also, ensure that the gap in your spark plugs is appropriate. In case the gap is not right, it will result in increased or decreased voltage to ignite the spark plug.
Problems related to ignition system should be addressed timely without delay otherwise the repair/replacement cost can multiply to an un-affordable level. Plus, it is recommended to keep both, primary and secondary coils in good running condition to avoid any kind of problems in your ignition system.