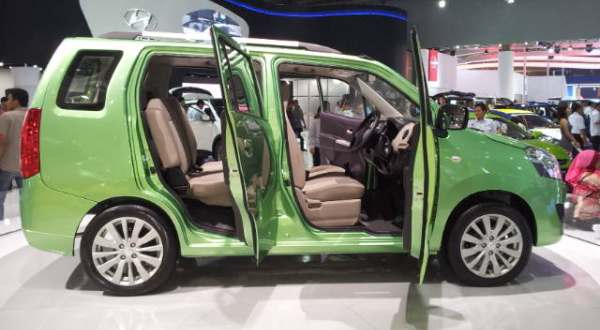 7-seater Wagon R under development by Maruti India and Suzuki Japan
Suzuki is generally perceived as a maker of small vehicles globally with very few exceptions in its lineup, the automaker has started working on a 7-seater variant of its popular  hatchback Maruti Suzuki Wagon R in India in collaboration with engineers from Suzuki Motor Corporation Japan as reported by Financial Express.
The upcoming MPV will be based on the Wagon R MPV Concept showcased at the Indonesia International Motor Show (IIMS) in 2013. The car will be available in both petrol and diesel variants. While diesel is not very popular in Pakistan anymore due to the fuel prices and an abundance of CNG stations and vehicles, diesel is still very popular in India with popular cars like Suzuki Swift also available in diesel variants.
The car is expected to be available from mid-2017 with an estimated price between INR 400,000 and 600,000 (PKR 650,000 and 980,000).
The Suzuki Wagon R is a very successful small hatchback in India due to its price and the zippy and economical K Series engine, but the car is still struggling in Pakistan, trying to fill the gap left by the Suzuki Alto.
If by any miracle, Pak Suzuki do plan to launch this MPV in a similar price bracket then it would seal the doors for the recently introduced FAW Sirius S80 and would become very popular in Pakistan as the only affordable option we have in MPV are the Suzuki Bolan and FAW X-PV.