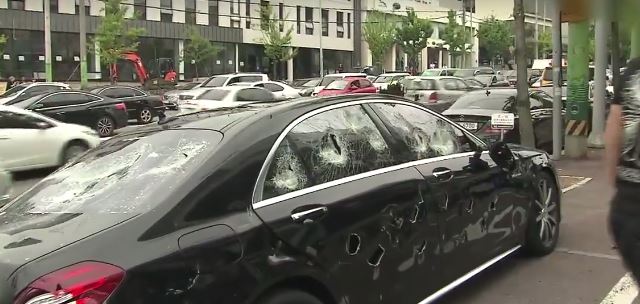 A Disgruntled Mercedes S63 AMG Owner Smashes His Car With A Golf Club
Consumer rights are protected and must be respected no matter what one buys despite the cost of a product or service. Few days ago I visited a Mercedes Dealership with a friend who was looking in to buying a base Mercedes CLA. The dealership experience was amazing. As soon as you enter into the lot you feel special. The decor, the friendly and smiling sales team as well as the building and its fixtures, all look luxurious and extraordinary. All this is for the fact that a a visitor to the dealership is looking for a luxury brand car and it's obviously natural to have a luxury dealership experience as well.
If you are spending hundreds and thousands on a car, one should expect a high level of craftsmanship and after sales service and support. Flaws and defects in the manufacturing are possible no matter if it's a Suzuki Mehran or Mercedes S Class but probability of having one is very less in case of high end expensive cars. In automobile industry, there is a famous term known as "Lemon", which means that a new car is defective and have repeated issues and the buyer found about it after buying it. In many countries there are very strict laws to protect consumers as far as lemon cars are concerned like replacement of a car.
Now a video has surfaced on social media. An angry Mercedes Benz S63 AMG owner from South Korea was very upset with his brand new car and the way he was being treated by a Mercedes dealership. According to reports his car had issues with engine and it stalled numerous times on the roads. He took up the case with local Mercedes dealer for warranty issues but it was not taken care of and the problems with the car was not rectified apparently. His anger reached to a level that he took the car and parked it in front of the dealership and smashed it with his golf club. The 33-year-old owner was protesting the poor service from his local Mercedes-Benz dealership.
It's heart breaking watching the video. Doors of the car have massive holes in them due to the beating. Looks like the enraged owner wanted to squeeze lemonade out of lemon to cool himself down.
Watch the video down below: