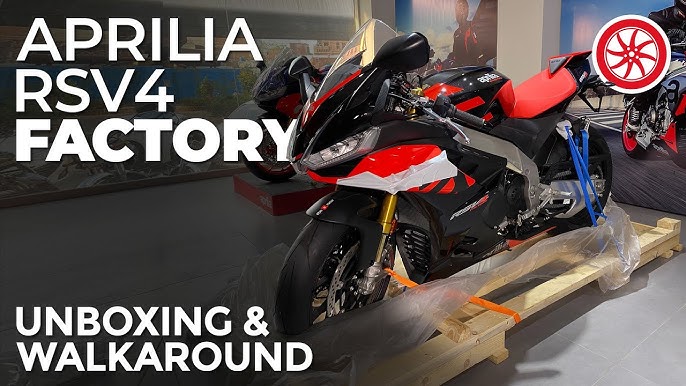 Aprilia RSV4 Factory Has Cruise Control – First Look Review
In this first look review, we have the latest 3rd generation Aprilia RSV4 Factory. The Factory bikes by Aprilia have the on-track technology but are toned down for the street. It means a lot of safety, technology, and performance aspects of racing bikes have been adapted for the street ride.
Engine 
The 1100cc 4-cylinder engine has a V4 configuration, producing 217hp and around 127-130Nm of torque.
Exterior
You will see LED DRLs and full LED headlights at the front. Meanwhile, the bike's overall design is very aerodynamic because Aprilia produces bikes for high-level performance and racing. Also, the bike is designed so that its road grip remains excellent at high speeds.
To increase the aerodynamics of the bike, Aprilia has installed front canards to create downforce of the bike's nose. On the side, you will see the continuing design of winglets with RSV4 Factory badging.
The company has designed the bike's exhaust in collaboration with Akrapovic, which increases the sleekness, and its sound is excellent.
The rear design of the bike is very minimal, and the company has installed an aerodynamic wing instead of a back seat. However, you can install a seat if you want.
Brakes
The bike has a dual disc brake with standard Brembo ABS calipers in the front tyre. Then you will find Ohlins' electronically adjustable shocks, and you can change their behavior with a flick of a switch. Finally, the rear tyre also has a single-side disc brake with standard Brembo ABS.
Meter Cluster 
Aprilia RSV4 Factory has 5-inch TFT LCD with a complete digital display. The meter gives you all essential information, including drive modes, engine temperature, digital RPM, speedometer, and odometer.
Also, there are a number of warning lights on the meter which tell you about the bike's functions.
Handle Bar 
On the ride side, you will see a fiber grip accelerator, kill switch and start/stop button. In the middle, there is a switch to adjust the settings of shocks, including soft, rigid, or even customized.
On the left side, there are cruise control and meter navigation buttons. And then there is an indication and horn knob.
Watch Video