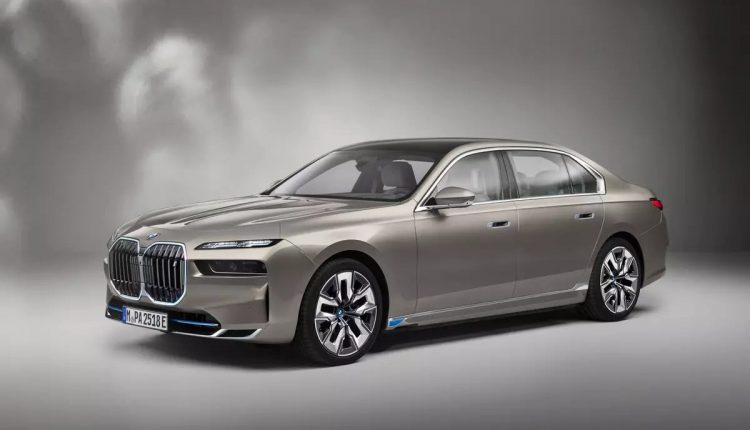 Have You Seen The 2023 BMW 7 Series? 🔥🔥
The new generation of BMW 7 Series is here with bold looks and exciting features. BMW's new model says "No Compromise," and we could not agree more. With new powertrain options, revamped styling, and upgraded technology, the car compromises on nothing. Let's break down everything and get to know the all-new 2023 BMW 7 Series. 
Powertrains
The biggest news for this year's BMW 7 Series model is the introduction of a fully-electric variant, BMW i7, joining the 740i and 760i gas-powered variants with mild-hybrid technology.
The base 740i variant comes with a 3.0-litre twin-turbo engine and 48V mild hybrid, producing 375 horsepower and 519 Nm of torque.
The mid 760i xDrive comes with a 4.4-litre twin-turbocharged V8 engine and mild hybrid, producing 536 horsepower and 750 Nm of torque.  
The all-new i7 xDrive60 electric variant is powered by dual electric motors and a 101.7 kWh battery pack, producing 536 horsepower and 745 Nm of torque. This one can deliver about 300 miles of range on a full charge. Pretty cool, huh?
Bold Looks
Let's talk about the styling of the 2023 BMW Series 7. As seen in the teaser, the BMW signature kidney grille in the 7 Series model glows with perimeter lighting (optional feature). The headlights have been split in two: upper DRL strips and lower LED headlight strips, with a crystal lighting option for both. We see the new L-shaped taillights and a lowered incense plate mount at the rear end. 
Luxury Interior
The 2023 BMW Series 7 model has an absurd number of technology features that we can't even wrap our heads around. Seriously though, we need a minute.
There's a lot more to talk about the new 7 Series interior than its exterior. BMW has doubled down on the luxury inside the 7 Series cabin with big screens and touch controls. The first big screen we see is a beautiful merge of a 12.3-inch digital gauge cluster and a 14.9-inch infotainment screen. And let's not forget the 31-inch 8K resolution screen with Amazon Fire TV at the back row, descending from the roof; come on!
Then, there's a new interaction bar that joins the door panels, stretching along the dashboard. This is not just a design element but has many operational features, such as climate, ambient lighting, and other touch controls.
The new 7 Series model also features multi-contour heated and ventilated front seats. These seats can give you a nice relaxing massage if you want (optional feature for all variants). The back row seats have an Executive Lounge option that turns them into reclining lounge chairs with footrests.
What else? A cool new Augmented View feature displays a live view of the road ahead with navigation instructions on the instrument cluster screen. 
Safety Suite
The new Series 7 model is also high on the safety tech. The driver-assist suite comes with features like blind spot warning, forward automatic emergency braking with pedestrian and cyclist detection, lane departure warning, front and rear parking sensors, exit warning system, and more.
A new BMW Highway Driving Assistant system takes driver's hands off the wheel on highways at up to 80 mph speed. However, the system is not entirely autonomous, which means the driver must maintain focus on the road and be ready to take control at all times.
Price Chart
The 2023 BMW Series 7 will start at $94,295 for the 740i variant and go up to 
$114,595 for the mid 760i xDrive variant and 
$120,295 for the top electric i7 xDrive60 variant.
Launch Plan
The new generation Series 7 model is expected to hit the international market by the end of 2022, while the first-ever electric i7 model is already available for preorder.
First impressions, thoughts, likes, dislikes, drop everything about the new BMW 7 Series in the comments below.