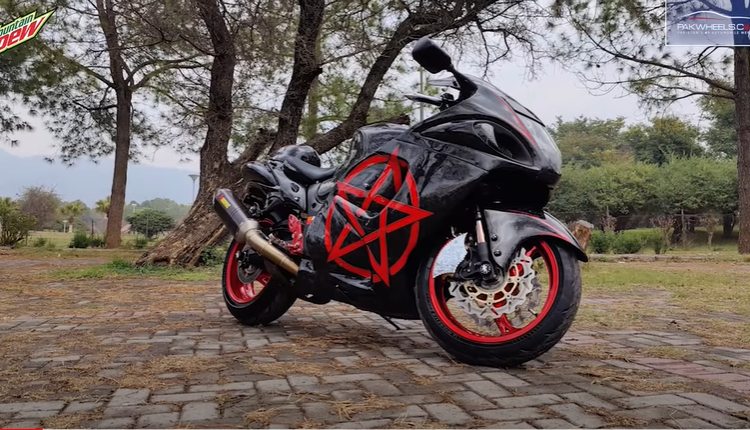 Hayabusa Modified with Forced Carbon Fiber – Owner's Review
In today's owner's review, we are here with Suzuki Hayabusa 2015 model. This is the second generation of the bike; however, the main purpose of this review is to share the details of modifications in this bike. The owner bought it in stock condition but wanted a bulky and dominating look of the bike, so he decided to modify it.
Upgrades
The owner told us that one of the most common methods for the modification in Pakistan is airbrush which involves hand painting on the bike. "However, I wanted to do something unique and introduce something new in the local market," he said.
And that is why he went for the forced carbon fiber. The difference between normal and forced carbon fiber is design. "I discussed my plan with a friend in Dubai that I want to modify my bike's full body with forced carbon fiber," the owner told us, adding that the friend owns a workshop, and he was very excited about this project.
Challenge in the Project
As per the owner, the biggest challenge was that the bike was in Pakistan, and upgradation needed to be done in Dubai. "So, I bought a brand new body there, forged it, and it took two-and-a-half-month in body preparation," he shared.
After that, he imported the finished body through air cargo. "Due to COVID-19, the air cargo charges were the same as the price of the body," he told us.
Aftermarket Upgrades
There are a number of aftermarket upgrades, including silver handle bars and a shorty clutch. "I have also painted the bike's rims, sidelines, and body in chrome candy red color to maintain a theme in the bike," the owner said, adding that there is a PPF protection sheet on the tank to save the main body from scratches.
Furthermore, the exhaust has also been upgraded with the Akrapovic system replacing Brock's. "The sound of the Brock's is very loud and shrill, which I don't like, so I changed it," the owner said. He has also removed the rear seat, and now it is a single-seater bike.
The front and rear lights have also been upgraded with smoked ones. The next upgradation plan is to lower the body for a better ride experience.
Safety is a Must 
Lastly, the owner urged every bike rider to wear safety gear, including helmet, gloves, and knee covers. "Riding the bike without this gear is dangerous for your life, so everyone must follow the safety precautions," he stated.
Watch Video