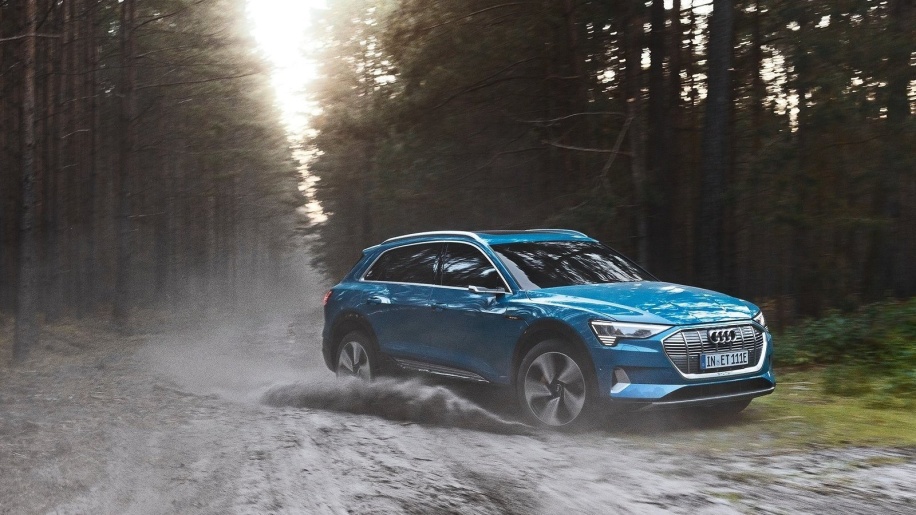 Audi unveils the e-Tron crossover electric vehicle
The moment has arrived, after months of rumors and spy images, Audi has finally revealed its all-electric crossover. The first thing that you will notice when looking at the crossover EV is that it's a true Audi in all aspects of design. Audi has apparently mixed things up between the Q3 model and the flagship Q8 model, resulting in what we see now. The full-length taillights from the Q8 are paired with Q3's chiseled fenders. You will see patterns like these on every angle of the car.
Also Read: Audi A3 e-Tron Sales Are Hitting The Target, Claims Audi
Among the few truly unique design traits of this car is the silver painted front grille. This grille has also been spotted in a number of prototypes that we saw in camouflage earlier. The grille is pretty solid with an open section in the center but its almost hidden. Of course, there are no exhaust outlets either. In the place of the exhaust pipes, there are horizontal slats in the rear bumper. These horizontal slats sort of complete the looks of the rear of the car. The same horizontal slats can be seen on the bottom of the car's sides, although they are much longer. This sort of design on the sides also adds an intriguing look to the all-electric crossover.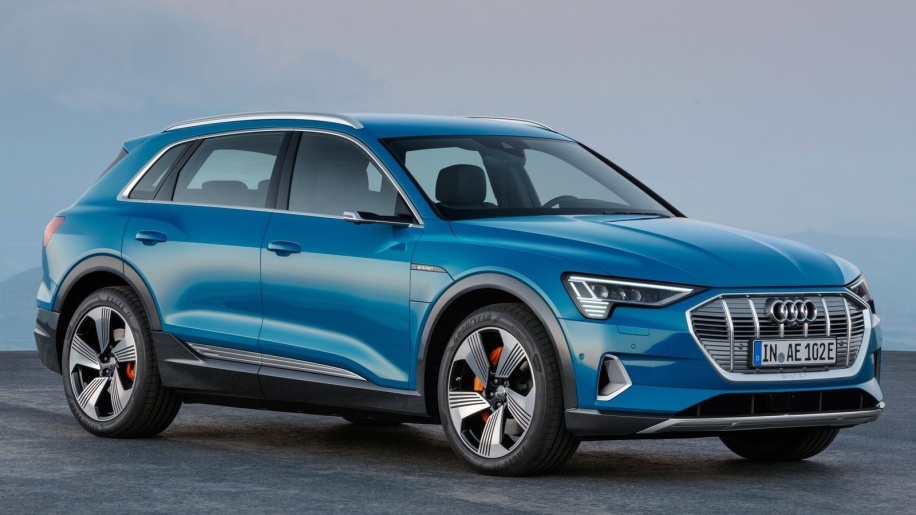 The interior of the car is also a striking copy of the interior seen in Audi Q8, A7, and A8. The central cluster has two primary touchscreens, the first one is 10.1 inches with the other one being 8.6 inches and placed right below the larger screen. The instrument panel itself is another touchscreen that displays virtual controls. The signature element of this crossover's interior is a sleek wrist rest that has a toggle for switching gear on its edge. There are small display screens on both front doors that show the side-view camera's live feed.
The powertrain of the Audi E-Tron is an interesting and powerful one. Two electric motors power the crossover. A large motor powers the rear wheels while a small one powers the front wheels. Both the motors all always active (sort of an AWD setup) and are balanced via a state of the art algorithm. The powertrain can produce 355 horsepower and 414 pound-feet of torque in normal mode. An "Overboost" function increases the output to 402 horsepower and 490 pound-feet of torque. In Overboost mode, the Audi E-Tron can go 0-60 in 5.5 seconds.