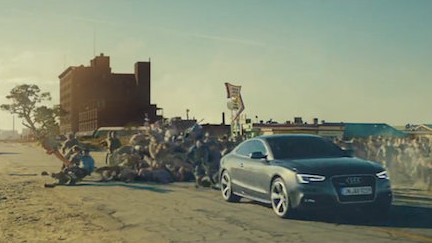 Apart from huge amounts of budgets and time car manufacturers spend on research and development, marketing is not left either. This includes huge expenses of marketing materials, billboards as well as TV commercials. TV commercials are getting innovative over time due to the availability of the new computer graphics tools. Also as TV viewership is much more than any other mean of relaying a message, advertising companies work really hard to make use of limited time and portraying the major and effective message across.
I am sure we all have seen the movies with zombies or famous TV serial "The Walking Dead".  Audi's new commercial about authorized dealers service  is inspired by a zombie movie as well in a very creative way. The television commercial is called "Mechanics" and Audi is depicting on street garage mechanics with zombies. The commercial shows an Audi A5 is almost near for service and while on its way it is overcomes by hundreds of bloodthirsty living dead.  The commercial closes on a frame with a message in German  "Don't let your Audi fall into the wrong hands."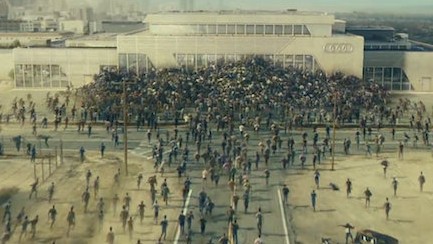 Silke Miksche, Head of Audi Marketing said:
"The subject of 'service' is of tremendous importance both for the customer and for us as car manufacturer and our dealerships — and yet it has so far not been the focus of our communications. The way we approach the subject is altogether unexpected—emotional, spectacular, epic. In other words, this is truly big-screen stuff."  
The commercial is done by a German advertising agency "Thjnk Berlin GmbH"
So after watching the below commercial what you guys think? Will you fall prey to zombies/on the street garages or would you reach to an authentic workshop?