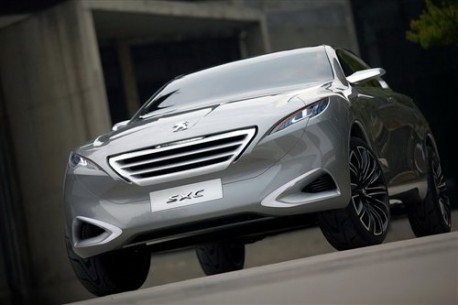 The 14th Shanghai International Automobile Industry Exhibition, also known as Auto Shanghai 2011, was held in the last week of April. Having been held every other year since 1985, the Shanghai International Automobile Exhibition ran for one week, showcasing the best automakers from China and across the world.
This year's exhibition was set up at the Shanghai New International Expo Centre, with 230,000 square meters set up for the exhibition hall (a 35 percent increase from 2009's show). Over 2,000 different companies from 20 countries, also set a new record for Auto Shanghai. The Show drew around 715,000 visitors and over 2,700 media companies as well.
Auto Shanghai 2011 was the largest auto show China has ever held. The crowds were obviously big this year, with every possible amount of floor space utilized, even the open air section in the middle of the exhibition center was taken by truck and bus manufacturers that were eager to show their wares at what seemingly is one of the world's biggest auto show.
Auto Shanghai 2011 was of great importance not only for Chinese manufacturers but global auto manufacturers also. Looking back to Auto Shanghai 2009, there were nine so-called all-new cars of global brands which made world premieres. However, among those nine new cars, only the Porsche Panamera was a real new car. For the 2011 Shanghai Auto Show however, about 75 world premiers including 6 real all-new cars were showcased. Auto Shanghai 2011 showcased a total of 1,110 vehicles from around 2,000 enterprises from 20 different countries or regions. The Audi Q3, Mercedes Concept A, Citroen DS5 and Lamborghini Aventador amazed most visitors. 75, although the approximate number of world premieres in Auto Shanghai 2011 is not yet on par with the Geneva Auto Show, the Chinese show is still far behind.
Auto Shanghai 2011 was a perfect example of rapidly progressing Chinese automobile market. According to the exhibition staff, the reason this year saw most major European, Japanese and American companies fiercely competing to make a good show is due to China's sustained economic growth and position in the automobile industry. Automobile manufacturers pretty much brought over their top-of-the-line vehicles for the show.
What deserved attention this year is how prominent of a position new energy vehicles took in the show, with hybrids and pure electrics powered with batteries made from everything including traditional lithium to hydrogen gas. Also of notice this year is how green vehicles were not displayed less as concepts and more as viable production models.
The Chinese local brands were quite impressive too, in a decade from now its likely that the majority of them will be household names world over. At Auto Shanghai 2011, most Chinese local brands gave up showing a large number of infantile concept cars to steal the spotlight. Instead, they paid more attention to improve the production models. Chinese local brands are growing up at long last.
With successful results among own brands, new energy vehicles and auto part suppliers, Auto Shanghai 2011 is a fine example of the progress the Chinese automobile industry has made in the past decade.
For pictures, click here.