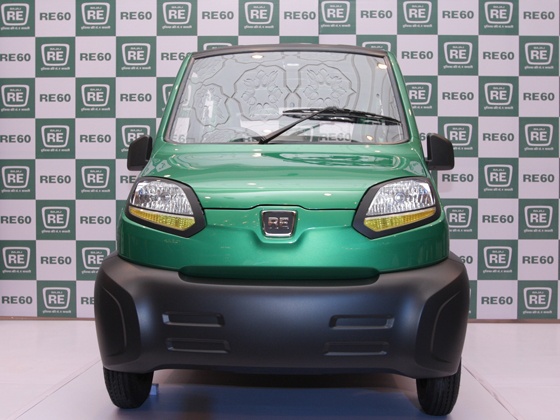 Bajaj introduces Nano's competitor, the RE-60
Bajaj, one of India's premier bike manufacturer has decided to take Nano head on by introducing its own ultra-low-cost car, marking its entry in the car market in the process.
However, Bajaj's Ceo, Rajiv Bajaj insisted that it is not a car, it is a four-wheel-wheeler which has lower CO/2 emissions and can run 40 KM/L thanks to the 200cc, water-cooled, fuel-injected DTSi engine mounted in the read of the car churns out only 20 PS but more owes to the lighweight body and good power to weight ratio.
The interior has nothing to be mentioned here except there's a fare meter. The CEO mentioned Delhi's Chief Minister's words on seeing the RE60 were that the rickshaws were an eyesore to tourists and visitors and the four-wheeler offers better safety than the three-wheelers.
While Mr. Bajaj does not rule out the possibility that this can be made available to all however, the targeted segment is of mostly rickshaw drivers.
When NDTV interviewed few rickshaw driver's of New Delhi, they were skeptical at how will the four-wheeler benefit if they upgraded from their three-wheelers while one said that his rickshaw is better to drive in hot weather as it has cloth instead of metal sheet for roof while it does sound better to be driven during winter but in Delhi, it gets too hot and we will sweating in a car.