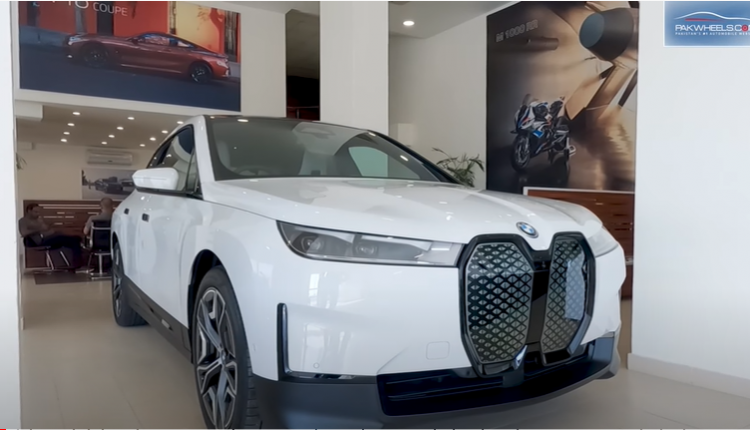 BMW IX Has Self-Healing Front Grille – First Look Review
As the world is moving toward Electric Vehicles (EVs), BMW Dewan Motors has also introduced its car in this category. In this first look review, we are here with BMW IX 40, and it is one of the most important cars BMW has launched in Pakistan in the last few years. This car has all of BMW's latest technologies and engineering options.
Performance
This is a dual motor All Wheel Drive (AWD) vehicle and comes with a 70kW electric motor and the combined power of 326bhp. The company claims that it has a range of 420 kilometers/ full charge. You can compare it with Audi E-Tron but that is way smaller than IX.
0-100
As per the company, it reaches from 0 to 100 in 6.1 seconds.
Price
The price of this car is Rs. 24 million, and Dewan Motor is offering some additional features like a glass roof, but you have to pay extra money for these extra options.
Exterior
The front look of this car is very distinctive, and you may not like this design at the start; however, it will grow on you. It has BMW laser projection headlights, front parking sensors, and a black lip. The kidney grille goes all the way down, and the main distinctive feature of this car is its self-healing ability. If there is any scratch on the front grille, it will self-heal through the heat while all radars and sensors, including the front camera, are mounted inside it. BMW calls it an intelligent panel.
The interesting thing about this BMW IX is that you cannot open its bonnet. You have to take it to the company dealership to open it.
On the side, you will see 22-inch alloy rims with Pirelli tyres. These tyres have foam padding, which reduces cabin noise. The retractable side mirrors have LED side indicators with 360 view camera. The gloss black colored handles open through a button, and the doors are soft-closing, meaning if you don't close them properly, they will do it automatically.
The rear design is very sleek and futuristic. The backlights and turn signals are sequential. Furthermore, there is a rear wiper, parking sensors, diffuser, high mounted brake lamp, and the reverse camera inside the BMW logo.
The trunk capacity of BMW IX is 500 liters, and you can expand it by folding the rear seats. The company has also installed dome lights in it for better visibility.
Interior
Exceptional quality is the first thing that comes to your mind after entering the car's interior. As its chassis is designed as an EV car, there is no transmission tunnel. You will see a titanium finish on the dashboard, while the central cluster has a complete wooden panel. Also, the seat adjustment controllers have a crystal glass finish. The door panels, dashboard, and armrest have soft-touch leather, giving the car a luxury feel.
The front seats are heated, electric, and have a memory function, and all seats have perforated leather. The car has two-spoke hexagonal steering with cruise control, audio, and brake assist switches.
The size of instrument cluster is 12.3 inches with a floating design. You will find speed, battery percentage, and time on the left side, while RPMs, range, and temperature are on the right side.
Then comes the 14.9 inches infotainment screen with BMW's latest technology. Almost all of the car's features, including climate control, displays, exterior lighting, 360 camera view, seat comfort, and parking assist, are controlled by this system. You can get additional features by paying some extra money.
You can control your infotainment screen from the central cluster, while it also has a start/stop button, crystal glass gear lever, drive modes, automatic parking brake and auto hold. All four doors and footwears have ambient light, and you can change its settings, including color, from the infotainment screen.
Distinctive Feature
The feature BMW has introduced for the first time is an opaque auto tinting panoramic glass roof; however, it doesn't open.
AC
The car has a 4-zone climate control, meaning front and rear passengers can set the temperature as per their comfort. Meanwhile, the AC vents are also available in the pillars.
Safety Features
The BMW IX is packed with safety features like 6 airbags, lane departure warning, lane assist, blind-spot monitoring, high-beam assist, parking assist, and DVR.
Watch Video