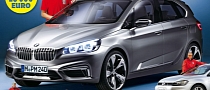 BMW reveals the front-wheel-drive only 1 Series city car
BMW was a company that was bound to its traditions, there would be no forced induction motors in its M models, there would be no front wheel drive but its all here now. It has decided to move on and meet the demands of today's world instead of living in the past with traditions made and held high in accordance to that time.
There was much speculation that a front wheel drive, cost and eco friendly small car to be made after BMW had expressed its consideration for a city car. That car is now here, under the 1 Series range, as a GT.
On the coming 2012 Paris Motor Show, BMW is will be displaying a range of new concept cars which will preview the brand's future model and one of those concept cars is this. A compact, MPV-style FWD car which is expected to be named the Active Sports Tourer.
It is a plug-in hybrid, with a three cylinder 1.5 liter turbo charged engine while on the electric motor, it can run for a good 20 kms.
This picture (thumb) comes as a courtesy of the German automotive magazine, Auto Bild. The magazine will be out today, i.e. September 14th but the picture has been leaked a little while earlier. BMW will be revealing the car physically pretty soon on the Paris Auto Show with all the details.
But if there's one thing to learn than its this, traditions have an expiry date. Did you hear Pakistan?