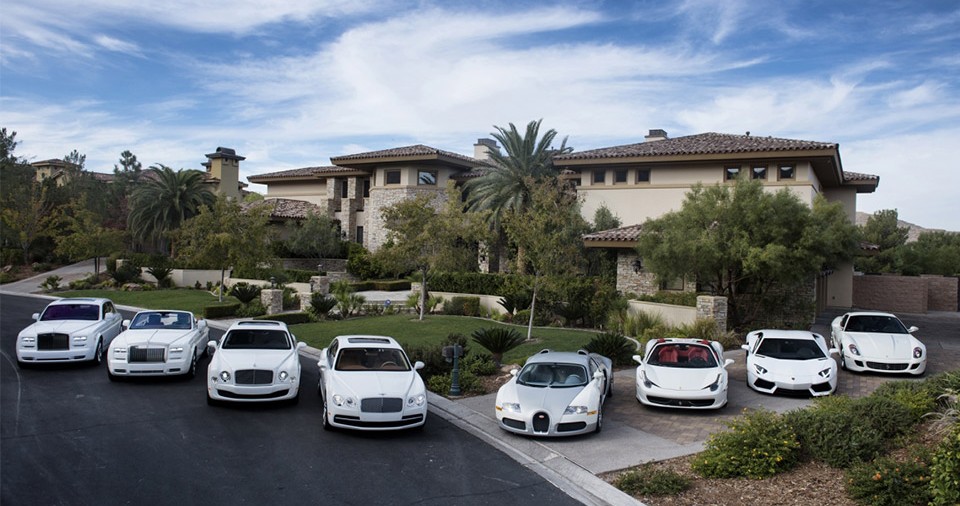 Boxer Floyd Mayweather And His Obsession For Exotic Cars
Boxing fight between Floyd Mayweather and Manny Pacquiao was billed as the fight of the century. Fight was trending on social media even in Pakistan. Though we can argue as much as we want, if Mayweather deserved the win or not, one thing is for sure, Mayweather definitely wins when it comes to buying exotic cars.
The still undefeated Mayweather, nick named "Money", has bought 100 cars and that too from just one dealer. Mayweather only likes to pay cash. According to one of his assistant, they went to his bank 15 minutes before it was about to close for the day, and asked for the cash. They had to take two duffle bags for carrying all the cash out of the bank.
These are not your everyday cars like a Toyota or a Honda, but very expensive exotics. According to car dealer Josh Towbin, the owner of Towbin Motorcars, Las Vegas, he has sold sixteen Rolls Royce cars to Mayweather. And since he likes to pay in cash, the dealership had to install a new cash counting machine. And this is just one dealer, Floyd Mayweather has bought 39 cars from a Los Angeles based exotic car dealer, Obi Okeke.
His list of cars also includes three Bugatti Veyron. Yes, three of them.
 Here's a list of few cars from his car collection:
Bugatti Grand Sport $3,000,000
Bugatti Veyron White and Silver $1,600,000
Bugatti Veyron Red and Black $1,600,000
2 x Ferrari 458 Spider costing $360,000 each
Lamborghini Aventador $390,000
Porsche 911 Turbo S $205,000
Ferrari 599 GTB Fiorano $350,000
Even his son drives in style. Mayweather gifted his son a Bentley golf buggy on his 15th birthday.
And on top of that, his own private jet. Cars listed here are just a taste of what he owns. His list of exotics is long and expensive and includes several Bentleys, Lamborghinis, Ferraris and Mercedes SLS etc. Floyd Mayweather was awarded USD 180 million just for appearing in the match, sponsorship money is on top of that. One can only imagine what is next in his "cars to buy' list.