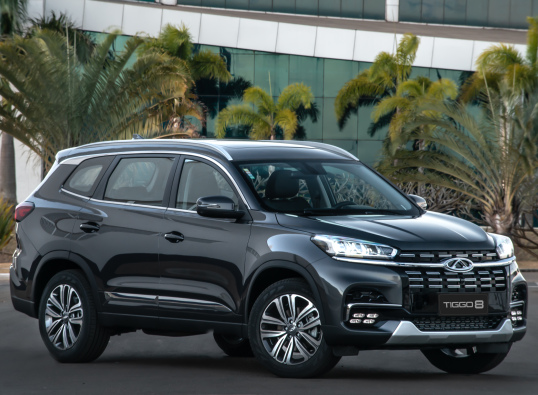 BREAKING! Pakistan To Get Chery SUVs Soon – Sources
In another exciting news for Pakistani car lovers, our sources have said that Ghandhara Nissan Limited (GNL) is partnering with the Chinese automaker company, Chery Automobile Co., to bring their SUVs in Pakistan. Looks like the Pakistani SUV range is going to get a "Chery" on top. 
GIL is a well-known Karachi-based truck and bus manufacturer. Sources have told PakWheels that GNL is working on a deal with Chery to introduce their SUVs in the country. According to the same sources, Chery Automobile Co. and GNL are going to sign this agreement in the coming few weeks. The sources added that GNL will manufacture Chery SUVs in Pakistan, which surely is a great news. 
Chinese automaker has a range of luxury SUVs and Tiggo 8 is the most anticipated to enter the Pakistani auto market, the sources stated.  
Tiggo 8 SUV
Tiggo 8 is a powerful car with cutting edge technology. Chery is offering Tiggo 8 in two variants i.e., AT Luxury Model and the AT Luxury EX model. The 1.5T delivers a maximum output of 144hp, and maximum torque of 210Nm; the 2.0T delivers a maximum power of 167hp, and maximum torque of 250Nm.
Other top-of-the-line features include:
Powered sunroof

Powered tailgate

Electric adjustable seats

Cruise control

Power windows

Front and rear parking sensors

A camera with a 360-degree view

Safety airbags for driver and front passenger

Tire pressure monitoring system
Another Addition to Pakistan's SUVs Segment 
Pakistani automotive companies have done a wonderful job outgrowing the country's SUV range in 2020. From Kia Sportage to MG HS, Hyundai Tucson, Proton X70, and DFSK Glory580 Pro, we have seen many newcomers this year.  Tiggo 8 will soon become a part of this SUV pool, thanks to GNL, if we believe the sources. 
Chery has already made a failed attempt to enter the Pakistani market with its small car, the Chery QQ, in 2005. This time, the company is planning to make a second attempt by partnering with Ghandhara Nissan Limited to introduce SUVs  in our local market. This is a bold move by the Chinese automobile company, and we are excited to see where it lands.
What are your thoughts on this expected new addition to the local SUV bazaar? Let us know in the comments and keep visiting PakWheels Blog for updates on Chery cars in Pakistan.