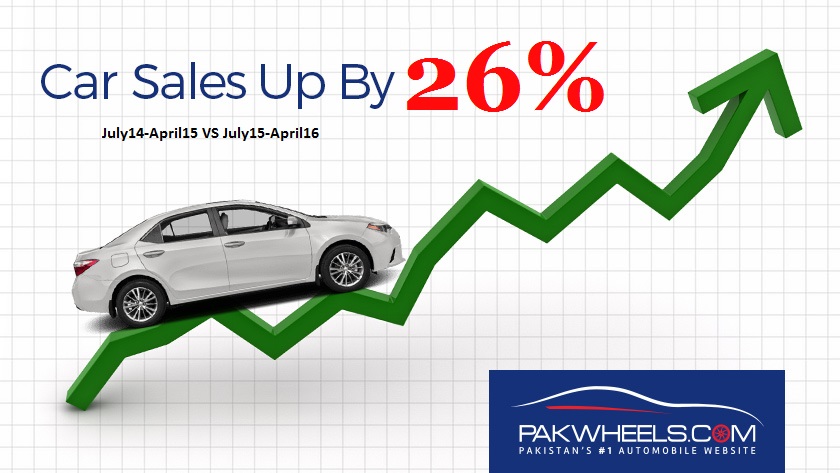 Car Sales In Pakistan Up By 26pc – Pak Suzuki Leading The Field With 109,628 Units
Car sales in Pakistan are up by almost 26pc (25.89% to be exact) in first ten months of the fiscal year 2015-16 in comparison to FY2014-15 according to figures provided by Pakistan Automotive Manufacturers Association (PAMA) yesterday.
120,942 units of cars were sold in the fiscal year 2014-15 whereas the number jumped to 152,229 units of cars in July15-April16 (first ten months of FY16). In this year, April alone, 15,023 units of cars were sold.
Also Read: Sources Say 2016 Honda Civic Will Come In June-July This Year In Pakistan
Cars in 1300 cc and above category sold the most with 72,821 units in FY16 compared to 63,385 units in FY15. 7,939 units were April 2016. However, more cars (8,406 units) of the same category were sold in the previous month (March). Percentage wise, cars between 800 and 1000 cc (Suzuki Mehran and Bolan) sold the most. 58,345 units of both vehicles were sold in FY16 against 42,083 units of FY15. That is an increase of 38.64pc.
One of the factors that have helped the sales of the cars is Punjab government's taxi scheme. Also, low-interest rates and easier car financing have helped with the sales as well.
Pak Suzuki sales are going strong with 109,628 units in FY2015-16; an increase of 41pc, thanks to Punjab government's taxi scheme. Suzuki WagonR is picking up pace with 7,782 units sold in first ten months of this fiscal year compared to 4,027 unit in the corresponding months last year. Also, Suzuki Ravi is selling like hotcakes; 26,902 units compared to 17,146 units. That is an increase of impressive 56.9pc.
Honda Atlas Cars Limited has been going steady as well with 21,293 units in these ten months compared to 18,781 unit in ten months of the previous fiscal year. Honda Atlas is not issuing separate numbers of Civic and City, but it is safe to say City is outselling its elder sister. Most of potential Honda Civic buyers are holding on for the new model
Corolla by Toyota Indus, as expected, has been on an upward trajectory as well. 48,203 units this year against 41,650 units of last year.
Sales of buses almost doubled in this time period with 805 units sold compared to 448 units of last year. However, sales of tractors have fallen significantly. 26,586 units of tractors have been sold this year (Jul15-Apr16) whereas 38,356 units were sold in Jul14-Apr15. That is a decline of around 30pc.
Although for some companies, the trend has been negative in the month of April. But overall, the auto sector has been going steadily upwards.