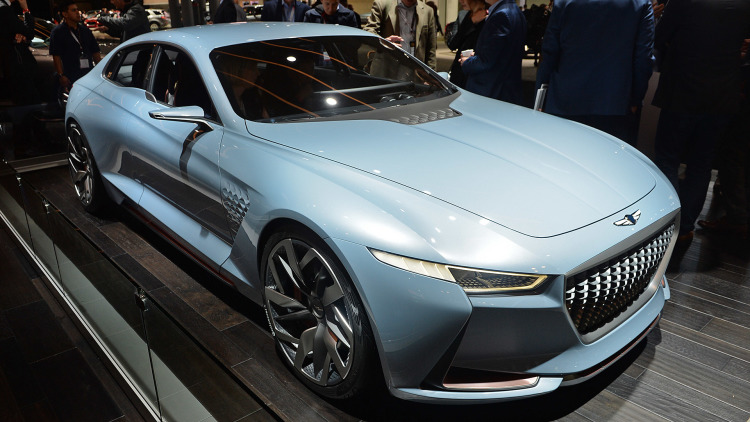 Hyundai To Launch Plug-In Hybrid Car Under Its Genesis Brand
Hyundai launched its Genesis luxury car in 2008 but separated the Genesis name from Hyundai name in the November of 2015. Genesis is now the luxury car brand of Hyundai Motors, just like Lexus is of Toyota Motors. The new Korean luxury car brand is led by former director of brand and design at Lamborghini Manfred Fitzgerald.
Since its formation, there were rumors about the potential models by the new luxury car company and the debate about the general direction Genesis Motors will take as an independent car company. The latest news is that the Korean luxury brand is gearing up to get its own plug-in hybrid vehicle.
Hyundai Motor America CEO David Zuchowski told the press,
"Some of those [plug-in hybrids] will take the form of the Genesis side of our business,"
He was quoted saying,
"We believe alternative-propulsion engines are going to be really important – even more important in the luxury market than they are in the mainstream market."
Bear in mind Genesis will not be the only car company offering a luxury PHEV. Almost all of German luxury car companies like Audi, BMW, Mercedes, and Porsche offer plug-in hybrids. And Japanese and Americans are also ready to bring their PHEVs (Infiniti and Cadillac).
Genesis is also rebranding its current vehicles. The new Genesis G80 has taken place of the previous Genesis sedan and the Genesis G90 instead of Equus. Soon a two-door coupe will join the lineup, replacing the current Genesis Coupe, along with a new G70 sports sedan.
The following photos are of the Genesis Hybrid Sports Sedan that was unveiled at the New York Auto Show just a couple of months ago. The car is aimed to target same market segment the BMW 3-Series does.