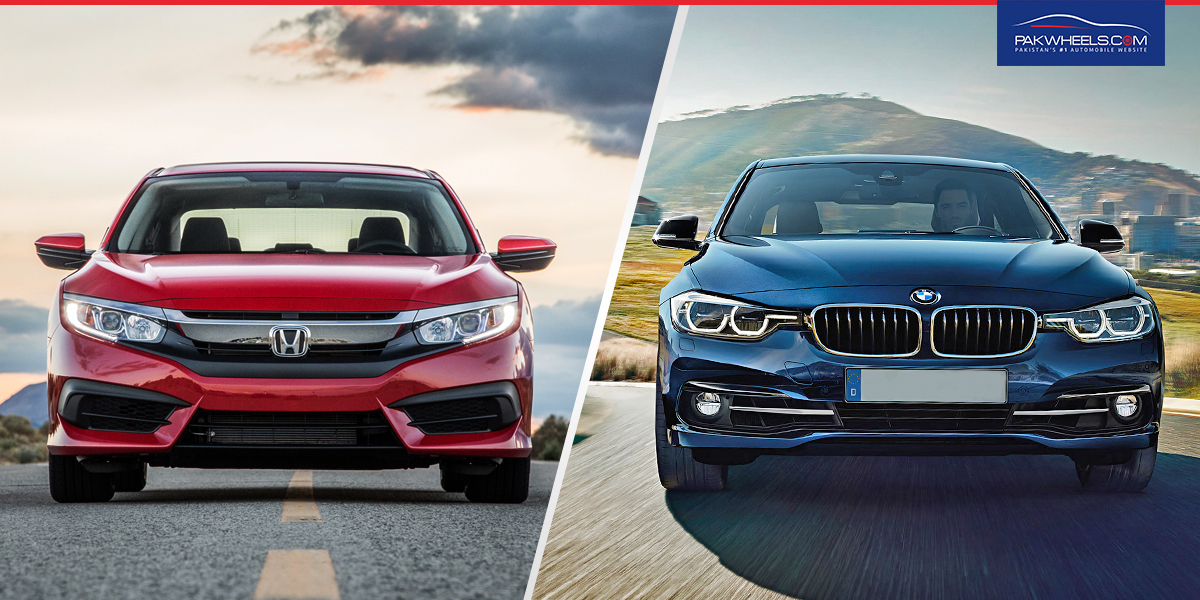 The New 2016 Honda Civic Is Almost As Big As A BMW 3 Series
If you follow cars and are excited about the new 2016 Honda Civic, then you might have seen multiple photos of Honda Civic being compared with Audi A5's and other luxury sedans. Since we Pakistanis have not seen the new Civic first hand, the question that pops in our mind is that Is it really this big or is it just some design trick? To find out I will compare Civic 2016 sedan's dimensions with the famous Civic Reborn (8th gen), current Honda Civic (9th gen), current Toyota Corolla (11th gen), Audi A3 sedan, Audi A4 sedan, Audi A5 sport back, BMW 318i and Mercedes-Benz C220d sedan.
Also Read: Sources Say 2016 Honda Civic Will Come In June-July This Year In Pakistan
As the infographic illustrates, the wheelbase of Honda Civic 2016 has remained constant since the eighth generation Civic at 2700mm, which means that roominess of the cabin would pretty much remain unchanged since wheelbase is a major defining factor of cabin size. There is only so much a carmaker can do with the interior layout of a car without fiddling with its wheelbase. The tenth generation Civic would be even lower than the Civic Reborn at just 1410mm making it the second lowest car in our comparison; just 19mm short of Audi A5 Sportback.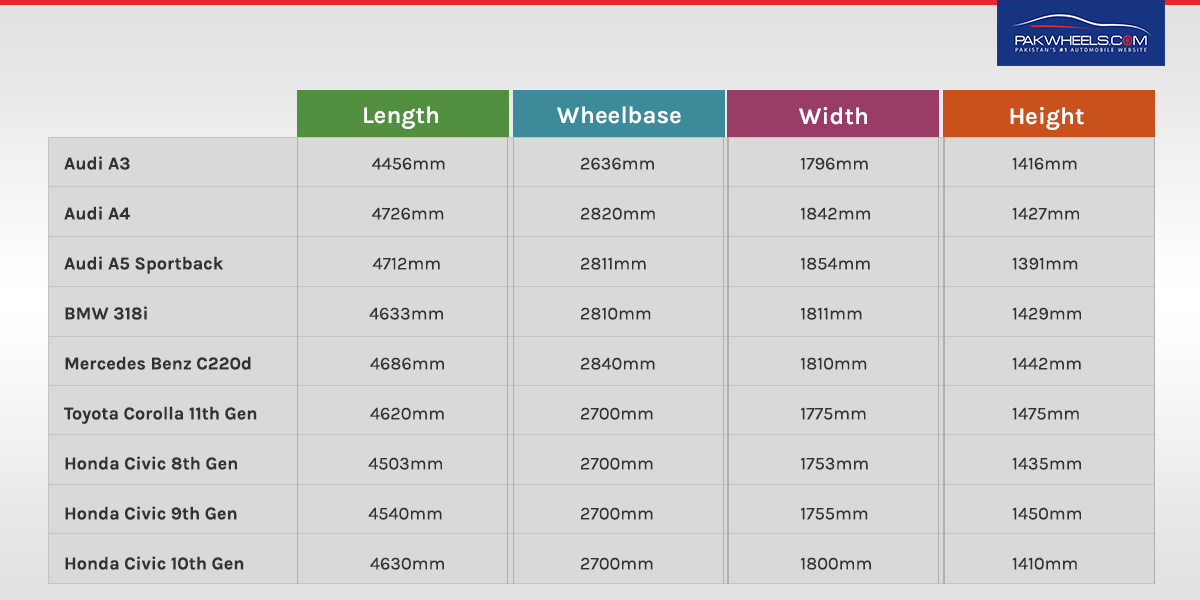 As far as the overall dimensions of the all-new Civic X are concerned, it easily trumps eleventh generation Toyota Corolla on all dimensions, since it will be longer, wider and lower than the Corolla. Moreover, it also seems to be getting closer to its German counterparts, not only will it be bigger than Audi A3 but it also easily matches the dimensions of BMW 318i, which rectifies our question. Going head to head against Audi A4 and A5 is may be a bit too much to ask from a Civic, but what amazed me the most was that it's only 56mm shorter and 10mm narrower than a Mercedes C-Class which itself is a big win for Civic! Furthermore, it will be more than 90mm longer, 45mm wider and 40mm lower than its previous model, these numbers might sound small but in car terms they are extremely significant.
So to sum things up, the big size of Civic is not some camera trick or an optical illusion, it looks like Honda has really sent things up to the next tier. Now all we have to do is wait for Honda Atlas to drop it in our market. We're not entirely sure about what Honda Civic 2016 price in Pakistan would be but Honda Civic 2016 price around the world starts just under US $20,000.
Update (2017): 2017 Honda Civic Oriel 1.8 is priced at PKR2,499,000. Base model 2017 Audi A3 is priced at PKR3,600,000.