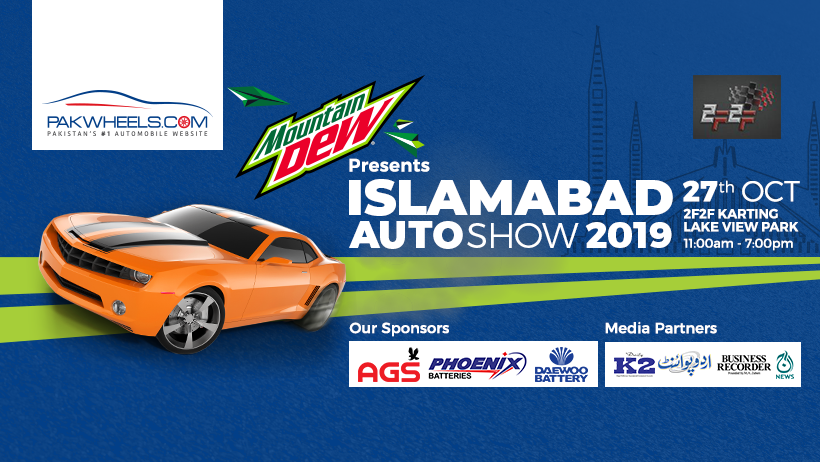 Check out the highlights of Islamabad Auto Show 2019
If we would rephrase the famous lines of Abraham Lincoln, then Pakwheels.com is a community of car enthusiasts, by car enthusiasts, for car enthusiasts. Islamabad Auto Show is a shining testament about how these enthusiasts created, managed and turned a day into a glowing spectacle which shall be remembered as a benchmark for all such events that will follow.
Started back in 2011, these Auto Shows have become a trend among the automotive community nationwide. From exotics to tuners, to 4x4s and classics, there comes a variety of cars.  
The Islamabad Auto Show is the 8th auto show in the city, which was held on 27th October 2019 at 2F2F Formula Karting, Rawal Lake from 11:00 A.M onwards. Just like every year, this time too, the show featured six main categories of vehicles including vintage, exotic, luxury, modified, 4×4 and bikes.
As expected, there were thousands of visitors, out of which, some of them were there to showcase their cars and others to enjoy the fun-filled day with their families and friends. Yes, you read that right! The event was a mix of cars, bikes, food, and music.
Mountain Dew, AGS, Daewoo Battery and Pheonix sponsored the Islamabad Auto Show 2019. Moreover, our media partners for this amazing event were K2, Urdu Point, Business Recorder and Aaj TV.
See the closing ceremony of the Auto Show blow:
It was not just an auto show, it was more than that. It was a communal celebration of horsepower, speed, leather, handling, beauty, torque, grip, fire-spitting engines, and automotive culture.