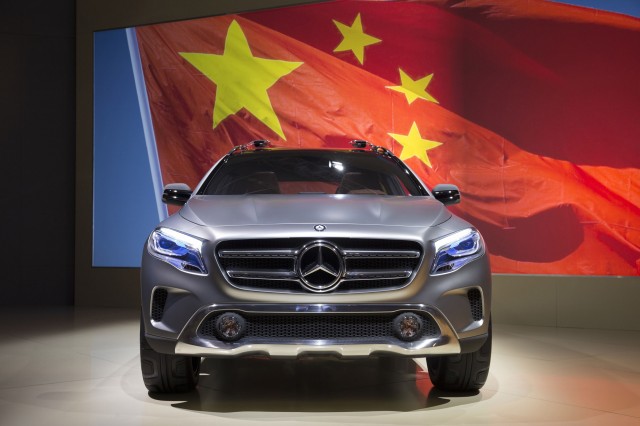 Chinese Crackdown: Mercedes-Benz Fined $56 Million Under Price Fixing Scandal
The Chinese government has conducted a crackdown on the Damien Mercedes-Benz for its violation of anti-monopoly laws by enforcing minimum prices dealers were required to charge for their automobiles and replacement parts with its E class and S class sedans. This has been the biggest fine handed to any auto company yet with its rival Volkswagen AG's Audi having received a fine of 30 percent less and Fiat Chrysler received over 10 times lesser (both of which, by the way, together received a total fine of around $46 million). The investigation, however, was confined to individual regions and not implemented across the whole country for now.
A Chinese price regulator who was part of this anti-trust officials' campaign said, "The investigation found Mercedes-Benz and its dealers in Jiangsu came to and carried out monopoly agreements to cap the lowest sales prices of E-Class, S-Class models and certain spare parts." The fine imposed is equal to 7% of the company's last year's revenue in the province and the authorities have power to levy fines of as much 10% of the previous year's sales of any company.
China has started a giant crackdown on the anti-monopolistic practices of automobile company and under one of the raids conducted Mercedes has been fined $56.5 million after being found guilty of vertical price fixing. The practice of setting minimum prices is common in several other countries but Chinese term is as a violation of free market competition. Mercedes is accused of having set forth a conspiracy to make more profits with its deals on car and spare-part prices. An official quoted by Xinhua News Agency is reported to have said that the prices Mercedes was charging for the replacement parts was so high that the parts alone used to make one Mercedes C class was equivalent to purchasing 12 vehicles – a staggering rise. The practice has been said harmful for consumer interests.
Coming to the point of ensuring transparency in implementing anti-corruption policies, in Pakistan, one can notice a stark difference – the auto makers are in complete power of the auto policies and they forced the Chairman Privatization Commission (PC), Muhammad Zubair to withdraw the proposal which made it mandatory for auto assemblers to change their models after every ten years. Despite significant number of automobiles being produced, there hasn't been any such improvement in the local industry and the three assemblers have complete control to twist around the policies in their favor without any fear of being reprimanded or questioned by any authority – a few bucks handed out here and there and their work gets done.
In an impressive feat, the Chinese have also conducted wide scale investigations in the technology, food, eye glass, contact lenses' manufacturers and pharmaceutical sectors' foreign business practices. The foreign business community feels as if it is being targeted discriminately with the foreign companies inspected much more thoroughly and unexpectedly than the local ones and accuse the government of trying to protect the local ones from foreign competition, the Chinese authorities beg to differ and say they do no such thing. The ruling party led by President Xi Jinping has vowed to open up more industries to local and foreign competition and ensure fairness in every trade in the country.
It was just last year that the Xinhua news agency reported that Mercedes was also guilty of manipulating the after-sakes services' prices in China.