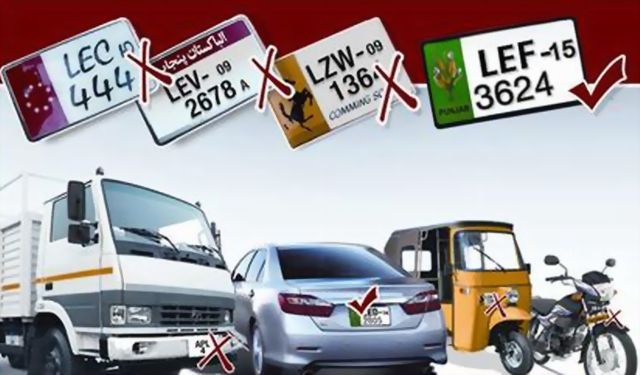 The City Traffic Police has launched a massive crackdown across Lahore against the vehicles with illegal number plates, tinted windows and vehicles without registration plates.
This news was officially released on 30th September, when a City Traffic Police (CTP) spokesperson admitted that 279,274 challans have been issued so far to vehicles in the city. The spokesperson further elaborated:
Strict action in accordance with the law has also been ordered against vehicles with tinted windows and illegal number plates
And now it seems that CTP has catapulted its crackdown in the city. Earlier this morning, long ques were easily noticeable on many roads across Lahore, as CTP wardens were busy stopping majority of the vehicles without computerized number plates and issuing them tickets. Tempers seemed to be flaring on both (Wardens and Vehicle Owners) sides, as public thinks that a subtler approach to this matter needs to be taken, while the CTP Wardens are opting for aggressive steps to ensure maximum results by issuing tickets to majority of the drivers on following criteria:
Vehicles without computerized number plates
Drivers not wearing safety belts
Vehicles with tinted windows
Drivers without license
Bike riders without safety helmets
Sadly, I was also fined earlier today at Center Point, Lahore. And predictably, I had non-computerized plates on my vehicle, which were first ripped off and then snapped into pieces. While this campaign may come off as very aggressive to some people of Lahore, instead of starting a row with the warden, you should:
Install computerized number plates on your vehicle. While some vehicle owners might not have received them in the first place or lost them; it is better if you could collect them, or in worst case scenario; you need to go through the process of acquiring duplicate plates.
Wear your seat belt at all times, as it provides great safety to you in a road crash
Remove the tinted papers from your vehicle's windows.
Have all the relevant documents of your vehicle with you
Have a valid driver's license with you
Wear a safety helmet when riding a bike
As I mentioned before, to some of us, the behavior of CTP wardens during this campaign might come forward as aggressive but in the end, they are pushing us to follow traffic rules, which many of us don't, in normal circumstances. With alarming increase in the number of road accidents due to careless behavior and lack of knowledge of traffic rules, the CTP has certainly come alive. But my concern, like many Pakistanis is "How long will people continue to follow traffic rules after the end of this campaign?". This question merits some serious pondering of the policy makers as opposed to their instant-result oriented strategy making.