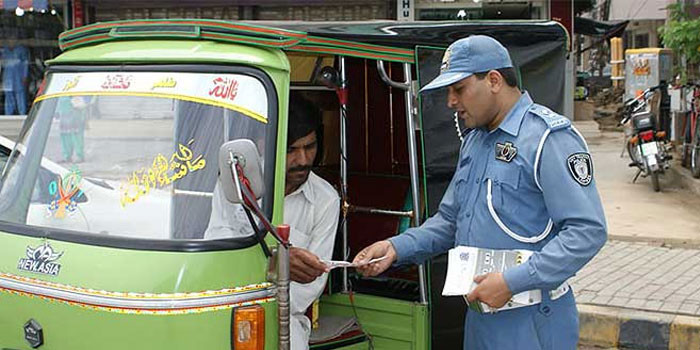 City Traffic Police Lahore issued traffic violation challans to more than 1.8 million Lahore residents during the current fiscal year. Estimated cumulative amount totals to Rs680 million. Around 1600 drivers were prosecuted in the FY16.
Lahore Traffic Police reported that it issued fines to 1,825,064 violators in FY16. 786,253 of the total offenders were motorcycle riders. 143,000 people were fined for not having a valid driving license. And 237,000 rickshaw drivers were fined during this period. Traffic police issued more than 271,000 challans for traffic signal violation. Around 57,685 drivers were fined for using mobile phones during driving. And 13,000 challans were handed to those doing the dangerous driving.
Also Read: CM Sindh Approves Rs 1.5bn For The Renovation Of Roads In Karachi
SP Traffic Police Sardar Asif told the media that Lahore Traffic Police is looking for a share in the collected fine amount to upgrade its infrastructure. SP Traffic Police argued that Motorway Police officers have a share in the challans they hand to violators, and the same practice should be introduced in the city as well. The residents of Lahore have argued that it would have been better if the traffic police had spent its time educating the drivers instead of just handing fines.
In the north of the country, Islamabad Traffic Police fined 636 VIP vehicles. Among the lot, 5 were federal, and 11 were provincial ministers, 14 were diplomats, 257 belonged to Army, 6 from Navy, 16 from Air Force, 53 were senior government officials, 26 were judicial officers, 69 members of National Assembly, 39 senators, 26 were members of various provincial assemblies, and 13 journalists were fined.
But Islamabad traffic police is not all about handing out fines. The traffic police helped 5,524 people who had lodged a complaint through traffic police's 1915 emergency number.