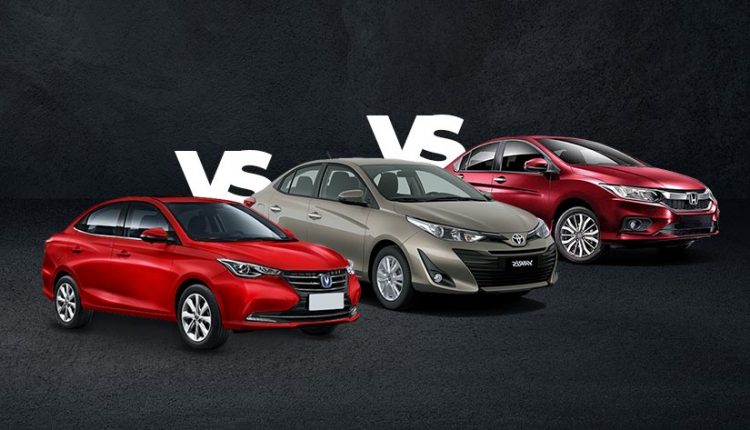 City vs Yaris vs Alsvin – Which One's Worth the New Price Tag?
As you all know, all car companies in Pakistan have increased their prices. Now, people are re-evaluating the options all over again to see which car purchase makes more sense. But, don't worry, that's what we are here for. in
But first, let's go through the reasons why the companies have increased the car prices.
Rupee Devaluation
The first thing that forced the car manufacturers to increase their prices is the continuous devaluation of Pakistani rupee against US dollar. The exchange rate was Rs. 158 at the start of this year and has now gone up to 175+. Higher dollar rate means higher car import costs for the companies and higher prices for the consumers.
Container Shortage
Another big reason for the car price hike is the container shortage. During 2021, containers have become 12 times more expensive than last year.
Experts say that experienced global companies like Toyota, Honda, Suzuki, KIA, and Hyundai are protected from this massive increase due to long term container contracts with major shipping lines. However, newer companies like MG, Changan, Proton, and DFSK who have started their global operations in recent years didn't have such long-term contracts with shipping lines so they are the ones hit by container costs and delays the most.
New Prices of Yaris, City, and Alsvin
After the second wave of car price hikes in 2021, here are the prices of three B-segment sedans of Pakistan.
On a side note, Honda and Toyota charge Rs 30,000 additional freight on the ex-factory prices of City and Yaris, whereas Changan adds the freight charges in the Alsvin's ex-factory price. So, Alsvin's ex-factory price is the same as its ex-dealership price.
Let's begin the comparison of the compatible variants of these sub-compact sedans, shall we?
1. Base Manual Variants
For the base models, we are comparing Alsvin 1.3LM/T with City 1.2L M/T (because there's no 1.3L option) and Yaris ATIV M/T (because Yaris GLi M/T can't compare with the features of Alsvin M/T).
We have been saying this for a while now that the base variant of Changan Alsvin has more features than those of Yaris and City. Not only that but the car also comes with a lesser price than the other two.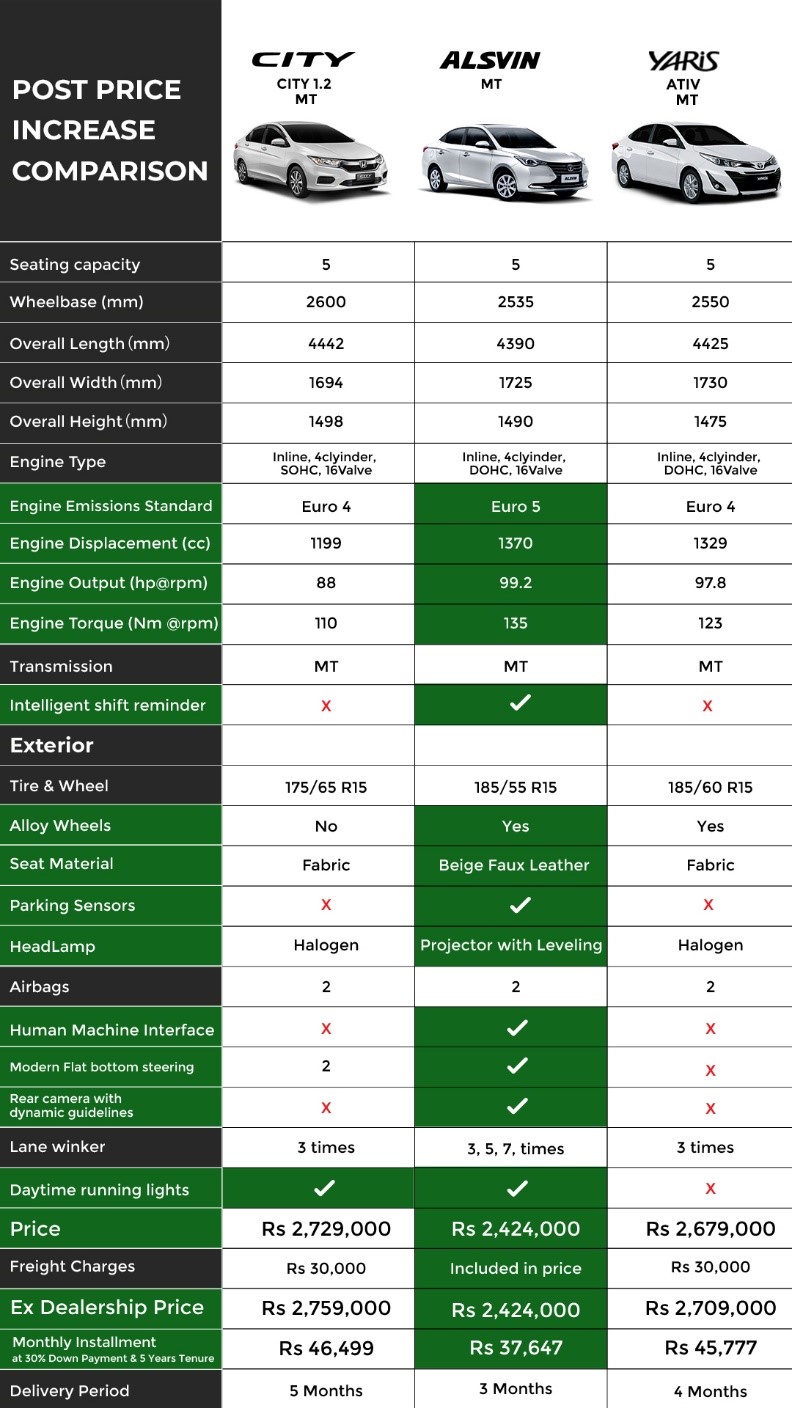 Price-wise, the most expensive is Honda City 1.2L M/T at Rs 2,759,000 (ex-dealer price). Then, there is Toyota Yaris ATIV M/T at Rs 2,709,000 i.e. Rs 50,000 cheaper than City. The lowest price option in this category is Changan Alsvin 1.3L M/T at Rs 2,424,000.
So, Changan's base variant is still Rs 335,000 cheaper than City and Rs 285,000 cheaper than Yaris even after the recent price increase.
2. Mid-Range Automatic Variants
Next, we have Honda City 1.5L CVT vs Toyota Yaris 1.3L ATIV CVT vs Changan Alsvin 1.5L DCT Comfort.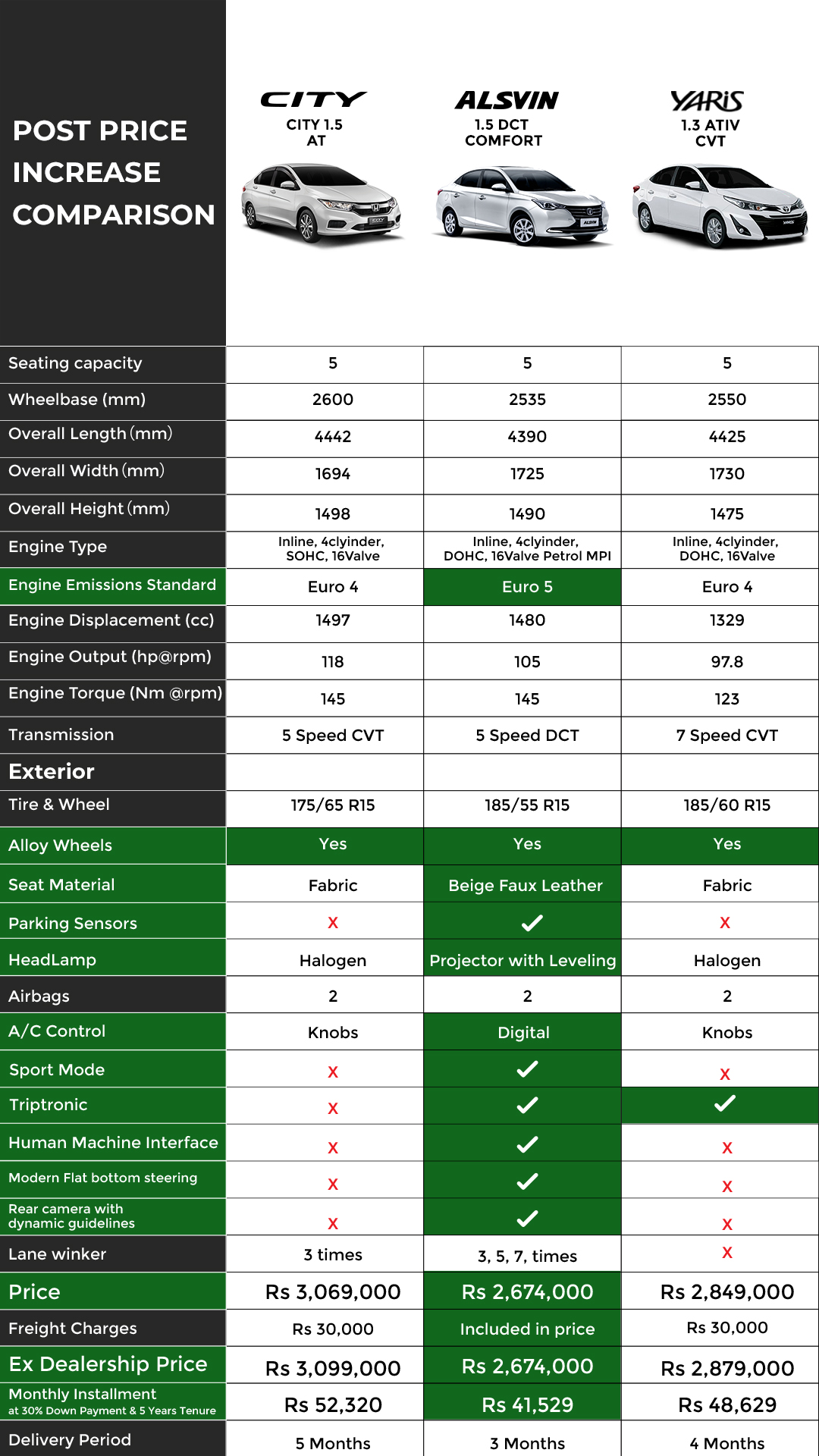 Feature-wise, every model has something better than the others. But, price-wise, the most expensive is City 1.5L CVT at Rs 3,099,000 (ex-dealership price). At second position is Yaris 1.3L ATIV CVT at Rs 2,879,000. Yaris is Rs 220,000 cheaper than City. But again, the lowest price option is Alsvin 1.5L DCT Comfort at Rs 2,674,000.
Changan's mid variant is Rs 425,000 cheaper than City and Rs 205,000 cheaper than Yaris.
3. Top-of-the-line Automatic Variants
In the top-of-the-line segment, Yaris and City have few features that Alsvin Lumiere doesn't have like Push start and Electronic Stability Program (ESP).
On the other hand, Alsvin has so many features that you can only find in premium sedans like Altis Grande or Civic Oriel. Sunroof and leather package to name a few.
There are few features that Alsvin has in common with JDM vehicles, such as Euro5 engine, Start-Stop Technology (aka Eco Idle), TPMS, and Dual Clutch Transmission. We also found Alsvin Lumiere's fuel mileage far better than expected.
In this tier again, the most expensive car is Honda City 1.5L Aspire CVT at Rs 3,399,000 (ex-dealership price), then Toyota Yaris 1.5L Ativ X CVT at Rs 3,129,000, i.e., Rs 262,000 cheaper than City. The lowest price option in this category is Alsvin 1.5 Lumiere DCT at Rs 2,864,000 i.e., Rs 535,000 cheaper than City and Rs 273,000 cheaper than Yaris.
Final Thoughts
Since Honda and Toyota are the well-settled car brands of Pakistan, City and Yaris come with an extra cost of around Rs 300,000 to 500,000 for their brand name.
Changan is still making a place in the market so the company has priced its sedan reasonably. But Alsvin sedan comes with more perks like sunroof, leather, start-stop tech, cruise control and TPMS.
So, if you have excess money to pay hefty brand premium, you can go for City or Yaris. If you want the best value for your money, Alsvin is still the way to go.