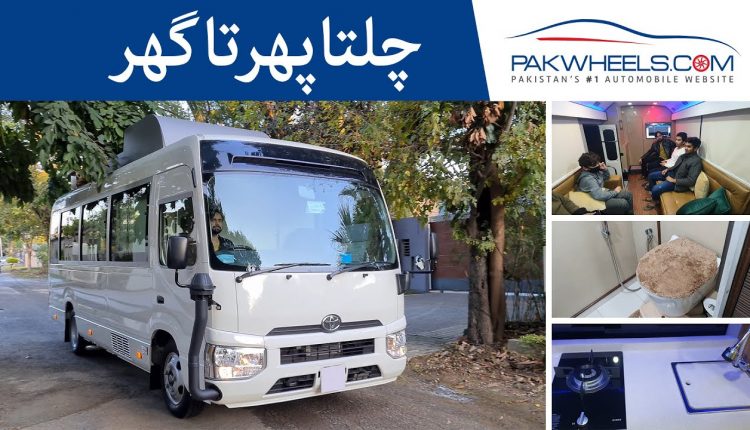 Coaster Converted into Motor Home – Owner's Review
We are back with another owner's review for our readers. In this review, we are taking to you a Motor Home, meaning the owner has converted a coaster into his home. The owner has imported this 2020 model coaster, removed its seats, and installed different facilities including leather sofas, LCD, bathroom, kitchen and others.
The owner told us that he transformed this coaster into motor home because it is best for camping in remote areas or jungles.
Engine and Transmission: 
The owner told us that the motor home has 4200cc engine, and it has 6-speed manual transmission.
Interior-Main Area: 
The main area is for seating, where the owner has installed leather sofas. "We imported the leather from Germany for these sofas," the owner said, adding that 6 people can sit on them. Furthermore, there is a storage space under these sofas, where you can place your hand carry bags and purses etc.
On the walls, the coaster has automatic curtains, which are remote controlled. Furthermore, the motor home has digitally controlled LED roof lights. "You can switch on/off them with a simple touch on a screen, and you can also control them from your mobile," the owner told us.
Security: 
The coaster comes with 4 CCTV cameras, and you can see their stream or recording on a 40-inch LCD.
Kitchen: 
The kitchen has a small fridge, which runs on UPS because it couldn't be run on coaster batteries. "We charge this UPS from WAPDA electricity," he said. The kitchen area also has a cooking range, and wash basin. "The coaster has a special tank under it for water storage, and we can empty it with a simple button push," the owner added.
Washroom: 
The washroom has a commode seat, wash basin and a bath area. It means, it has all the facility of a home, and you can use them anywhere you want, he added.
Sleeping Arrangement: 
As per the owner, he did think about installing a bed in the main area, but it was not feasible. "So, we use these sofas for sleeping, and have made a special mattress for the floor," he added.
Safety: 
The vehicle doesn't have any seatbelts, as owner told us that he doesn't drive it on high-speed. "It is for camping and convenience. not for speed, hence, there is no specific need of seatbelts, he said.
Price:
According to owner, he bought this coaster in Rs1 crore 30 lacs. "The modifications cost us around Rs55 lacs, so, the current price of this motor home is Rs1 crore, 85 lacs," he stated.
You can also buy used coasters on Pakwheels and turn them into your dream vehicle.