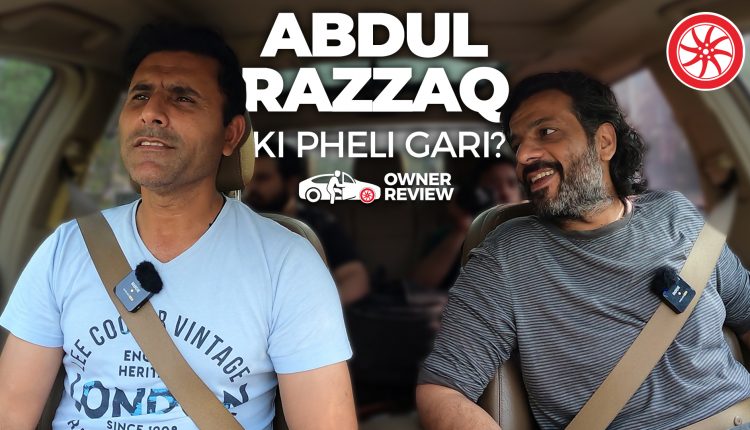 Cricket Legend Abdul Razzaq's Mercedes S350 – Owner's Review
True cricket fans know what a star Mr. Abdul Razzaq is. His innings against South Africa in Abu Dhabi was an ultimate power show of his skills. We had the chance to see the living legend with his Mercedes S350, had a chat about cars, and did an owner's review of this car. Here's how the conversation went.
Abdul Razzaq's History with Cars
Other than our love for cricket, we have something else in common with Abdul Razzaq, love for cars. Since his early cricket days, the star has been passionate about cars. He got his first car, Suzuki Mehran, in 1996. The next ones were Suzuki Khyber, Suzuki Baleno, Honda Civic, Toyota Crown, BMW, Audi A4, and Mercedes S350. 
He has recently replaced his Civic with Honda Insight through PakWheels. He selected the car from PakWheels used cars, got it inspected with our Car Inspection Service, and bought it within a few days. 
All-in-all, Abdul Razzaq has had a taste of Pakistani, Japanese, and German cars. Out of all the cars he has owned and used, his favourite so far is the Crown. And if you are wondering where he would go next and which car he will buy after these? Land Cruiser ZX, he says.
2008 Mercedes S350 Review
Without further ado, let's dive into the review and see how Abdul Razzaq likes his Mercedes.
Purchase & Price
In 2019, Abdul Razzaq sold his Toyota Crown and bought this 2008 Mercedes S350. Crown was a wonderful car, but there were two issues with it. First, cruise control, and second, body roll. Our cricket star went for this Mercedes because he wanted a comfortable luxury car for his long journeys. At that time, he bought the car for Rs. 68 lacs.
Power
This Mercedes model comes with a 3.5-litre engine for a powerful drive. The car runs like a horse at 160, 180 km/h speed and stays rooted to the road without any body rolls. 
Fuel Average
This Mercedes S350 does a decent mileage of 7 to 8 kilometres per litre in the city and 9 to 10 km/L on the highway.
Comfort
The selling point of this car or any other old German car is comfort. Although this Mercedes model is around 15 years old, it's still one of the most comfortable sedans for Rs. 90 lacs.
Maintenance & Parts Availability
Sir Abdul Razzaq gets his car maintained from a local workshop, which doesn't cost much. Spare parts, however, are an issue since they have to be imported from Dubai and cost a lot.
Final Words on Mercedes S350
In the words of the owner — "I have used this car for three years and absolutely loved it. But, if I have to buy a car for Rs. 90 lacs today, I won't go for this model because it's quite old. Maybe, this time, I'd buy the latest 2021 or 2022 model."
Watch Video