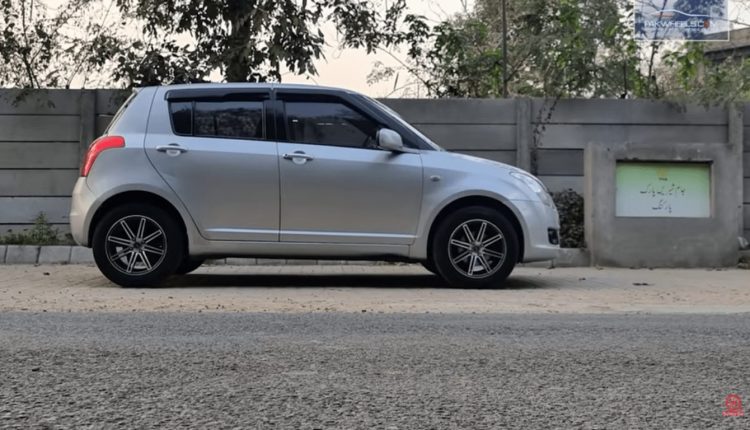 "Cultus Is Nothing In Front Of Suzuki Swift" — Owner's Review
Welcome to another episode of PakWheels Owner's Review series. Today, we have with us the owner of Suzuki Swift DLX 2012, who thinks an 8-year-old used Swift is a much much better option than the latest model of Suzuki Cultus. Interesting judgment, right? Well, the owner has his reasons, and here they are.
Purchase and Price
As a bit of back story, the owner told PakWheels that he purchased a used Suzuki Cultus 2008 as his first car in January 2020 for 7 lacs and 30 thousand rupees. He drove the 1000cc Cultus for 11 months, then sold it for the same amount that he got it for — Paisa wasool.
After that, the owner wanted to purchase a more powerful and spacious car for a family of five within a price bracket of 12 to 13 lacs. He did some research on PakWheels Forums, asked around a few friends, and got it down to three choices: Toyota Vitz, Daihatsu Mira, and Suzuki Swift. 
He found this used Swift in really good condition on PakWheels used car section. Took the test drive and liked it. After the car got an 8.0 rating on the PakWheels Inspection report, it was a done deal.
The ex-owner of Cultus 2008 purchased a used 1300cc Swift 2012 DLX in December 2020 for 12 lacs and 80 thousand rupees.
Fuel Average 
The owner was worried about the fuel average of Swift. He had heard that it does not get any better than 10 or 11 kilometers per liter in the city. Thankfully, that's not true. 
The car gives its owner a pretty good mileage of 13 kilometers per litre in the city without AC and around 12.5 kilometers with AC. Compared to the 14 km fuel average of his Cultus, the owner does not have any complaints. 
Comfort of Suzuki Swift
The ex-owner of Cultus and current owner of Swift thinks that Cultus is nowhere near the comfort level of Swift. The seats of Swift are very comfortable and welcoming. The car is spacious and can easily accommodate five passengers. There is also ample diggy space for travelling with the family.
AC Performance
The car AC performs well and provides good cooling, even in the lowest setting. Unlike Cultus and other 1000cc cars, turning on the AC does not drain the car's power.
Ground Clearance
The car has excellent ground clearance and stability even with a full-house of five passengers. 
Parts Availability
The parts of Suzuki Swift are easily available in the local market. Prices of Swift parts are close to the prices of Cultus parts, if not less. The owner got a reverse parking camera and an Android screen from PakWheels Auto Store at reasonable prices.
Missing Features
The only feature that the owner of Suzuki Swift DLX 2012 misses in his car is airbags. 
Pros and Cons of Suzuki Swift
Pros
Powerful 1300cc engine

Spacious and comfortable

Powerpack features

Excellent road grip

Value for money
Cons
Final Statement on Suzuki Swift
According to the owner of Suzuki Swift DLX 2012, the car is head and shoulders above the Suzuki Cultus in power, comfort, and features. "You can easily get a 2011-2012 Swift at the price of a 2014-2015 Cultus. If I have the same budget, I'd definitely make the same decision all over again."
Watch Video