In a bid to manage the traffic flow on the main entrance to DHA Lahore, a construction of signal-free brand new route has begun. According to the details available to us, the DHA authority will construct corridor on following mentioned areas:
A flyover from Walton to DHA entrance, and after that an underpass on PSO Chowk, then a flyover from PSO Chowk to DHA phase III, and finally a brand new underpass on Masjid Chowk, along with the revamping of Lalik Jan Chowk and an underpass at Ghazi Road.
In my opinion, the step is indeed significant as the people who live in DHA and its surrounding areas knows how much congested the main entrance road to DHA Lahore is. Right now the construction is at a full swing but it is important to mention that such massive scale remodeling of infrastructure brings some massive traffic jams and overall painfull time for the motorists. The cost and completion date of this corridor till now have not been announced or revealed by the concerned authority.
Also Read: Lahore to get a dedicated parking plaza for bikes
Furthermore, aside from this recent action by DHA to maintain traffic flow in its terrain, the Punjab Government for the past one year has also introduced many new projects to keep seamless traffic flow on roads. In Lahore, as the roads are overpopulated by bikes especially Hall road, the government has approved a multi-storey parking plaza to filter out traffic problem at Hall road and its surrounding areas.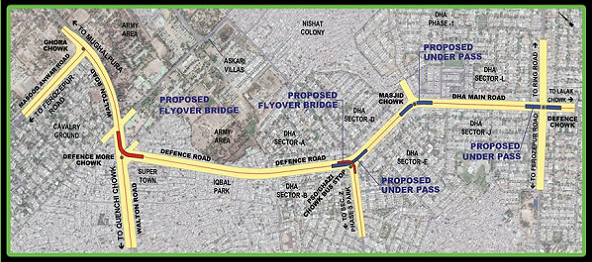 Other than Lahore, Rawalpindi is also getting a new plaza which will be built at Municipal Corporation's old building. It will undoubtedly diminish traffic jams on the roads of Rawalpindi. People park their vehicles on roadside due to lack of parking space, but when this project will complete, they will get a place to park their cars and bikes.
That is it from our side, do tell us if your society or city is in dire need of an underpass, flyover or parking plaza in the comments section below. And also what the authorities are doing about it.
Until next time, stay tuned to PakWheels for more exciting news.