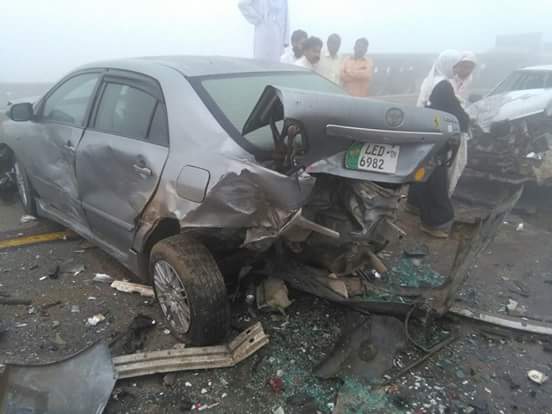 More than a Dozen Vehicles Involved in Road Accident on Motorway
Earlier today, more than a dozen vehicles were involved in a severe crash on Motorway near Sukheki. This accident happened due to bad visibility and smog.
Reports are still unclear on how many people were involved in this crash.
Furthermore, we would also like to point out that the unnaturally poor visibility in Punjab is all credit to one of the most severe cases of 'smog' in India and Pakistan. It should be noted that the 'Diwali' was celebrated on 30th and many Indian cities, specifically Delhi and Mumbai woke up to hazardous pollution levels and reduced visibility due to smog. The Indian Express reports that after Diwali night, Delhi is experiencing low visibility due to smog as pollution levels have crossed hazardous limits. The PM 10 levels reached a massive 999, more than 10 times higher than the safe limit. Furthermore, PM 2.05 touched a maximum of 743, as per air quality index.
It seems that Pakistan is getting its fair-share of this air pollution. And in this regard, the Government of Pakistan (Specifically Punjab, which seems to be most affected by this situation) have not yet released a statement of their POA (Plan of Action) to tackle this problem.